Coalition faces court fight over refusal to ban circus animals
Animal welfare groups threaten legal action after the Government's broken promise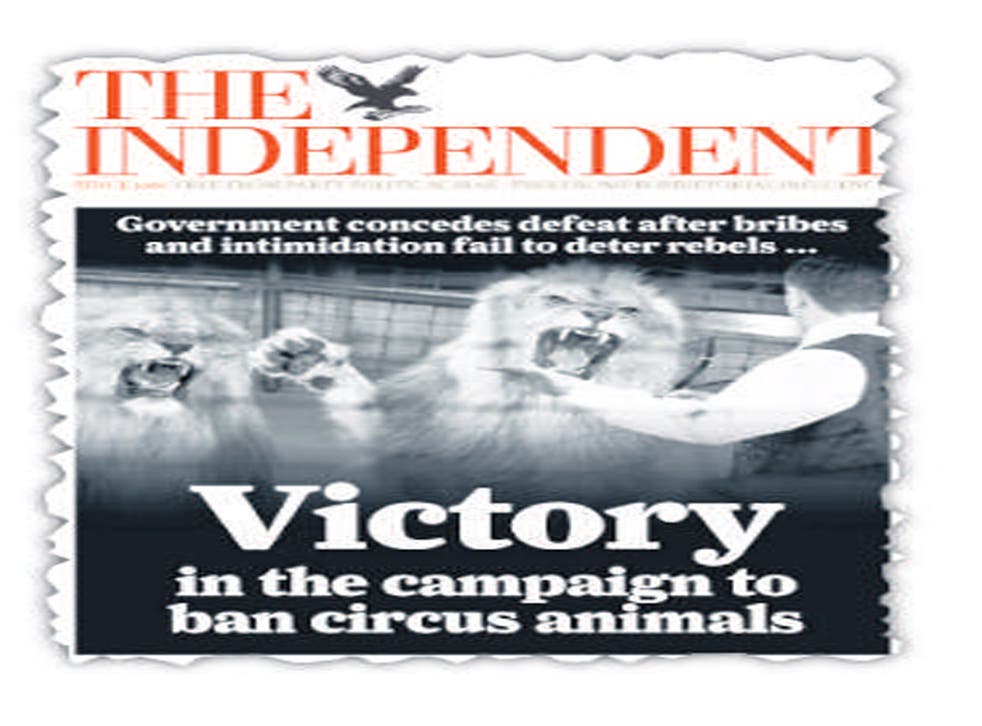 Animal welfare groups are considering launching a High Court challenge to the Coalition's refusal to ban wild animals in British circuses.
The Captive Animals Protection Society (Caps) and the Born Free Foundation have threatened to act after the Government broke a promise to abide by the result of a Commons debate in June, when MPs unanimously supported a ban.
Animal welfare groups such as the RSPCA and British Veterinary Association, as well as an overwhelming majority of the public and politicians, agree that circuses should not be allowed to keep lions, tigers and zebras in small cages and force them to perform.
The Department for the Environment, Food and Rural Affairs (Defra) – whose initial support for a ban was overruled by David Cameron – says it cannot introduce a ban for legal reasons, but refuses to detail why. The row now threatens to become a constitutional issue between the Government and Parliament.
During the debate on 23 June, MPs explicitly acknowledged Defra's case that circuses might challenge the ban, but questioned that advice and said Defra should introduce one regardless of any legal risk.
The debate was one of the most intense in recent years because the MP Mark Pritchard disclosed attempts by Conservative whips – acting on the orders of Downing Street – to bully and bribe him into withdrawing the motion. He said: "It remains a mystery why the Government has mounted such a concerted operation to stop there being a vote on this motion."
Before the motion was approved, the Animal Welfare minister, Jim Paice, told MPs: "If at the end of this debate the House were to approve this motion then of course we will have to respect that." In the ensuing six months Defra has repeated its view that it cannot introduce a ban and is expected to announce a licensing system next month. A court challenge by a German circus against a six-year ban in Austria was thrown out by Austria's highest court this month.
Defra officials forbade Caps and Born Free from discussing a ban at a meeting at Defra on 14 December. In a letter to the Environment Secretary Caroline Spelman on 23 December, Caps director Liz Tyson and Born Free chief executive Will Travers wrote: "The only sensible reason put forward by you as to why a ban cannot proceed is the presence of insurmountable legal obstacles. Our own legal advice has been overwhelmingly to the contrary. In these circumstances, we consider that it would be appropriate for the relevant legal obstacles to be properly determined by the UK courts..."
Defra maintained that it had not ruled out a future ban, adding that "because of potential legal obstacles and to stop any animals suffering in the meantime, it is introducing as quickly as possible a tough new licensing regime to ensure wild animals will only be allowed to perform in circuses if they are properly cared for."
The campaign
32,000 people signed our petition calling for a ban after we revealed in May that No 10 had vetoed the idea. Two months later MPs backed a ban – and the Government said it would respect the decision – prompting our now misplaced "Victory!" front page.
Join our new commenting forum
Join thought-provoking conversations, follow other Independent readers and see their replies