UK vessels illegally threw away 7,500 tons of cod in North Sea, campaigners say
Exclusive: 'It is incomprehensible and indefensible that such rampant non-compliance would be simply ignored'
Josh Gabbatiss
Science Correspondent
Monday 11 March 2019 11:34 Comments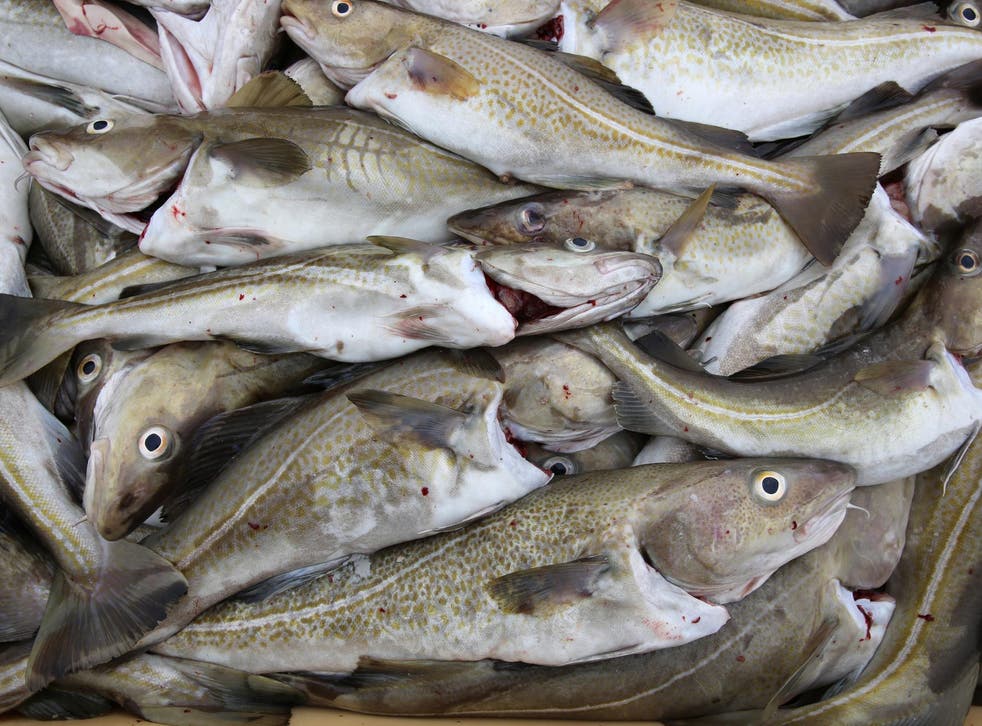 Cod fishing vessels have been accused of illegally dumping thousands of tons of fish into the North Sea in a bid to sidestep strict new European rules.
Official data collected by the UK fisheries body shows there were no unwanted, undersized cod caught between January and mid-November last year at all.
This result was branded "impossible" by campaigners from Our Fish, who said British fishers must have twisted the figures by discarding at least 7,500 tons of smaller fish.
Manipulating the data in this way would also have allowed them to land around a third over their quota of cod in 2018, according to the group.
Programme director for Our Fish Rebecca Hubbard said authorities in England and Scotland seemed to be "turning a blind eye" to this problem.
Endangered sharks being served up in British fish and chip shops

Show all 6
"The UK government appears to be aware that large-scale unreported, illegal fishing for an important stock like cod is taking place within its fishing fleet," she said.
"It is incomprehensible and indefensible that such rampant non-compliance would be simply ignored."
Our Fish has written to the European Commission, presenting the findings and requesting it takes at least 7,500 tons off this year's UK cod quota to account for the alleged infringement.
North Sea cod were thought to be on the rise after a long decline, but scientists have now recommended a significant cut to 2019 fishing limits to help their stocks recover.
Under EU regulations introduced to curb overfishing, boats are no longer allowed to discard any undersized cod they catch.
Instead, the smaller fish – which cannot be sold for human consumption – must be taken back to land and count towards their overall quota.
The move is intended to encourage a shift towards better equipment and fishing practices that avoid catching young fish.
To help the fishers cope with the sudden burden of extra fish cutting into their margins, they were granted an additional 5,200 tons of extra quota for the first year of the new regulations.
French and British fishing boats clash in scallop war skirmish
However, rather than filling this quota with their undersized fish, the vessels appear to have used it to fish for even more adult cod.
A freedom of information request by Our Fish revealed these figures, along with the total catch of 21,596 tons of adult cod. Based on these numbers, it predicted at least 7,500 additional tons of undersized fish would have been caught, bringing the true total to over 29,000.
The investigation came after industry reports that virtually no discards were being landed in UK ports, despite the EU's "landing obligation" covering cod from the start of 2018.
Responding to the figures, a spokesperson from the government's Marine Management Organisation, which governs activity in England, said they were "conscious that our role as a regulator includes educating the industry to new regulations".
They noted the final total for English cod landed below the minimum size by the end of 2018 was 19.9 tons.
A Scottish government spokesperson said the extrapolation carried out to arrive at the 7,500 tons figure was "fundamentally flawed", and that the fleet had been "working tirelessly" to avoid the capture of undersized fish.
"Furthermore, our compliance officers have not seen any significant levels of undersized codlings in any inspections," they said.
A recent House of Lords committee report concluded there was "little evidence" the UK industry had been following the new landing rules, and committee member Lord Krebs said the newly emerged figures supported this conclusion.
"Even using very selective gear you would expect to catch some unwanted fish, so in my view this is exactly the kind of evidence that should be scrutinised in terms of checking whether the landing obligation is implemented by fishermen," he said.
Support free-thinking journalism and attend Independent events
Both Lord Krebs and Our Fish said CCTV onboard vessels must be made mandatory so the true quantity of fish being landed could be assessed.
Barre Deas, chief executive of the National Federation of Fishermen's Organisations, said he agreed that "the landing obligation is a mess", but blamed the EU implementing it "with close to zero consideration of implementation issues".
He also said that CCTV monitoring was "not the panacea" suggested by the campaigners and Lords.
"There are a range of practical, ethical and legal issues that remain to be resolved," he said, noting that after Brexit there will be a chance for the UK to develop a more tailored, fishery-by-fishery approach.
A spokesperson from the Department for Environment, Food and Rural Affairs said the government's new fisheries bill would seize the opportunity of Brexit to help "end the wasteful discarding of fish".
"The government remains fully committed to sustainable fishing. We are aware of the challenges posed to industry by the landing obligation, and will continue to work with the industry to address these," they said.
Register for free to continue reading
Registration is a free and easy way to support our truly independent journalism
By registering, you will also enjoy limited access to Premium articles, exclusive newsletters, commenting, and virtual events with our leading journalists
Already have an account? sign in
Join our new commenting forum
Join thought-provoking conversations, follow other Independent readers and see their replies