Coffee cup charge: Plastic bag-style fee should be introduced to cut use of disposable cups, study finds
Britain's coffee addiction is creating an estimated 25,000 tons of waste with 2.5 billion disposable coffee cups used in the UK each year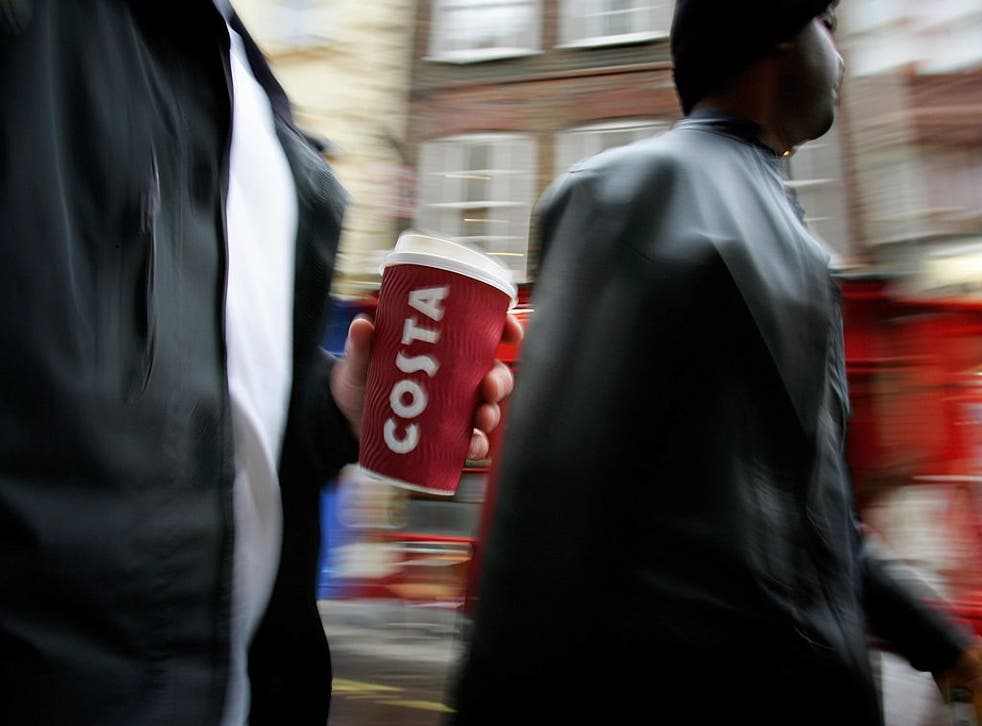 Charging coffee lovers for every disposable cup they use could cut the number thrown away in the UK by up to 300 million every year, new research suggests.
Britain's coffee addiction is creating an estimated 25,000 tons of waste with 2.5 billion disposable coffee cups used in the UK each year, according to a study by Cardiff University commissioned by the coffee roaster Bewley's.
The study, conducted from September to December 2016, tested how the use of re-usable coffee cups could be encouraged. A dozen universities and businesses, including Imperial College London, took part by tracking behaviour.
Most importantly, it found that although a 25p charge on disposable cups increased the use of them, a discount on those same cups – which is a policy currently used by Starbucks and Costa – had no impact on their usage.
Overall, a charge on disposable cups increased the use of re-usable coffee cups by 3.4 per cent, while environmental messaging in cafes increased the use of re-usable coffee cups by 2.3 per cent. The availability of re-usable cups led to an increase of 2.5 per cent and the distribution of free re-usable cups led to a further increase of 4.3 per cent.
"There is an important nuance when it comes to financial incentives," Professor Wouter Poortinga, who authored the report, said.
"People are far more sensitive to losses than to gains when making decisions – so if we really want to change a customer's behaviour then a charge on a disposable cup is more likely to be effective," he added.
Louise Whitaker, head of marketing at Bewley's, said: "There is a huge amount of waste being sent to landfill each year and promoting reusable cups is part of the solution."
Chris Stemman, executive director of the British Coffee Association, said: "Holistic and in-depth research, such as this new study, is vital so that as an industry we invest in the right technologies that will enable us to enhance the recyclability of coffee cups and better understand what will influence consumers to recycle more widely.
"Our focus is to create long term sustainability and a circular economy within the coffee industry. We believe that developing new packaging materials and enhancing recycling processes and infrastructures will have a significantly greater and longer-term impact compared with other proposed measures such as charging or taxing disposable cups."
Last year, the Liberal Democrats called for the introduction of a 5p charge on disposable coffee cups to cut usage. The party was also behind the introduction of plastic bag charge, which has cut the number of plastic bags used by over 85 per cent.
10 photographs to show to anyone who doesn't believe in climate change

Show all 10
Liberal Democrat leader, Tim Farron, said: "Throwaway cups are a threat to wildlife and the environment and it's high time the Government stepped in to reduce the amount of waste created each year.
"I want to see a culture shift towards bringing your own cup for a refill, rather than buying cups which are often non-recyclable and then throwing them away."
Register for free to continue reading
Registration is a free and easy way to support our truly independent journalism
By registering, you will also enjoy limited access to Premium articles, exclusive newsletters, commenting, and virtual events with our leading journalists
Already have an account? sign in
Register for free to continue reading
Registration is a free and easy way to support our truly independent journalism
By registering, you will also enjoy limited access to Premium articles, exclusive newsletters, commenting, and virtual events with our leading journalists
Already have an account? sign in
Join our new commenting forum
Join thought-provoking conversations, follow other Independent readers and see their replies