Business groups herald 'new dawn for climate change action' as landmark report published
Broad support for net zero emissions by 2050 as Committee on Climate Change outline major changes required over next three decades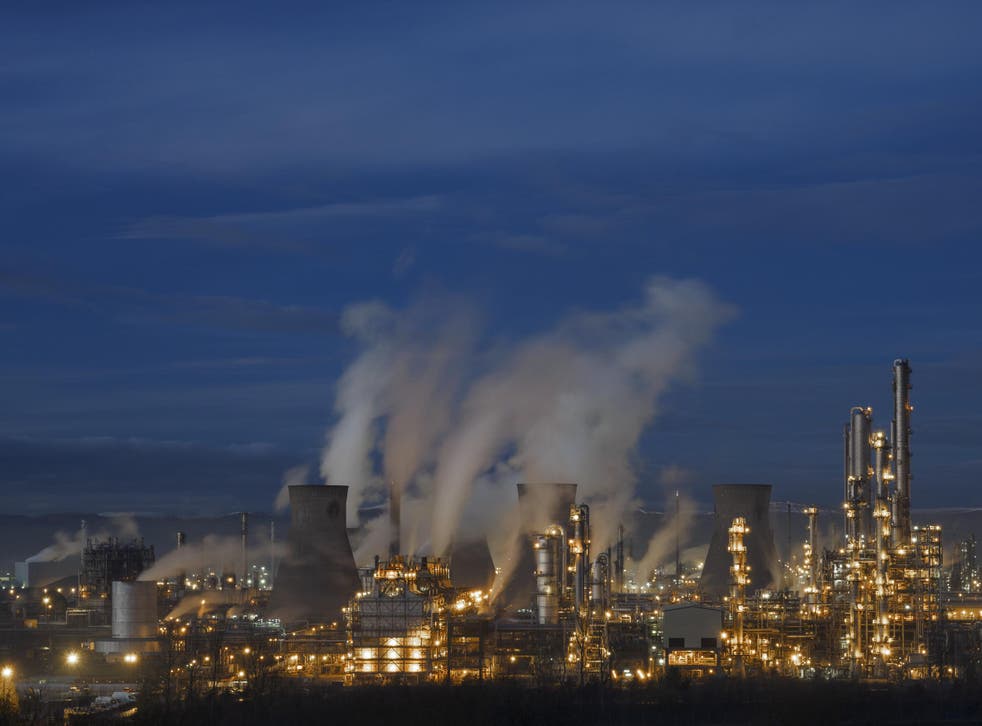 The British government's official climate change advisers are to recommend the country adopts a legally binding net zero fossil fuel emissions target by 2050.
The recommendations, made by the Committee on Climate Change on Thursday, would replace previous targets agreed in 2008, which aimed to reduce damaging greenhouse gas emissions by 80 per cent what they were in 1990.
The CCC report explains the need for considerable changes to many ways British people live if we are to meet the target.
These include major changes to how we generate power, heat our homes, what food we eat and farming practices.
Millions of homes will have to make the switch to low-carbon heating, people will need to eat less beef, lamb and dairy, and dispose of waste more efficiently, the report states.
Penguin habitats threatened by climate change

Show all 9
We also need to move towards electric vehicles, but less road traffic, with more people walking, cycling and using public transport.
"We're looking at having as fulfilled, as different, as various a life as we have today, if not more, but to do it in a way in which we take responsibility for the future by respecting the planet which gives us life and by having different attitude to the usage of resources," said committee chairman Lord Deben.
Despite necessarily calling for major changes within our society, the report's aims have been well received in many sectors including energy and business bodies as well as environmental and farming groups.
The widespread enthusiasm for the target comes amid a huge swell in interest in climate change spurred-on by school strikers inspired by Greta Thunberg, the Extinction Rebellion protests, Sir David Attenborough's BBC documentary on climate change, and cross party parliamentary support for measures to tackle some of the problems.
The report also lands days after the Bank of England governor Mark Carney warned banks they cannot ignore the "catastrophic" effects of climate change and must be at the heart of tackling the problem.
Mr Carney called on governments and financial institutions to take a pivotal role in keeping temperature rises "well below 2C" and said the "enormous human and financial costs of climate change are having a devastating effect on our collective wellbeing".
Moving to a low-carbon economy will require a "massive reallocation of capital", he and Bank of France governor François Villeroy de Galhau said in an article for The Guardian.
"If some companies and industries fail to adjust to this new world, they will fail to exist," they wrote.
The Confederation of British Industry (CBI) which represents 190,000 businesses across the country has called the CCC report a "new dawn for climate change action" and is demanding a "step change in government policy" to meet the target. It also cited recent protests as indicative of the "sense of urgency" required to tackle the crisis.
Rain Newton-Smith, the CBI's chief economist, said: "The Committee on Climate Change's report and recommendations mark a new dawn for climate change action in the UK.
"The UK, and its devolved administrations, already have ambitious targets to reduce carbon emissions across a range of sectors. But the evidence that the UK must go a major step further and become carbon neutral by 2050 is substantial.
"If we are to reach the new target, we need a step change in government policy, business action and the way each of us lives our lives.
"Recent protests have shown the strength of public passion and sense of urgency that the UK should do all it can to mitigate the worst impacts of climate change, on society, the economy and the environment. What we need now is a supportive and timely response from the UK government to enact this ambitious target, so businesses and the public can get on with reaching it."
This was echoed by his colleague Matthew Fell, the chief UK policy director at the CBI, who said: "Business is up for the net zero challenge – and many companies have made their own pledges for a net zero target. This is partly driven by public demand for action on climate change. But there are also economic opportunities ahead."
Also among those calling on the government to put policy in place to help smooth the path towards a greener future is the Institutional Investors Group on Climate Change (IIGCC), which represents over 170 investor members with over £19 trillion in assets under management. These include BlackRock, Linklaters, Nest, and the Joseph Rowntree Charitable Trust.
Stephanie Pfeifer, the chief executive of IIGCC, said: "A commitment to reduce emissions to net-zero by 2050 would be a clear signal of global climate leadership by the UK.
"Government now needs to implement the policies to achieve this goal and attract the investment required to create a clean economy. With the Bank of England highlighting that $20 trillion of global assets are on the line as a result of climate change, a robust policy response is also a simple economic necessity."
David Smith, the chief executive of the Energy Networks Association, the industry body funded by UK gas and electricity transmission said the group supported the target, but also said there was "no silver bullet" and homes should continue to use some gas, which is not compatible with the targets.
Mr Smith said: "We back the CCC's advice that to move beyond an 80% target and deliver net zero emissions by 2050, low-carbon hydrogen will be an absolute necessity within our energy system. We echo their calls for carbon, capture, usage and technology to be deployed at scale and quickly, as it is essential to the development of a hydrogen economy. Energy networks will be at the heart of this transition.
"There will be no silver bullet to reaching net zero, with energy networks leading innovation needed across major sectors of the economy including heating, power and transportation. Given the vital role that gas networks have to play in decarbonising heat, we believe the public should be allowed to benefit from new technologies such as smart hybrid heating systems and that new homes should continue to be connected to the gas grid. Already, homes right across the UK are receiving low-carbon green gas, with the government committed to increasing this."
Tom Greatrex, chief executive of the Nuclear Industry Association, said the report indicated nuclear power can continue to play a role in the UK's power supply.
He said: "The Committee on Climate Change's report rightly highlights just how far we still need to go for the UK to achieve net-zero greenhouse gas emissions by 2050. In decarbonising power, it highlights that we will need more low carbon sources of electricity – confirming other academic and expert reports – with nuclear continuing to play an integral part alongside renewables."
Energy company Drax has also said it supported the plans. The company operates the largest biomass-fuelled power station in Europe, near Selby in North Yorkshire.
The firm currently receives government green energy subsidies, but last month protesters claimed burning biomass at Drax produces as much carbon as burning coal.
Will Gardiner, Drax Group CEO said: "We stand ready to implement the Committee on Climate Change's recommendations and scale up the successful BECCS pilot at Drax to create the world's first negative emissions power station in the mid-2020s.
"Bioenergy with carbon capture is the cornerstone around which a low carbon economy can be built: Crucial for tackling climate change, it will also create new jobs and export opportunities for British businesses."
Dr Marie Claire Brisbois, a lecturer in energy policy at the University of Sussex, said the report was an opportunity for the government to significantly improve people's lives.
"The zero carbon target is more than just an energy target, it represents an opportunity to substantially improve the quality of life for all British citizens," she said.
"Investment in areas such as public and active transportation and energy efficient buildings will not only address direct carbon emissions, but also improve uptake of energy efficient behaviours, reduce energy poverty and help mitigate the ongoing crises in physical and mental health."
Gareth Redmond-King, head of climate change at the WWF, said the recommendations must be put into practice as soon as possible.
He said: "The problem is, we've been acting as if we have time. But if we want a world with coral reefs, safe coastal cities and enough food for everyone, we must act now. That's why we welcome the CCC's advice that we must end our emissions as soon as possible, but certainly no later than the middle of the century.
The National Trust was also strongly supportive of the report's recommendations.
The trust's outdoors and natural resources director, Patrick Begg, said: "Last year's extraordinary heatwave, made thirty times more likely by climate change, and the impact it had on British farmers and wildlife, remind us of the urgency of the threat.
"The government must now act without delay to adopt a net zero target so we can get on with the task of limiting climate change by making farming more sustainable for both farmers and for nature, and by locking away more carbon through the restoration of important habitats."
Martin Harper, the director of conservation at the RSPB, said a net zero emissions target would help avoid the "worst effects" of the climate crisis.
He said: "Climate change is one of the biggest threats to our wildlife, but nature also holds part of the solution for tackling this crisis. Protecting and restoring our woodlands, bogs and grasslands to help lock up carbon is essential in the fight to prevent the worst effects. Today's CCC report highlights the valuable role nature can play in addressing the climate crisis alongside the urgent need to raise our ambition across every sector if we are to be successful."
Last year the CCC said the number of sheep and cattle in the UK should be reduced by between a fifth and a half as they are the species contributing the most emissions.
The advice said that a 20-50 per cent reduction in beef and lamb pasture could release 3-7 million hectares of grassland from the current 12 million hectares in the UK.
The grassland could then be repurposed to grow forests and biofuels to help soak up CO2.
The advice was not welcomed by farmers, with the NFU saying at the time it did not agree with reducing livestock numbers.
However, the NFU recently announced its own 2040 UK net zero emissions target for agriculture.
In a statement it did not mention the need to cut livestock numbers, but Minette Batters, the union's president said: "Last year's extreme weather was a stark reminder of the challenges farmers face in maintaining yields and feeding livestock on the frontline of climate change. But not only can agriculture be part of the solution, we can also be a world leader in climate-friendly production."
She added: "Technology and the bioeconomy present huge opportunities and that is why earlier this year I unveiled an ambitious aspiration for net zero agriculture in the UK by 2040. In order to achieve that, we will need to see the government work with farmers and growers on the new technology and innovation needed to reach this goal."
Martin Lines, the chair of the Nature Friendly Farming Network, which promotes sustainable agriculture in the UK also cited the 2018 summer heatwave being made more likely by climate breakdown. He said it was "a reminder to all farmers that we are on the frontline of climate change. But we can be a big part of the solution."
He also failed to address the call to reduce beef and lamb herds so pastures can be replaced with forest, but added: "Farmers right across the country are already finding ways to cut the emissions, be that through altering the way we feed our livestock, to better managing our soils to keep them healthy. For the sake of British farming and our food production we have to halt climate change, and that means setting and hitting a net zero target as soon as possible."
Join our new commenting forum
Join thought-provoking conversations, follow other Independent readers and see their replies