Conjoined gray whale calves discovered in Mexican lagoon could be world's first ever documented find, experts say
Experts said that while other species have been found to have conjoined twins, the find is 'without any precedent' among gray whales
Adam Withnall
Wednesday 08 January 2014 12:09 Comments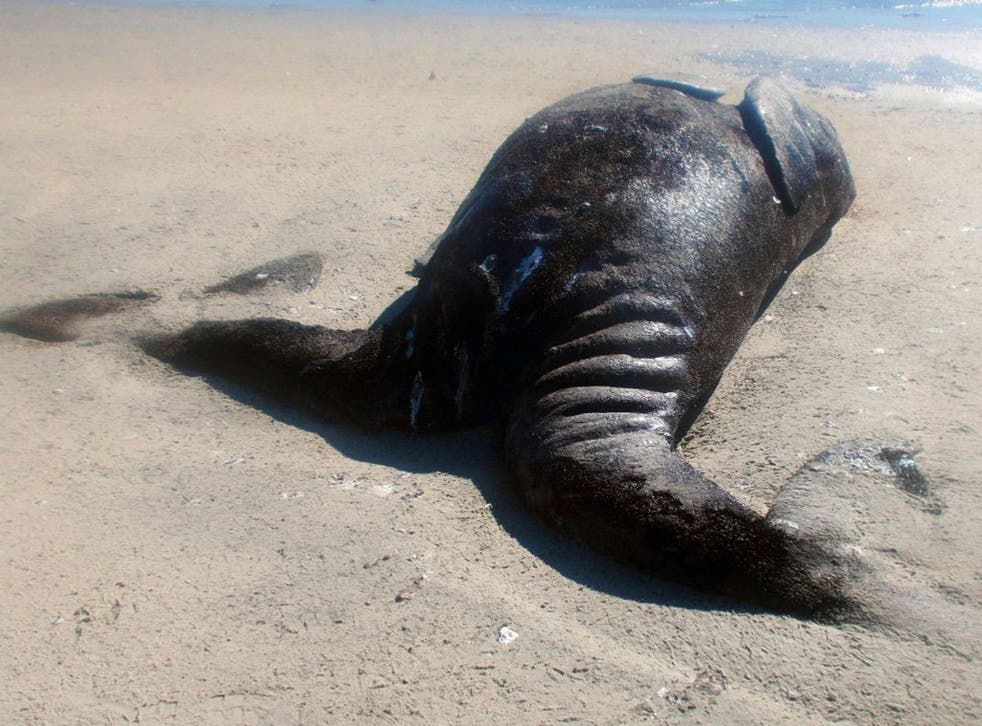 A pair of conjoined gray whale calves have been found dead off the coast of Mexico, in what scientists believe could be the first discovery of its kind.
Joined at the waist, the creatures weighed nearly half a tonne and measured around 4 metres (13ft) long.
Experts said it would have been virtually impossible for the twin whales to have survived – at around half the length of an average gray whale, they would likely have been born prematurely.
The animals were discovered in the Ojo de Liebre lagoon, which opens onto the Pacific Ocean and is one of a number of prominent breeding sanctuaries used by gray whales on the Baja California peninsula.
The find was verified after a visit on Monday by the National Natural Protected Areas Commission (CONANP).
Marine biologist Benito Bermudez, CONANP's regional manager, told the AFP news agency the discovery was "exceptionally rare, without any precedent" to his knowledge.
While examples of conjoined twins have occurred in other whale species such as fin, sei and minke, it is thought there are no previously published discoveries of the phenomenon in gray whales.
Alisa Schulman-Janiger, a researcher with the American Cetacean Society, told Grind TV there were concerns that with the twins severely underdeveloped, the birth or possibly stillbirth might also have killed the mother.
A video of the discovery of the animals on Sunday was uploaded to YouTube by Krystian Abundez, and images were posted to the Facebook group of local conservationists Guerrero Negro Verde, with the translated statement: "Unfortunately, the specimen died. [Its] survival was very difficult."
The carcass of the whales has been taken away for further study by a government agency.
Every year hundreds of gray whales migrate around 6,000 miles from the Bering Sea to the warmer waters of Mexico's west coast. Most have calves during the last week of December and the first two weeks of January, and nurse for a number of weeks before making the long return journey north.
Register for free to continue reading
Registration is a free and easy way to support our truly independent journalism
By registering, you will also enjoy limited access to Premium articles, exclusive newsletters, commenting, and virtual events with our leading journalists
Already have an account? sign in
Register for free to continue reading
Registration is a free and easy way to support our truly independent journalism
By registering, you will also enjoy limited access to Premium articles, exclusive newsletters, commenting, and virtual events with our leading journalists
Already have an account? sign in
Join our new commenting forum
Join thought-provoking conversations, follow other Independent readers and see their replies