Conservationist saves 550 rare caterpillars of the Small Blue butterfly from redevelopment site
Amanda Hunter saved each creature by hand
Kashmira Gander
Thursday 12 March 2015 17:08 Comments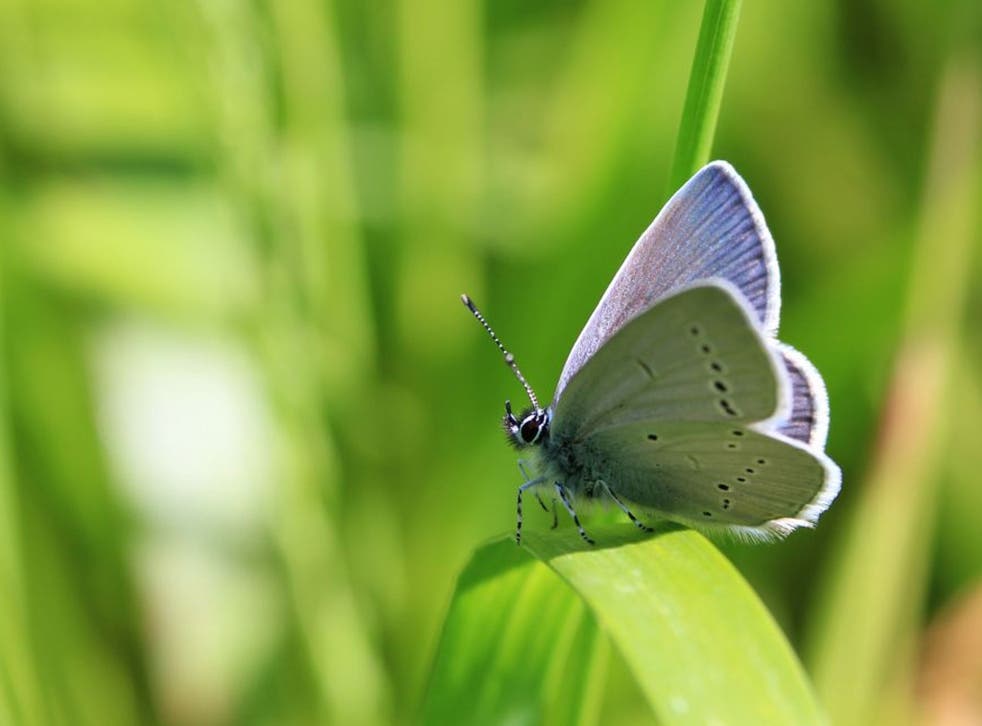 A conservationist has painstakingly hand-rescued more than 500 rare caterpillars from the Devon quarry which they inhabit, after the site was scheduled for redevelopment.
It is hoped that as spring arrives in the coming weeks, the caterpillars will metamorphosise into Small Blue butterflies – one of the rarest in the UK.
Over a period of four weeks last summer, Amanda Hunter, 59, spent hours spotting the butterflies, which are some of the country's smallest breeds, growing at the abandoned quarry in Torbay.
UK wildlife winners and losers

Show all 7
Torbay is a stronghold for the Small Blues, where they are often found on cliffs and quarries, while numbers fluctuate due to weather and availability of the caterpillar food plant: kidney vetch.
When Ms Hunter heard in late 2013 that the quarry was to be redeveloped, she convinced planners and the site's owner to delay work until summer 2014 to allow the caterpillars to finish their hibernation, pupate and emerge as butterflies this spring.
Government wildlife agency Natural England then agreed that the caterpillars could be distributed between the main Torbay colony, and the smaller colony at Berry Head National Nature Reserve.
"As I live in Torbay I'm really keen to ensure this special butterfly can continue to thrive here too," Ms Hunter, a member of Butterfly Conservation Devon Branch, said.
"Our wonderful wildlife in Torbay is appreciated by locals and tourists alike.
"Wildlife habitat is all too easily lost to industry or housing needs and sometimes helping local species to survive does involve difficult decisions.
"I'm so pleased that everyone involved in this project was able to work together and I believe we have made a real difference here for the Small Blue and for conservation in Torbay," she said.
Noel Hughes, countryside officer for TCCT, said: "We won't know whether this rescue translocation has been successful or not until summer 2015 but we are all doing everything possible to help this rare species.
"I hope that in summers to come members of the public may be able to catch a glimpse of this elusive butterfly in the Berry Head National Nature Reserve."
Julie Jamieson, head of ecology and conservation at the site's lease holders, Hi-Line, added: "We were really glad to support local conservation and were thrilled when Amanda told us that so many larvae had been rescued."
Ms Hunter won a Butterfly Conservation Outstanding Volunteer Award for her efforts to save this colony of Small Blues in November 2014.
Additional reporting by PA
Register for free to continue reading
Registration is a free and easy way to support our truly independent journalism
By registering, you will also enjoy limited access to Premium articles, exclusive newsletters, commenting, and virtual events with our leading journalists
Already have an account? sign in
Join our new commenting forum
Join thought-provoking conversations, follow other Independent readers and see their replies