Continued rail disruption certain without urgent action, says report
Infrastructure is too weak for extreme weather caused by climate change, transport review finds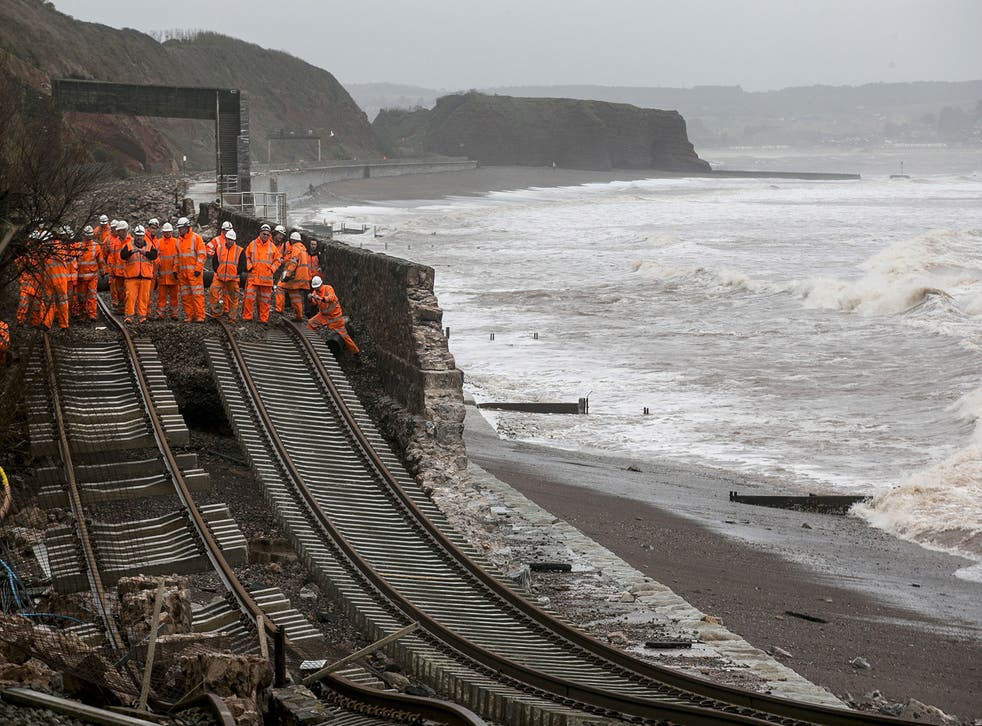 Britain's crumbling rail network is not built to "modern standards" and is at risk of a repeat of the severe disruption of last winter unless urgent action is taken, according to a major new report being considered by ministers.
A review of the transport network's resilience was commissioned in the wake of the storms and floods of last winter. Cornwall and much of Devon were cut off and rail services west of Exeter suspended for two months after storms washed away the main line at Dawlish.
The report warns that it is a case of when, not if, disruption happens again. The severe winter of last year will be a regular fixture, it says.
"Large parts of the railway's earthworks and embankments are 150 or more years old and not constructed to modern design standards," it states.
Many rail embankments have slopes that are steeper "than would be normal now and therefore at greater risk of slips". The last two winters have seen "unusually large numbers of embankment slips with 144 and 127 slips across the network in both years".
Network Rail's 18,200km (11,300 miles) of embankments and cuttings are "a particular area of risk" and more than 200 embankments are being monitored for signs of slipping, says the review. In the past decade, the number of earthwork slips has more than doubled. There has also been a worrying rise in the number of trains derailed by slips – six in 2012-13, up from one in 2010-11.
Routine inspection and maintenance of drainage systems and embankment slopes have "not always been given the priority they should have [had]". And the railway network suffered "severe investment restrictions and tight financial constraints for a number of decades under British Rail, and subsequently under Railtrack".
Among its recommendations, the report calls on Network Rail to "improve its ability to … anticipate slopes that will fail and target remedial work as efficiently as possible".
Last winter's extreme weather cost Network Rail £240m. Fears of further disasters have prompted rail bosses to more than double the amount spent on track drainage: £201m will be spent over the next five years, up from the £81m between 2009 and 2014. New "weather resilience and climate change adaptation plans" for rail routes are expected to be in place by next month.
Scientific consensus, the report says, is that "we will see an increasing incidence of extreme weather events … because of climate change.... By the 2040s, more than half of the summers are projected to be warmer than that [of] 2003 if emissions of greenhouse gases continue along their current rising path."
Sea levels will rise, increasing the risk of coastal flooding. The report states: "A further overall 11-16cm of sea level rise is likely by 2030, and 18 to 26cm by 2050, relative to sea levels in 1990.". These figures are for London; the rise in sea level varies around the British coastline.
Recommendations for action before the onset of this winter include transport operators having emergency plans for extreme weather, and revising climate change risk assessments "in light of recent experience".
Michael Roberts, director-general of the industry body Rail Delivery Group, said: "Network Rail will invest £38bn over the next five years in maintaining and renewing track and signals, as well as specific measures to improve the railway's resilience to weather, such as better drainage and smarter monitoring." He pledged that train operators will work closely with Network Rail to ensure that passengers get "accurate, consistent and relevant information when adverse weather causes disruption to their journey".
In the longer term, the Department for Transport should work with Energy and Climate Change and other Whitehall departments "to identify a 'critical network', comprising routes of national economic significance. That network should be maintained and, where appropriate, enhanced to a higher level of resilience".
Transport Secretary Patrick McLoughlin is to consider the report's "recommendations in more detail and to publish a full response in due course".
Join our new commenting forum
Join thought-provoking conversations, follow other Independent readers and see their replies