COP21: Mark Carney hires Michael Bloomberg to highlight companies at risk from global warming
Mr Bloomberg has warned that climate change posed a huge and little-understood financial risk to companies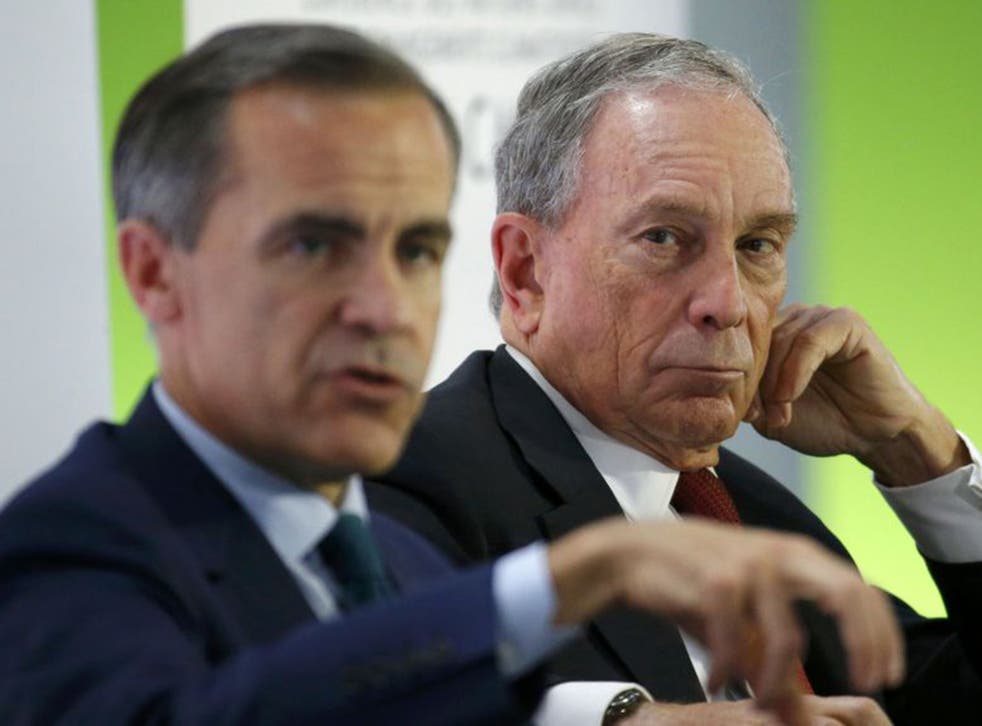 Bank of England governor Mark Carney launched a crackdown on the dangers posed to the financial system by global warming, as he hired former New York mayor Michael Bloomberg to help identify those companies most at risk.
As his appointment was announced at a crucial United Nations climate change summit in Paris, Mr Bloomberg warned that climate change posed a huge and little-understood financial risk to companies.
These risks cover everything from fossil-fuel companies being forced to leave their coal in the ground to meet carbon emissions targets to insurance losses to cover damage inflicted by increasingly frequent and intense storms. And they threaten huge losses at the firms involved, as well as those which finance them, he said.
These include the pension funds which invest huge amounts of people's money in a wide variety of firms threatened by climate change.
Mr Bloomberg will head a task force representing The Financial Stability Board, the organisation responsible for monitoring the financial system of the biggest economies, that is led by Mr Carney.
Climate change protests around the world

Show all 25
"It's critical that industries and investors understand the risks posed by climate change, but currently there is too little transparency about those risks," said Mr Bloomberg, whose first task will be to develop a uniform and robust system for identifying the risks that firms can then use to determine their vulnerability.
Although Mr Bloomberg's system will be voluntary, the hope is that investors will put pressure on companies to measure and disclose their climate-related weaknesses – and if they don't they run the risk that financial backers will take their money to a firm prepared to be more open.
"This is a hugely welcome initiative. It's essential that businesses report their climate risks clearly," said Alice Garton, of the environmental law firm ClientEarth.
Mr Bloomberg's appointment came a day after former US Vice President Al Gore warned investors at the summit they should not only switch money out of fossil fuels for moral reasons but for their own financial good.
Join our new commenting forum
Join thought-provoking conversations, follow other Independent readers and see their replies