In Trump's absence, presidential hopeful Bloomberg takes centre stage at key climate summit
'Beating climate change won't require a miracle, it won't require limitless resources. It will require leadership and common sense.'
Isabella Kaminski
Madrid
Tuesday 10 December 2019 17:54 Comments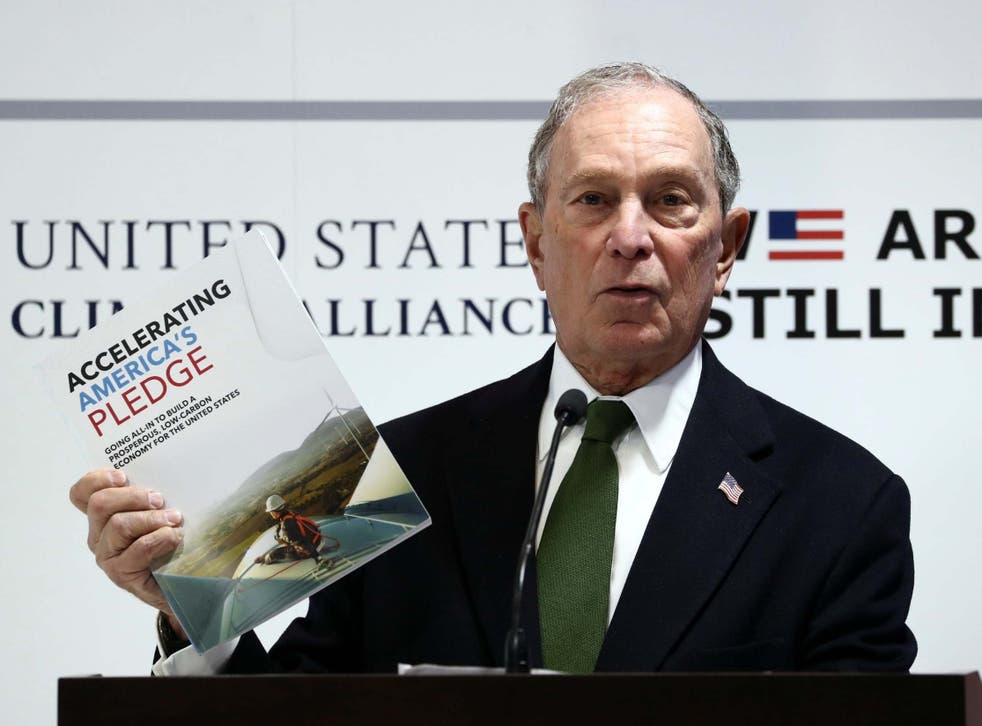 Beating climate change requires "leadership and common sense", presidential hopeful Michael Bloomberg has told delegates at an international climate summit where the US has been notable by its absence.
The former New York mayor and multimillionaire Democrat appeared at COP25 in Madrid on Tuesday as the second week of fraught negotiations on the final details of the Paris Agreement began.
"Beating climate change won't require a miracle, it won't require limitless resources," Mr Bloomberg told the crowd at the packed event. "It will require leadership and common sense."
Mr Bloomberg, who announced his candidacy for president in November, said he was at the COP25 talks "because Donald Trump is not".
"I'm here because his administration refused to lead on climate change, so others must do the work."
President Trump began the year-long process of withdrawing the US from the Paris Agreement in November – an act which will not take effect until after the 2020 presidential election – and was not present at the summit. Instead, the US was represented at COP25 by a congressional delegation of Democrats led by house speaker Nancy Pelosi who said congress had an "iron-clad" commitment to action on the climate crisis.
Environment news in pictures

Show all 8
In a tweet, Mr Bloomberg said that, if elected president, one of the first things he would do is re-enter the Paris Agreement and "increase America's commitment to reducing emissions".
Most other Democratic presidential candidates, including Bernie Sanders, Joe Biden and Elizabeth Warren, have made similar promises.
Mr Bloomberg is vice-president of the Global Covenant of Mayors for Climate Change and Energy, a group of city representatives around the world aiming to go beyond national commitments to curb their carbon emissions.
US cities, states, tribes, businesses, universities, healthcare organisations and faith groups have forged an unprecedented alliance on climate change in the face of inaction from federal government. The #WeAreStillIn campaign says it represents 158.6 million people across 50 US states.
To highlight this, the US Climate Action Centre has been running events at COP25 showcasing the carbon reduction work of academic, cultural, corporate and agricultural institutions.
One event focused on some of the hundreds of legal actions taken by state attorney generals against federal rollbacks to environmental regulation in the three years since Mr Trump became president.
A recent report by the New York University School of Law's State Energy and Environmental Impact Centre said the Trump administration had "engaged in a concerted, across-the-board attempt to weaken many of our nation's bedrock health, safety and environmental laws" and states had been a powerful force in challenging it.
The COP25 talks were also attended on Tuesday by former US secretary of state John Kerry, as well as former vice-president Al Gore, who has long campaigned for action on climate change.
Mr Gore said he wanted to send a message that the vast majority of Americans want the rest of the world to hear: "We are still here."
The climate talks are well into their second week now, with discussions officially scheduled to end on Friday.
But with agreement on some of the more controversial details looking increasingly unlikely, NGOs, activist groups and developing nation representatives are stepping up the pressure on national ministers to make ambitious choices that respect human rights and give minority voices a chance to be heard.
Register for free to continue reading
Registration is a free and easy way to support our truly independent journalism
By registering, you will also enjoy limited access to Premium articles, exclusive newsletters, commenting, and virtual events with our leading journalists
Already have an account? sign in
Join our new commenting forum
Join thought-provoking conversations, follow other Independent readers and see their replies