Mysterious ringing noise coming from coral reefs identified as algae producing noisy gas bubbles
Researchers could in the future use underwater sound recordings to monitor decline of ecosystems
Tom Batchelor
Wednesday 03 October 2018 21:13 Comments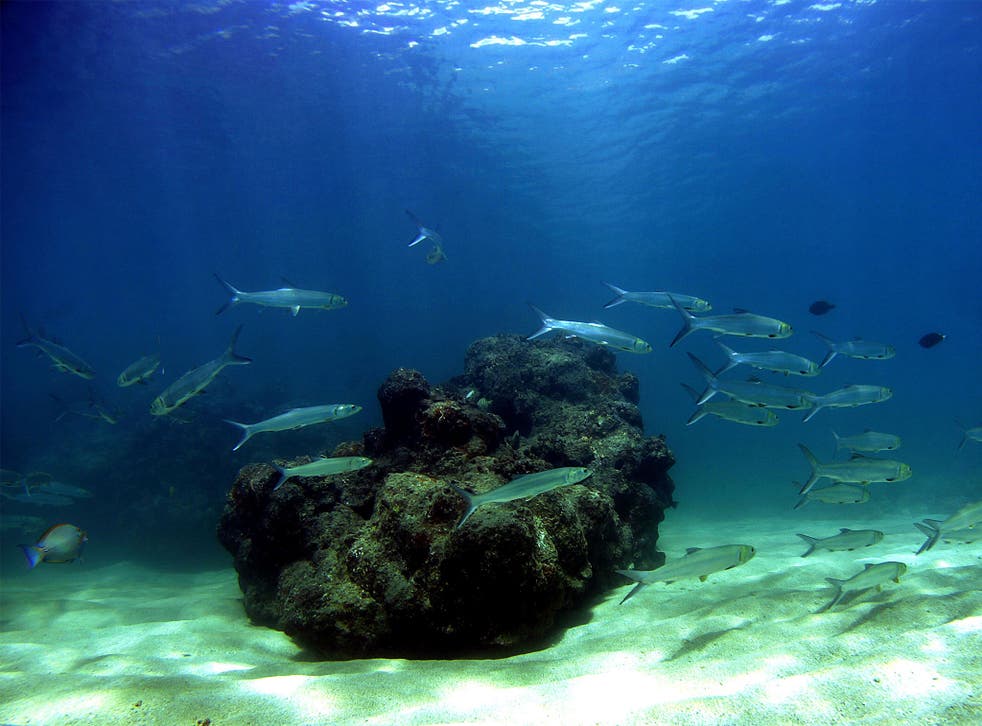 Scientists have identified the source of a mysterious ringing sound coming from coral reefs: algae producing noisy gas bubbles.
The discovery could one day allow conservationists to assess the health of the world's coral reefs without conducting costly and time-consuming visual surveys, the authors of the study said.
Coral reefs are noisy places, with water movement and ocean creatures contributing to the underwater babel.
A previous study of this ecosystem identified one distinct but unknown noise that appeared to be linked to an abundance of algae.
Scientists recreated the conditions in a tank using a species of Hawaiian algae and discovered the "ringing" noise was actually produced by the release of gas bubbles – a combination of oxygen released from photosynthesis and nitrogen – during photosynthesis.
Specifically, the noise was coming from the tiny movements of the bubbles as they formed a spherical shape in the water.
"During release, relaxation of the bubble to a spherical shape creates a … sound source that 'rings'," the study found.
"Many such bubbles create a large, distributed sound source over the sea floor."
Algae producing noisy gas bubbles
The study's authors said the noises were not specific to the Salicornia gracilaria species of algae that had been observed in the tank.
This meant that researchers could in the future use sound recordings from coral reefs in other locations as a "rapid and inexpensive alternative to visual methods for estimating algal abundance", which is one of the strongest indicators of stress on coral reefs.
The report continued: "Visually determining variations in algal abundance is a time-consuming and expensive process. This technique could therefore provide a valuable tool for ecosystem management."
Overfishing, pollution and warming oceans linked to climate change have led to the destruction of vast swathes of coral reefs around the world.
One damaging side-effect is the proliferation of algae, which smothers coral, choking off oxygen and preventing helpful bacteria from reaching the reef.
The beauty of coral reefs

Show all 6
Around a quarter of coral reefs worldwide are already considered damaged beyond repair, with another two-thirds under serious threat, so enabling conservationists to monitor the proliferation of algae cheaply and easily could aid efforts to save endangered reefs.
Simon Freeman, one half of the husband-wife team from the US Naval Undersea Warfare Centre, which carried out the research, said: "We discovered that algae make sound by first listening to coral reefs, and finding a link between what we heard and how much algae had smothered the coral.
"Intrigued, we performed experiments with algae in tanks to verify the source, and how the sounds made by algae contributed to coral reef soundscapes."
Register for free to continue reading
Registration is a free and easy way to support our truly independent journalism
By registering, you will also enjoy limited access to Premium articles, exclusive newsletters, commenting, and virtual events with our leading journalists
Already have an account? sign in
Join our new commenting forum
Join thought-provoking conversations, follow other Independent readers and see their replies