Could the wolf return to western Europe?
The end of the Cold War turned eastern Europe into a perfect hunting ground for wolves – but now they're moving west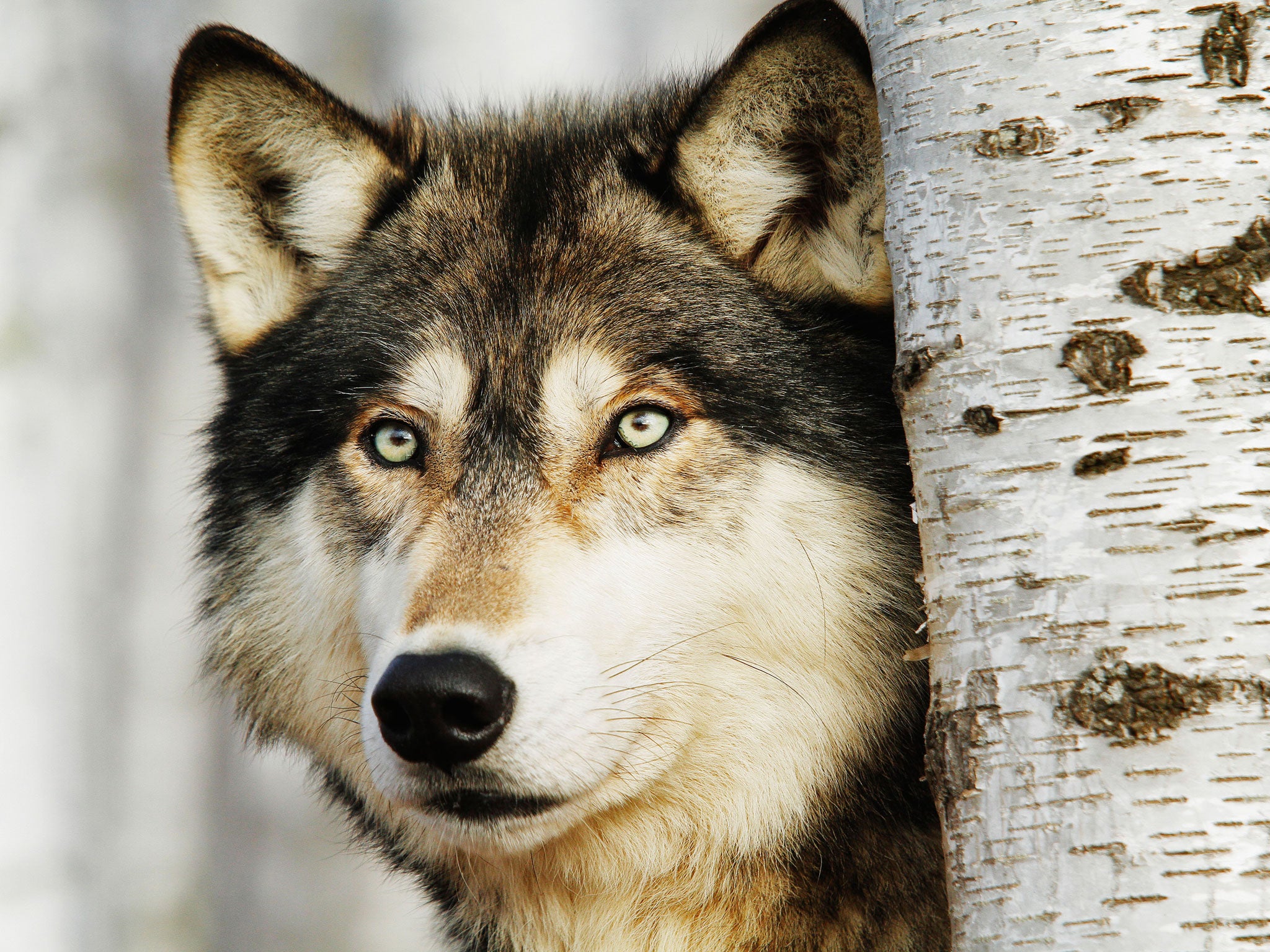 For sheep farmer Frank Neumann, the grisly spectacle was not merely shocking: it was like a surreal re-enactment of a scene from Jack London's White Fang, the famous early 20th-century novel about predatory Alaskan wolves during the Klondike gold rush. One overcast April morning, the 63-year-old shepherd went out, as usual, to tend to his flock, which he had carefully fenced in the night before in a field in the remote east German village of Schleife. He was devastated by the bloodbath that confronted him.
The mauled and blood-soaked corpses of 27 of his carefully nurtured livestock were scattered across his sheep enclosure. A few displayed gaping, bright-red flesh wounds, but most of the dead animals had had their skins punctured by deadly incisors, which had caused them to perish from massive subcutaneous haemorrhaging.
The next night the predators struck again, killing six more of Mr Neumann's flock. "After this bloodbath, I was ready to chuck in sheep farming for good," he told The Independent. Mr Neumann has been a shepherd all his life, but never expected to have his livelihood threatened by wolves.
Germany's "last wolf" was shot dead in 1904. The few that strayed into German territory from eastern Europe after the Second World War met a similar fate. Mr Neumann's flock was attacked in a remote corner of north-east Saxony in 2002. But now the predator has returned with a vengeance, not only to vast tracts of Germany but also to much of western Europe. Just last week an animal, which biologists believe was almost certainly a wolf, was run over and killed by a car near the Dutch hamlet of Luttelgeest, a mere 30 miles from densely populated Holland's North Sea coast. Naturalists say the animal probably came from a German pack and was likely to have been hunting for a suitable location to start a new one. Biologists are still carrying out tests. If their claims are confirmed, the animal will be first wolf found in the Netherlands since 1869.
The wolf's return to western Europe can attributed to the fall of the Berlin Wall in 1989. After Germany's subsequent reunification in 1990, the wolf became a protected species across the entire country. It was a radical policy switch which holds out the near-certain and for many still alarming prospect of the wolf's return to parts of the European Union which have lived without the predator for well over a century. Luttelgeest's wolf is evidence enough. Holland's natural heritage organisation, Natuurmonument, says it may not be long before the animals are again roaming the Dutch countryside.
"Most European countries have signed the 1979 Berne convention which prohibits the killing of wolves," said Vanessa Ludwig, a biologist who monitors the growing wolf population in Germany's Lausitz region, close to the border with Poland . In her office in the so-called "wolf village" of Rietschen, the walls are covered with maps marked out with blue circles denoting the areas where wolf packs have settled only recently. "In Europe, the wolf is at the top of the predatory chain. It has no enemies except humans. We have not reached the legal limit in wolf numbers which would allow for culling, so the species is, by its nature, destined to spread across the continent," she explained.
Wolves started entering Lausitz from Poland in the 1990s. The detritus of the Cold War has turned the area into ideal wolf country. It is covered with military exercise areas once used to train the occupying Soviet Army. Nowadays, they are used much less frequently by German troops.
For most of the time they make up a vast, uninhabited and largely road and path-less wilderness, covered with half-grown pine and birch trees. The public is warned not to enter. Europe has nine wolf population zones including Scandinavia, the Baltic states. Poland, Romania, south-eastern France, Italy and the Iberian peninsula. In Lausitz, a dramatic and significant shift in the wolves' behaviour was observed in 2000, forcing a rethink about the animals' future. A night-vision video camera filmed a pair with a cub as they meandered across one of the deserted military areas. It proved that wolves were not just visiting Germany, but had resettled the country for the first time in more than a century. Today, there are an estimated 40 wolves in the region and their numbers are growing.
Initially their presence evoked fear. "Some were concerned that wolves would attack people," Ms Ludwig said, " But they are shy of humans and usually run away. No person has been harmed by a wolf in the Lausitz."
They feed mostly on game. Roe deer account for just over half of the wolf's diet, followed by red deer and wild boar. The animals are so shy that most people in the region will never see a wolf. They advertise their presence by tracks in sandy soil and their unmistakable droppings, which they use as markers: if a wolf has eaten a wild boar, its droppings are covered in boar bristles. If it has eaten a deer, droppings contain fur and bits of deer hoof.
Environmentalists and foresters say that, in the past, an over-large deer population often ruined attempts to replant the region with deciduous trees because the deer stripped their bark and ate saplings. They have welcomed the wolf's return and argue that it has corrected an environmental imbalance. But farmers say that leaving a pen full of sheep unprotected is the lupine equivalent of offering a free McDonald's lunch to a gang of inebriated football hooligans. They point out that wolves can consume up to 10kg of raw meat in a day.
The attack on Mr Neumann's flock was the most devastating of all recently recorded wolf "incidents". But 50 animals were attacked in different wolf-pack raids last year alone. In 2002, however, farmers were almost totally unprepared. Many had been told that simple fences hung with strips of coloured paper that rustled in the wind would be enough to deter the predators. Thirteen years on, the Laustiz region is learning to live with the wolf. Farmers receive subsidises to install electric fences to protecttheir livestock. Barriers have to be a minimum of 90cm high and strung low enough to prevent wolves from burrowing beneath them. Their introduction has helped to deter countless attacks but they are not infallible. For farmers like Mr Neumann, who tends 300 sheep, electric fences are not enough. He has resorted to the centuries-old practice of keeping Pyrenean sheepdogs to guard his flock. His dogs live with the sheep and consider themselves part of the flock. If a wolf appears, their bark is enough to deter them instantly. "The dogs may cost €3,000 a year in upkeep but my sheep have not been attacked once since I started keeping them," he said.
Hunters are equally at odds over how to react to the wolf's return. Some see it as a threat to theirhobby, others say the wolf has helped to restore natuire's balance. "We are watching the process carefully and hunters are divided on the issue," said Andrea Ende, of the Lausitz hunting association. "We would be the last to say the wolf should be eradicated, but we don't think it should be forever exempt from being culled, either."
In Rietschen's wolf-monitoring office, Vasnessa Ludwig's blue map circles point to a steady expansion of Germany's wolf population. One marks the presence of a recently discovered wolf pack in a forest only a few kilometres south-west of Berlin.
Wolves live with their cubs for about two years until their offspring mature enough to move on and form a new pack elsewhere. "This happens when the wolf population is too large to be sustained by the deer and boar which live around it and which are its natural food supply," Ms Ludwig said.
There have been sightings in Belgium and Holland and in 2012 cubs were born in the western German state of Lower Saxony. Just how far the predators are capable of travelling in search of new pastures was shown last year when a wolf from Lausitz was found in northern Denmark, making it the first animal of its kind to be found in the country for 199 years. Luttelgeest's dead predator may well turn out to have come from the same region. The wolf is not only back – it looks like it's here to stay.
Killers on the loose: Other European predators
Great white shark (Mediterranean)
There have been several confirmed sightings of this increasingly rare species off the coast of the Italian island of Lampedusa, with a breeding population thought to exist in the Strait of Sicily. Don't panic, though: the last human killed by a shark in European waters was in 1984.
Black rat (Europe-wide)
Rats carry many deadly diseases including rabies, typhus and bubonic plague, of which there are between 1,000 and 3,000 cases worldwide each year.
Asp viper (France/Italy)
One of Europe's most venomous snakes, its bite can cause loss of vision, paralysis and kidney failure. About 4 per cent of bites prove to be fatal If left untreated.
Wild boar (Europe-wide)
Wild boar are naturally shy but with their razor-sharp tusks the animals – which can weigh up to 300lb – are aggressive when provoked. Last year, police shot dead a boar that had gone on the rampage in Berlin, injuring four people, including an officer.
Brown bear (Europe-wide)
Brown bears can be found from Sweden to Albania and Italy, and even in the Pyrenees and Spain, although these populations are on the verge of extinction. Three fatal bear attacks have been recorded in Sweden in the past century.
Join our commenting forum
Join thought-provoking conversations, follow other Independent readers and see their replies