Covid-19 ecotourism collapse could spell disaster in the Masai Mara
The pandemic threatens to plunge whole communities reliant on tourism into poverty, which is a massive driver of poaching.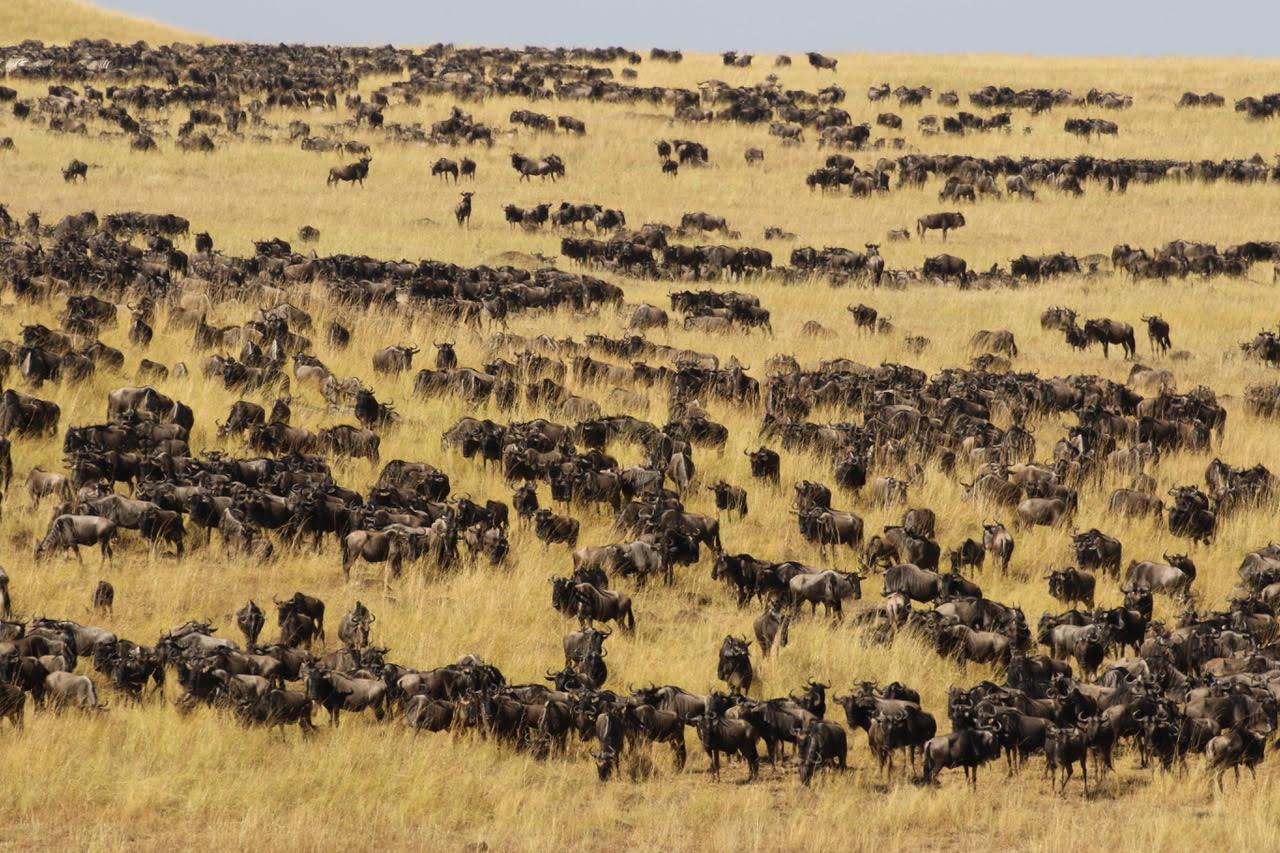 We are protecting wildlife at risk from poachers due to the conservation funding crisis caused by COVID-19. Help is desperately needed to support wildlife rangers, local communities and law enforcement personnel to prevent wildlife crime. Donate to help Stop the Illegal Wildlife Trade HERE
Any day now an estimated 500,000 wildebeest will arrive in the dusty flats of Western Kenya's Masai Mara as part of their annual migration.
This awesome spectacle — just part of over one million animals that move north from Tanzania every July — would usually be watched by thousands of tourists. This year there are none.
Jackson Looseyia, a Masai conservationist and lodge owner in the Mara, told The Independent: "From a nature-loving point of view, it has been beautiful - no vehicle tracks, rest for the animals.
"However, in conservation terms it is a crisis. We have no money coming in whatsoever, and the future is so bleak.
"We are terribly worried about poachers, they have already laid thousands of snares [to trap wildlife]. I've had to set wildebeest free with my bare hands."
That the iconic Masai Mara - one of the world's most famous, important and protected landscapes - could fear such an onslaught of killing shows the extent of the crisis facing conservation in the wake of Covid.
It is in response to this crisis that The Independent has launched its Stop the Illegal Wildlife Trade campaign. Funds raised will pay for vital wildlife-protection projects implemented by the campaign's partner charity Space for Giants.
Hunting of any kind is illegal in Kenya, where a pre-Covid 80% conviction rate for wildlife criminals was among the highest in Africa.
However, the pandemic threatens to plunge whole communities reliant on revenue from tourism into poverty, which is a massive driver of poaching.
Looseyia has had to lay off four members of staff already, with other conservancies in The Mara doing likewise, amid financial uncertainty that stretches long into 2021.
Brian Heath, CEO of The Mara Conservancy, said "thousands of people will be unemployed for as long as the disruption exists.
"It has affected not only conservation but the whole supply chain of support industries, such as food producers, flower business, transport and fuel."
Kenya as a whole is suffering the health and economic impacts of the pandemic. Although the Masai shun killing wildlife to eat, for others hunting 'bushmeat' is now a vital means of survival.
Traders supplying meat to city butchers also mix wild and farmed meat as a lucrative way to boost profits, which if left unchecked risks attracting organised crime groups, fuelling the illegal trade of wildlife.
A report this month from the Kenya Wildlife Service found a 56% increase in bushmeat seizures in Kenya since lockdown began.
Director general Brigadier John Waweru said "Between January to May, 2019, we recovered 1.8 tonnes of bush meat whereas in the same period in 2020, we recovered 2.8 tonnes."
Poaching gangs from both Kenya and Tanzania target cross-border zones, including the Masai Mara, with Nairobi a hotspot for bushmeat consumption.
Dickson Kaelo, CEO of Kenya Wildlife Conservancies Association, told The Independent. "Due to the high rates of unemployment, commercial bushmeat has become rampant in some areas.
"Recently there were even cases of giraffes killed for commercial purposes."
Many conservancy operators in the Mara feel confident about providing sufficient ranger patrols to prevent poaching. Heath's record in this field is formidable, having arrested over 4,500 poachers and collected 50,000 snares in the past two decades.
However, another deadly threat to conservation looms large. The land surrounding the Mara is a patchwork that is leased by tourism partners from nearly 2,000 different land owners.
Heath said: "if ecotourism organisations are unable to pay their rent, there is a real danger that land owners will look for alternative incomes.
"That could mean putting a fence around land and ploughing it up, which would have a huge and potentially irreversible impact on wildlife."
With the tourism money machine obliterated, Looseyia admitted land owners "could not be blamed" for looking for other ways to earn.
Masai land-owners in several areas around the Mara have agreed to accept rent reductions during the pandemic. But many warn that this can only be a short term measure.
Conservationist Jonathan Scott, said; "We are at a tipping point, yet we don't seem to be able to think 'long term' to protect conservation.
"The need to tackle poaching and the illegal wildlife trade has never been more important. But animals can't vote."
No one would have wished for this crisis, but some conservationists view it is a unique opportunity to pause, take stock and reset.
Ninian Lowis, CEO of safari operator Lowis and Leakey, said: "It is a chance to think about how to create a better tourism model to protect wildlife.
"That might mean limiting the number of visitors to reduce the pressure on the environment, increasing park fees, or getting tourism companies on shore because many of them sit abroad.
"Tourism operators have been getting away with not paying their share. Instead, there must be transparent accounting so people can see where their money goes. It is a once in a lifetime chance to make a change in direction from mass tourism to responsible eco-tourism."
The Covid crisis threatens the future of both communities and wildlife in the Mara. While everyone hopes that unemployment levels are kept to a minimum and the tourists soon return, it may be no bad thing if they returned in a different way.
If you would like to donate to help the Mara Triangle through the crisis you can donate to www.maratriangle.org
Join our commenting forum
Join thought-provoking conversations, follow other Independent readers and see their replies