'Cow toilets' created by Dutch inventor in bid to tackle emissions from urine
'A cow is never going to be completely clean but you can teach them to go to the toilet'
Josh Gabbatiss
Science Correspondent
Sunday 31 March 2019 12:57 Comments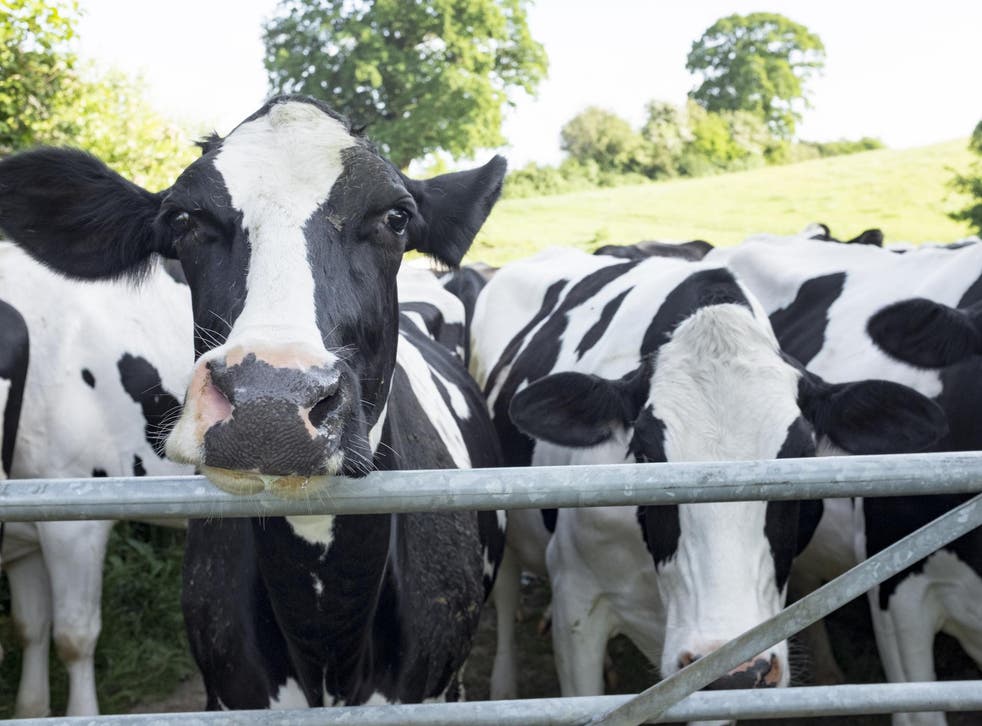 A Dutch inventor has developed a "cow toilet" he says will stop pollution from cow urine at its source and avoid damaging the environment.
Using the device, Henk Hanskamp claims he could cut half the ammonia produced by cows urinating onto pastures.
It has already proved successful in small-scale tests, in which Mr Hanskamp and his team have trained cattle to respond to their urinals.
In doing so, he said they are "tackling the problem at the source" and helping prevent the damage chemicals in urine cause to the climate and water systems.
"A cow is never going to be completely clean but you can teach them to go to the toilet," Mr Hanskamp told AFP.
"Act now or swim later" - Children worldwide protest climate change

Show all 38
The urinal consists of a simple box placed behind the cow while it is at its feeding trough.
After the animal has finished eating, a robot arm will stimulate a nerve near the udders that triggers a need to urinate in the cows.
Tests are underway on a farm near the town of Doetinchem in the Netherlands, where seven of its 58 cows have learned to urinate when presented with the box, without the need for stimulation.
So far Mr Hanskamp has collected thousands of litres of urine in this manner, stored in tanks separately from manure. He said he intends to find start-ups willing to put these potentially useful raw materials to use.
Urine can produce large amounts of the greenhouse gas nitrous oxide after spilling onto the ground, soaking into soils and mixing with manure.
Ammonia in the urine can also contribute directly to pollution and drive the creation of harmful algal blooms when it enters water systems.
The Dutch government is introducing stricter rules on the ammonia emissions of its dairy sector, which is a crucial component in the nation's economy.
Support free-thinking journalism and attend Independent events
Preventing urine entering the environment can avoid a lot of this damage by stopping its components breaking down and reacting to produce more harmful substances.
Following the success of his early trials, Mr Hanskamp intends to continue developing his cow toilets and have them ready for the market by 2020.
Agriculture as a whole is a major contributor to climate change, and is responsible for 10 per cent of greenhouse gas emissions in the UK alone.
However, cow urine is only one component in these emissions, with CO2 as well as methane and nitrous oxide from livestock and fertilisers contributing significant chunks as well.
Register for free to continue reading
Registration is a free and easy way to support our truly independent journalism
By registering, you will also enjoy limited access to Premium articles, exclusive newsletters, commenting, and virtual events with our leading journalists
Already have an account? sign in
Join our new commenting forum
Join thought-provoking conversations, follow other Independent readers and see their replies