Crunch time for climate deal talks in Durban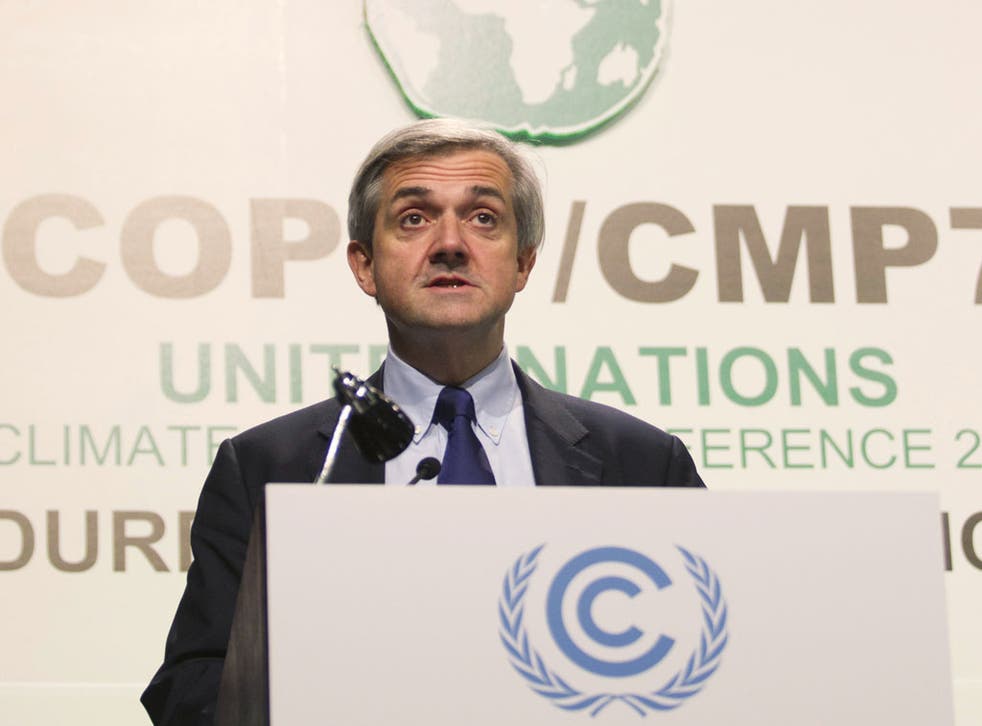 Countries were today locked in debate over whether to press ahead with a new legal climate treaty, as the latest round of UN global warming talks entered their final hours.
On the table at the talks in Durban, South Africa, are plans to launch a process to develop a "legal framework", covering all countries, to cut greenhouse gas emissions after 2020.
Under the current plans, which still have countries locked in negotiations, the new treaty would be agreed by 2015.
The proposals, which call for action to cut emissions in order to keep global temperatures from rising by more than 2C above pre-industrial levels, also say that countries will have to strengthen current efforts to tackle global warming.
Europe has been calling for the UN talks to agree a mandate to negotiate, by 2015, a legally-binding climate deal covering all major economies, in return for the bloc signing up to a second period of emissions cuts under the existing Kyoto treaty.
The EU wants action from other countries because the Kyoto Protocol, which was never ratified by the US and does not cover major economies such as China, accounts for just 15% of world greenhouse gas emissions.
But it is not yet clear if major players such as the US, China and India will sign up to a road map to a legal deal negotiated by an agreed date.
There are also calls to address the "emissions gap" between the voluntary pledges countries have made to cut greenhouse gases and the reductions needed by 2020 to keep the world on track to keep rises to 2C and avoid "dangerous" climate change.
The deal on the table recognises the need to strengthen efforts, boost ambition taking into account a new global scientific assessment of climate change due out in 2013 and consider whether efforts should be made to keep temperature rises to just 1.5C.
UK Climate Change Secretary Chris Huhne earlier said a "high-ambition coalition" of countries was pushing for a strong deal which delivered carbon emissions reductions.
And he said: "I think we're reaching the point at which a number of delegations have got to decide whether they want to get a treaty with real environmental integrity.
"We have some pretty fundamental political changes in the sense there's now a very visible high ambition coalition that stretches across the developed world in Europe and developing countries.
"And the real issue is whether those who until now have been reluctant to join the high ambition are actually prepared to do so."
He said Europe was standing firm in its determination to get countries to sign up to negotiating a new legally binding global agreement to reduce greenhouse gas emissions - and now spoke for the majority of countries.
Despite political turmoil among European leaders in Brussels, at the climate talks in Durban, South Africa, Mr Huhne said the EU was "absolutely united" in its bid to get a deal that delivered on the ground.
As negotiators remained locked in talks to agree a deal, campaigners staged a noisy protest in the conference centre, in support of countries most vulnerable to the impacts of climate change including African nations and small island states.
The World Development Movement said the protesters were accusing the UK and other rich countries of trying to escape their responsibilities for addressing global warming.
Greenpeace International's executive director Kumi Naidoo was thrown out of the talks after participating in the protest.
Before being ejected from the conference centre, he said: "We are here to stand with the most vulnerable countries whose basic survival needs have not been met by the men and women in that conference hall.
"We are here to call upon government ministers to listen to the people and not the polluters."
After he was thrown out, Mr Naidoo said the American delegation was continuing to obstruct progress on the talks, which could lead to low-lying island states being wiped off the map.
As negotiations continued, environmental charity WWF's head of delegation Tasneem Essop said of the proposals: "It is a start, but it can't be the end result."
She said the ambiguous language describing a new treaty as a "legal framework" could pull in countries which were not prepared to sign up to a "legally binding" deal. But she said there needed to be more ambition in the deal to keep temperature rises below 2C.
Progress on the deal was the key that would unlock agreement on other elements being negotiated in Durban, including the green climate fund to channel billions of pounds to poor countries to help them cope with global warming, she added.
PA
Register for free to continue reading
Registration is a free and easy way to support our truly independent journalism
By registering, you will also enjoy limited access to Premium articles, exclusive newsletters, commenting, and virtual events with our leading journalists
Already have an account? sign in
Register for free to continue reading
Registration is a free and easy way to support our truly independent journalism
By registering, you will also enjoy limited access to Premium articles, exclusive newsletters, commenting, and virtual events with our leading journalists
Already have an account? sign in
Join our new commenting forum
Join thought-provoking conversations, follow other Independent readers and see their replies