Dakota pipeline protesters hit with water cannons and tear gas in below-freezing temperatures at Standing Rock
At least 17 people had to be taken to hospital - some with hypothermia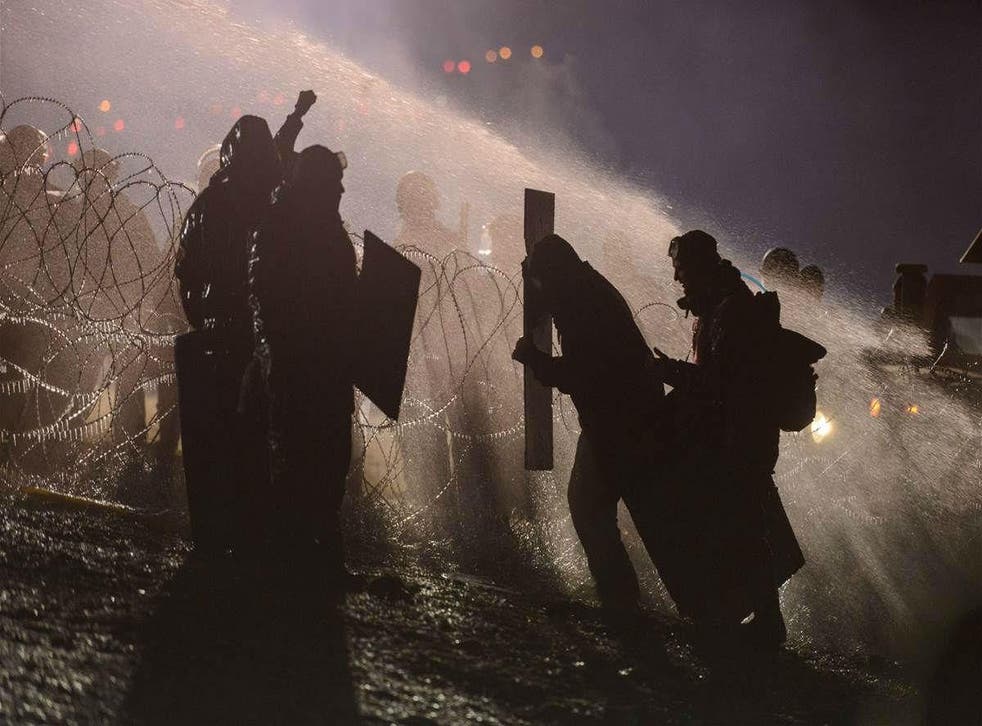 The temperature had fallen to below freezing, but that did not stop police firing water cannons at protesters trying to block an oil pipeline that Native Americans fear could pollute their water supply.
Reports said at least 17 people had to be taken to hospital on Sunday evening, a number of them for treatment for hypothermia, after police in North Dakota used the cannons, along with tear gas and rubber bullets, to disperse the protesters.
"This is an ongoing escalation of state violence," Dallas Goldtooth of the Indigenous Environmental Network, told The Independent. "Am I disappointed, yes. Am I surprised, no."
The 1,200-mile, four-state pipeline is being built to carry oil from western North Dakota to a shipping point in Illinois.
Yet the Associated Press said construction of the $3.8bn pipeline has been protested for months by the Standing Rock Sioux, whose reservation lies near the pipeline route, and the tribe's allies, who fear a leak could contaminate drinking water.
They also worry that construction could threaten sacred sites.
Linda Black Elk, a member of the Standing Rock Medic and Healer Council of the Catawba tribe, said she treated protesters for injuries and hypothermia and they were soaked by water in temperatures as low as 23 degrees.
"Last night was a really critical life or death situation," she told NBC News. "There were hundreds of people out on the frontlines. People were first soaked down with tear gas and then sprayed with a bunch of water."
Protestors say that the clashes began when they tried to remove a roadblock on a bridge north of their Oceti Sakowin Water Protector Camp. The roadblock, composed in part of burned-out trucks, has blocked the main route to the city of Bismarck since late October.
On Monday, the authorities sought to defend their decision to douse protesters with water during a skirmish in subfreezing weather near the oil pipeline.
Hollywood Stars Join Standing Rock Sioux Members to Protest North Dakota Pipeline
Morton County Sheriff's spokesman Rob Keller denied that water cannons had been used on protesters. Mr Keller said a tactical vehicle spraying tear gas has been mistaken by some people as a water cannon.
However, he did tell the AP that water hoses owned by the Mandan Rural Fire Department were used to put out fires set by protesters and to turn back protesters during a violent clash that was "rapidly unfolding."
"Water hoses were used to keep distance between officers and criminal agitators and also to put out fires set by those agitators," he said.
Mr Goldtooth said the fires were set to warm people soaked with water. He criticised authorities' use of water on a frigid night.
Sierra Club Executive Director Michael Brune issued a statement calling the use of water an "act of brutality" and "nothing short of life-threatening and inhumane."
Greenpeace spokeswoman Mary Sweeters called it "nothing short of horrific" and said it put people's lives in danger".
The sheriff's department said in a statement that law enforcement officers "had rocks thrown at them, burning logs and rocks shot from slingshots," and that one officer had been hit on the head by a thrown rock. One person was arrested.
Pipeline developer Energy Transfer Partners has said no sites have been disturbed and that the pipeline will have safeguards against leaks, and is a safer method of transport for oil than rail or truck. The company has said the pipeline is largely complete except for the section under Lake Oahe, a Missouri River reservoir in southern North Dakota.
Join our new commenting forum
Join thought-provoking conversations, follow other Independent readers and see their replies