Enormous Dalmatian pelicans could return to British skies after 2,000 years under ambitious rewilding plans
Hunted to extinction in Britain during the Roman occupation, species with wingspan rivalling the largest albatrosses could soon be back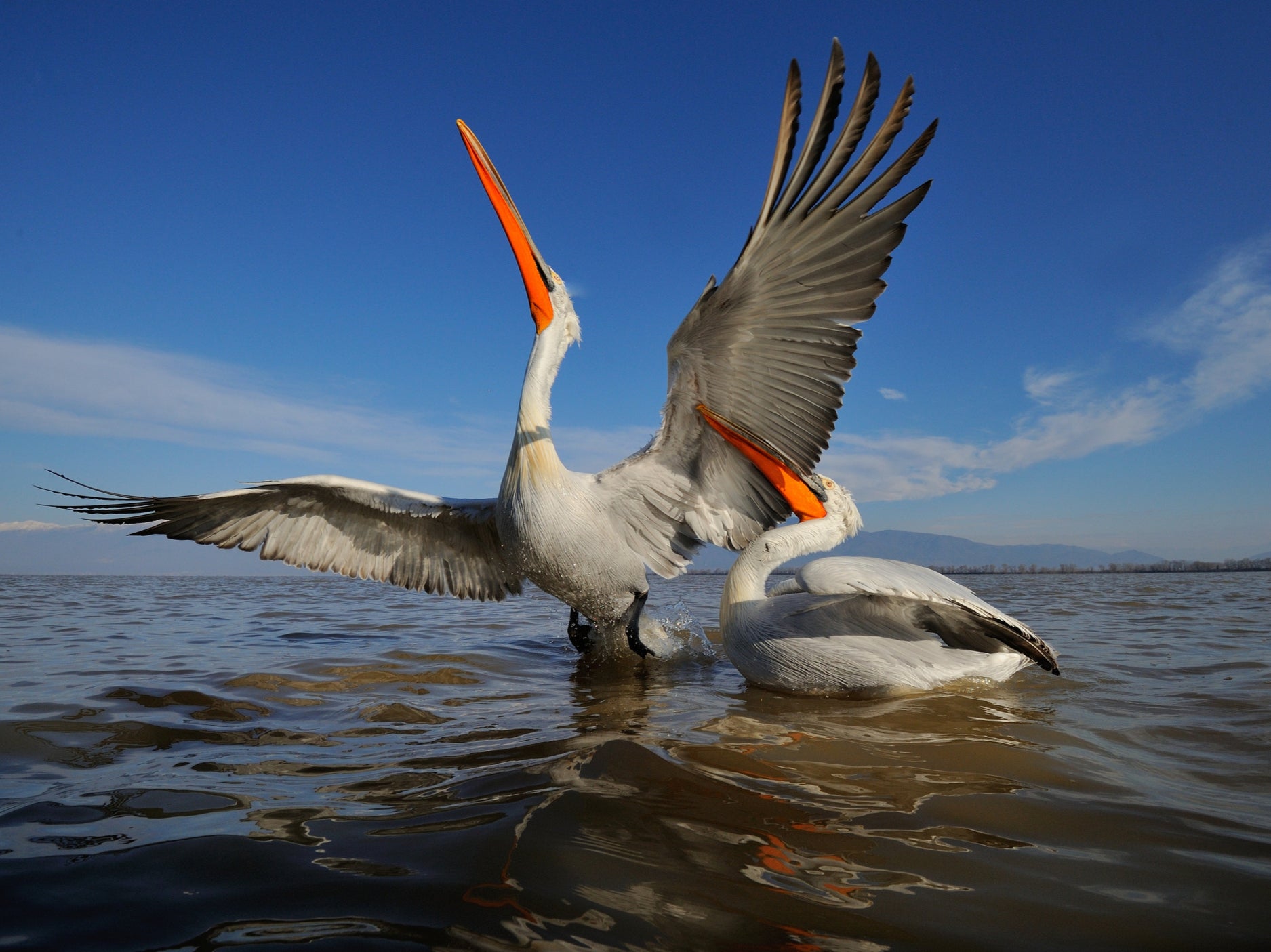 For millennia, the skies over Britain were home to one of the planet's most enormous flying birds – the Dalmatian pelican – until they were hunted to extinction almost 2,000 years ago.
Now, a new rewilding effort which aims to expand the UK's marshlands could see the belated return of these huge freshwater birds.
The UK's Wildlife Trusts is already working to restore and protect the country's wetlands, and plans drawn up by naturalist and rewilding advocate Ben Macdonald make the case for a careful reintroduction of the birds in the near future.
From bill to tail, Dalmatian pelicans grow up to six feet in length, and have wingspans of up to 11.5 feet (3.5m) – dwarfing the UK's existing largest bird, the common crane, which has a wingspan of up to 2.4 metres. Its size means it rivals the wingspan of the largest albatross species, and it is among the heaviest flying birds.
The fossil record reveals the birds would have been very common in areas such as Somerset, Norfolk and parts of Yorkshire around 12,000 years ago, but due to hunting and drainage of wetlands, pelicans became extinct in the UK, with the last fossil from around 43AD – the time of the Roman occupation of Britain.
Mr Macdonald, whose book Rebirding examines possibilities for reintroductions of bird species, told The Independent he believes there is already the necessary habitat to support a limited number of Dalmatian pelicans in Britain, but said any reintroduction would have to be carried out based on "rigorous science".
He said: "What's extraordinarily exciting is for generations we have grown up thinking that truly exciting wildlife belongs in Africa or you need to travel to the darkest depths of Romania to see, and what we forget is that originally we had these giant birds here in the United Kingdom, floating over our marshes."
The Somerset levels  one of the bird's historic breeding sites – could be a future area considered for a reintroduction, Mr Macdonald said, but the wetlands would require further restoration to support pelicans.
For now, he has other areas in mind.
"Pelicans need large connected areas of fish-rich water, which of course brings us to the other side of the country where we've been seeing successful conservation for decades, which is the East Anglian coast."
He said the combination of the Suffolk coastal reserves leading up to the huge marshes of the Norfolk Broads, as well as the marshes of north Norfolk were together comparable in size to areas inhabited by smaller pelican colonies in countries such as Montenegro.
"You've got 220 sq km of fish-rich water, and of course, that's what pelicans are all about – large expanses of fish-rich water where they can fish. There are huge expanses of fish-rich reed bed, secluded and protected."
"So in many ways you could argue that conservationists have been moving towards pelicans for the last 50 years. It would be the crowning glory."
"I'm not saying they should arrive tomorrow, but I think it's a very important species we should be thinking about, and doing so makes us think big."
Nikki Williams, director of campaigns and policy at The Wildlife Trusts told The Independent: "Pelicans soaring over marshlands would be a fantastic sight – but first we need more, bigger, better wetlands.
"We want to see the return of species that were once common but before this can be done we must ensure there's plenty of the right sort of wild habitat first. As things stand, we're one of the most nature-depleted countries on the planet and that's because we have so few wild places left."
She added: "The Wildlife Trusts are reviving wetland areas all over the UK, often with the help of nature's eco-engineers – beavers. There are so many benefits of this sort of work – thriving wetlands hold back floodwater and stop it gushing downstream and they also filter out impurities so we have better drinking water. And yes, they support fabulous wildlife too."
The RSPB also told The Independent they could support the reintroduction of the species "in principle", provided comprehensive scientific assessments were undertaken and suitable habitats created.
Leigh Lock, the RSPB's species recovery development manager said: "In principle, we'd support the reintroduction of Dalmatian pelican, but only if this decision was first reinforced by a full feasibility study which looks at available habitat and the level of support from local stakeholders and communities.
"Critically, habitat creation needs to come first. It's a very long time since these birds occurred here and our landscape is much changed, so we need to assess how suitable it now is to sustaining such a population."
He added: "One of the things a feasibility study would do is help identify the habitat needed, which is likely to be larger and more connected wetlands – the creation and management of such areas would undoubtedly benefit many other species too."
Mr Macdonald said other recent rewilding initiatives, such as the first breeding pair of white storks in 600 at Knepp in Sussex years show what can be done through conservation efforts.
He said: "[Storks] are another fantastic example of what's possible. A few years ago people would have said 'how absurd that we could have storks back nesting in our countryside, and perhaps nesting on people's chimneys', but in a few years that's changed.
Mr Macdonald said the presence of the bird would be regarded as a "flagship species" – an icon of any wetland habitat in which it lives, and would not only be beneficial to local economies, but could also have positive ecological impacts.
"The Dalmatian pelican is an interesting bird because it doesn't fish in groups like other species of pelican, it spreads out, so the impact of pelicans on any one wetland would be considerably less than a large colony of cormorants. Pelicans can displace cormorants, so we wouldn't be seeing a net-loss of fish."
Their return to the UK also be regarded as positive by the anglers, as preparations for the bird's arrival could result in further wetlands being opened up, and therefore create more habitat for fish and more angling opportunities.
Describing the first time he saw a Dalmatian pelican in Hungary, Mr Macdonald said: "I thought it would be the size of a large heron or a stork, or something. Then this glider comes past me and crosses the entire marsh without even beating its wings.
"It's hard to overstate the importance of awe when it comes to ecotourism and flagship species and investment."
A Defra spokesperson told The Independent: "As part of the 25 Year Environment Plan the government will provide opportunities for the reintroduction of formerly native species, where there are clear environmental and socio-economic benefits.
"Any application to reintroduce a formerly native species, such as the Dalmatian Pelican, would have to comprehensively demonstrate the benefits of such a release and how any impacts would be managed."
Join our commenting forum
Join thought-provoking conversations, follow other Independent readers and see their replies