'Dangerously high' levels of airborne carcinogens found at US fracking sites
"We should be very concerned about these findings," claims scientist who lead study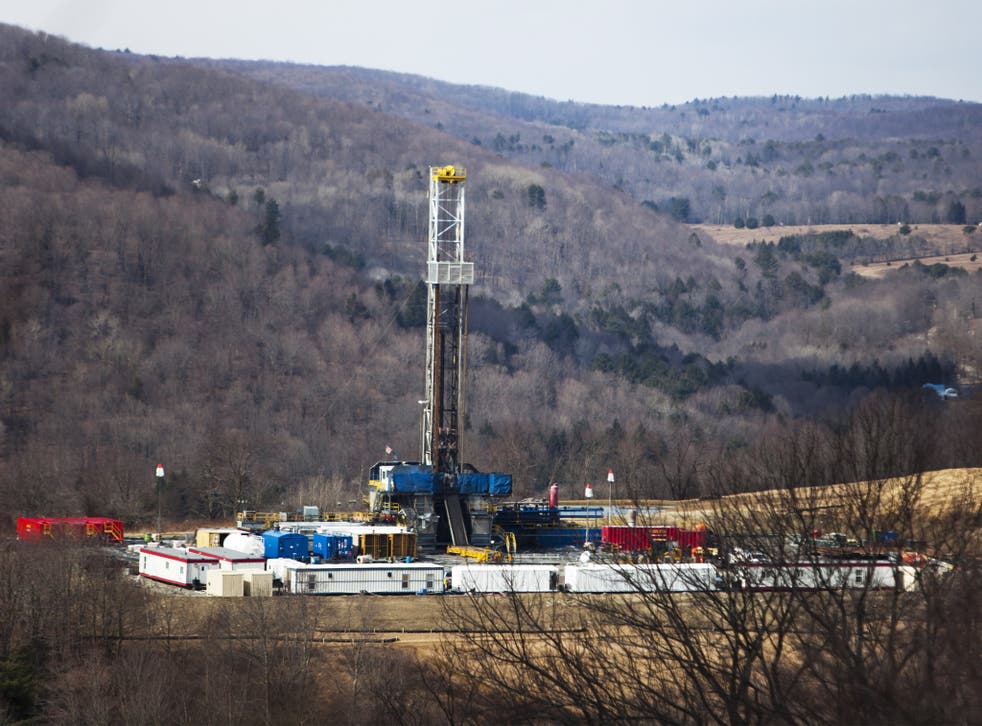 Dangerously high levels of cancer-causing chemicals have been discovered in the air around "fracking" sites in the United States - highlighting the need for tougher regulations to control oil and gas extraction in Britain, scientists said.
Levels of benzene, formaldehyde and hydrogen sulphide were many times above the US's air pollution limits and were detected within residential areas near to fracking wells drilled across five different states, the researchers said.
Some levels of benzene – a known carcinogen – were more than 30 times the concentrations that would be found in the air at a petrol station when filling a car with fuel, they said.
"I think we should be very concerned about these findings. Benzene and formaldehyde are both known to be human carcinogens," said David Carpenter, professor of environmental health science as the University of Albany in New York, who led the study.
"The concentrations of benzene were taken at a single point in time but they were several orders of magnitude above levels that are known to cause cancer. Those are very serious elevations," Professor Carpenter said.
Air samples at 11 fracking sites were found to range from 35 to 770,000 times higher than background levels. The exposure to benzene at one site in Wyoming was equivalent to living in Los Angeles for two years or Beijing for eight and half months.
Levels of hydrogen sulphide, a respiratory irritant, ranged from 90 to 60,000 times higher than background levels – levels that would cause irritation to the eyes and respiratory tract after an hour of exposure, the researchers said.
Some of the air samples were collected by the residents themselves using special "grab" sample equipment which they used when there was heavy industrial activity, or when they felt ill or could smell an odour. Other samples were collected by passive sensors monitoring throughout the day, Professor Carpenter said.
"At a disproportionate number of sites, we see levels that are above US health standards. A lot of fracking wells have been put close to residents and the US Congress specifically exempted the oil and gas industry from US air regulations," he said.
"It's all a matter of how the industry is regulated. We used local people to take the air samples because in the US the government has exempted the fracking industry from many of the air pollution regulations," he said.
"We did everything we could to ensure we had trained, responsible people taking the samples and we had no reason to suspect that there was deliberate contamination of the samples," he added.
Scientists in Britain emphasised that much tougher anti-pollution regulations will regulate fracking operations in the UK where operators will be expected to collect waste gases instead of venting them into the atmosphere.
"One of the key difficulties faced by the incipient UK shale gas industry is that it will be required to operate to far higher environmental standards than currently prevail for shale gas projects in North America, as regards a whole host of environmental issues," said Rob Westaway, an energy engineer at the University of Glasgow.
"A number of studies have shown that the combination of environmental measures that will be required in the UK will reduce the pollution per shale gas well dramatically, to levels that are negligible, compared with US conditions," Dr Westaway said
Professor Andrew Aplin of Durham University said: "Industrial emissions are tightly regulated in the UK and these regulations currently apply to those who have been producing conventional oil and gas in the UK for many years. The same rules will apply to any future producers of shale gas."
Join our new commenting forum
Join thought-provoking conversations, follow other Independent readers and see their replies