David Cameron's house 'fracked' by Greenpeace
Environmental activists turn the Prime Minister's home into a 'fracking site' in response to underground drilling laws announced in the Queen's speech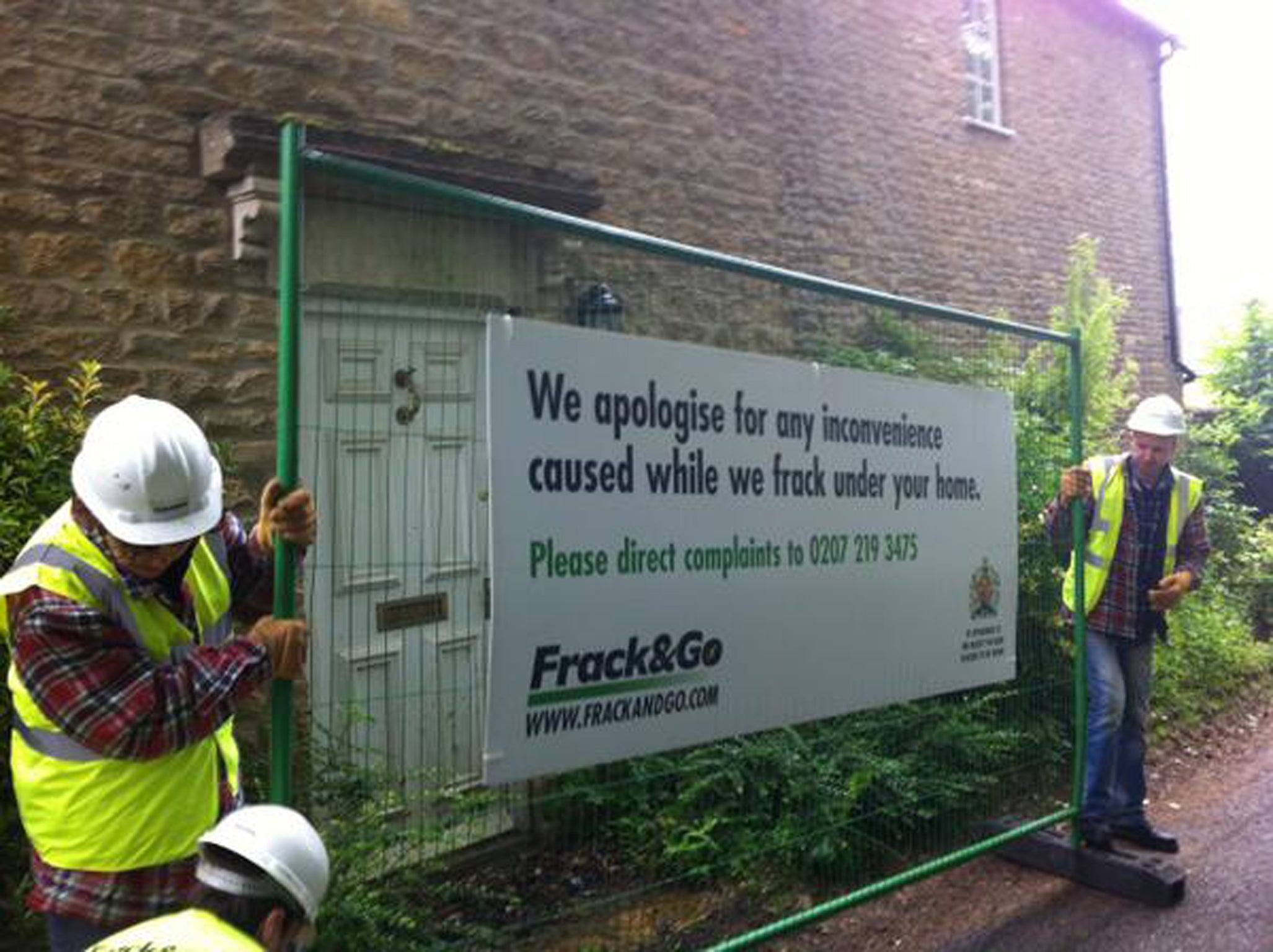 Equipped with hard hats, high-vis jackets and security fencing, Greenpeace activists staged a protest at David Cameron's Oxfordshire home in response to legislation that will allow fracking firms to drill under people's property without their permission.
Protesters sealed off the house's front entrance with fencing, erecting a sign that read: "We apologise for any inconvenience we may cause while we frack under your home."
The anti-fracking campaigners also delivered a super-sized cheque of £50 - which is they say is the maximum compensation ministers will pay to home and landowners for allowing companies to drill under their property.
Simon Clydedale, of Greenpeace UK's energy campaign, said: "David Cameron wants to rob people of their right to stop fracking firms drilling under their home – surely he won't mind if we kick off the under-house fracking revolution below his own garden.
"The prime minister is about to auction off over half of Britain to the frackers, including national parks and areas of outstanding natural beauty like the Cotswolds.
"Fracking won't deliver energy on a meaningful scale for years, if ever, by which time we'll need to have moved away from dirty fossil fuels and towards high-tech clean power if we're to head off dangerous climate change."
According to the new legislation, an overt attempt to accelerate fracking countrywide, companies will no longer have to request permission to drill under peoples' homes, but current laws of trespass require that land and home-owners consent for shale gas and oil drilling under their land.
A recent YouGov survey found three-quarters of people in Britain oppose ministers' plans to strip people of their access rights to clear the way for fracking, the charity said.
More than 46,000 people have joined a legal block set up by Greenpeace and based on the access rights homeowners have over the ground below their property, according to the organisation.
Join our commenting forum
Join thought-provoking conversations, follow other Independent readers and see their replies