Delhi's Diwali fireworks bring record levels of pollution to city
There is now a serious risk of respiratory problems for people living in the Indian capital as the air quality index rockets from safety levels of 150 to 999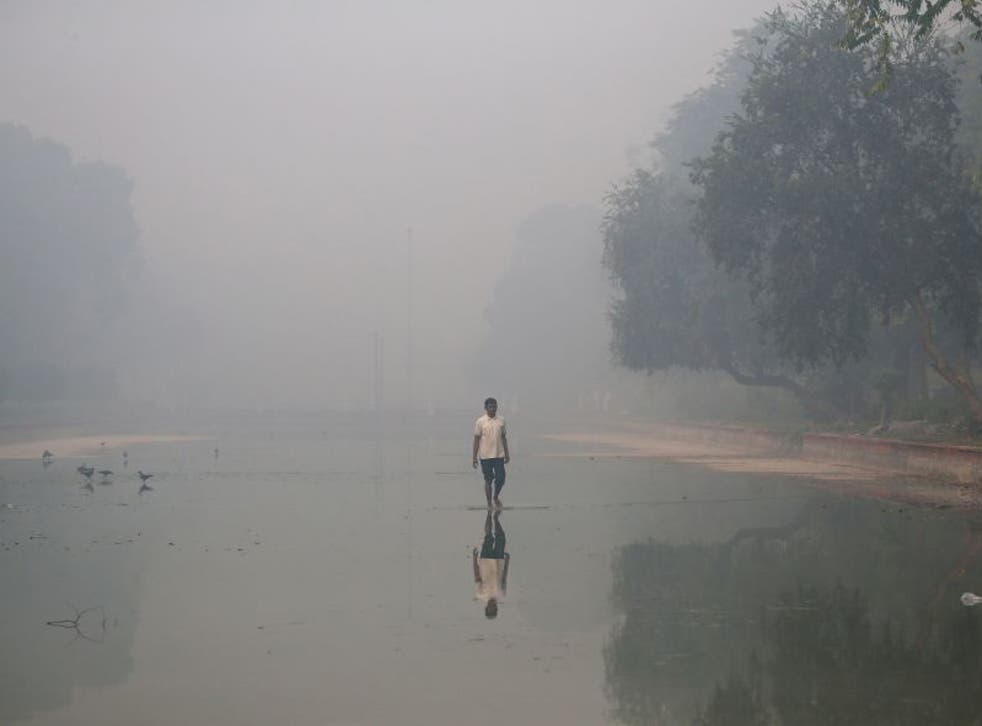 The brightly coloured fireworks of New Delhi's festival of lights have faded and turned the air thundercloud-grey, bringing record levels of pollution to one of the world's most densely populated cities.
Millions of Indians marked Diwali, which celebrates the triumph of good over evil, or light over dark, by using firecrackers in the streets.
Yet the festival has created air pollution on a massive scale – in some places 10 times the level recommended by the World Health Organisation (WHO) – that has cast a gloom over the capital.
Gufran Beig, chief scientist at India's state-run System of Air Quality Weather Forecasting and Research (Safar), said needles on monitors in the RK Puram neighbourhood in northern New Delhi breached the 1,000 microgram mark late on Sunday night at the finale of a frenzy of fireworks.
On Monday, Delhi's air measured 999 on the Air Quality Index, SAFAR said. It is considered safe to breathe at 150.
"Almost 60-70 per cent of the smoke came from the firecrackers," said Mr Beig, who said the situation had been widely expected, given that Diwali is always one of the worst periods for pollution. "It was already predicted that the levels would increase several notches," he told AFP.
In health guidance on its website, Safar said there was a "serious risk" of respiratory problems for people living in Delhi and people should avoid all physical activity outdoors. Those with heart or lung disease, older adults and children should stay indoors and keep activity levels low, it added.
Levels of pollution traditionally surge over Diwali but the situation this year was exacerbated by high levels of moisture in the air and the burning of crop stubble by farmers on the outskirts of the capital or in neighbouring states, Mr Beig said.
The worst countries in the world for air pollution deaths

Show all 10
New Delhi's air quality has steadily worsened over the years, a consequence of rapid urbanisation that brings pollution from diesel engines, coal-fired power plants and industrial emissions. It also suffers from atmospheric dust and pollution from open fires lit by the urban poor to keep warm in winter or to cook food.
Delhi's government last week announced plans to install air purifiers and mist-making devices at major intersections to curb choking pollution.
A 2014 WHO survey found that 13 of the most polluted 20 cities in the world were in India. Delhi was the most polluted city in the world, according to the study.
Air pollution is also a major cause of premature death in India, with about 620,000 people dying every year from diseases relating to pollution, according to the WHO.
AFP contributed to this report
Register for free to continue reading
Registration is a free and easy way to support our truly independent journalism
By registering, you will also enjoy limited access to Premium articles, exclusive newsletters, commenting, and virtual events with our leading journalists
Already have an account? sign in
Register for free to continue reading
Registration is a free and easy way to support our truly independent journalism
By registering, you will also enjoy limited access to Premium articles, exclusive newsletters, commenting, and virtual events with our leading journalists
Already have an account? sign in
Join our new commenting forum
Join thought-provoking conversations, follow other Independent readers and see their replies