'Cleanest in history' diesel cars still pollute above current legal limits
Car manufacturers are 'knowingly misleading their customers and the public at large', say campaigners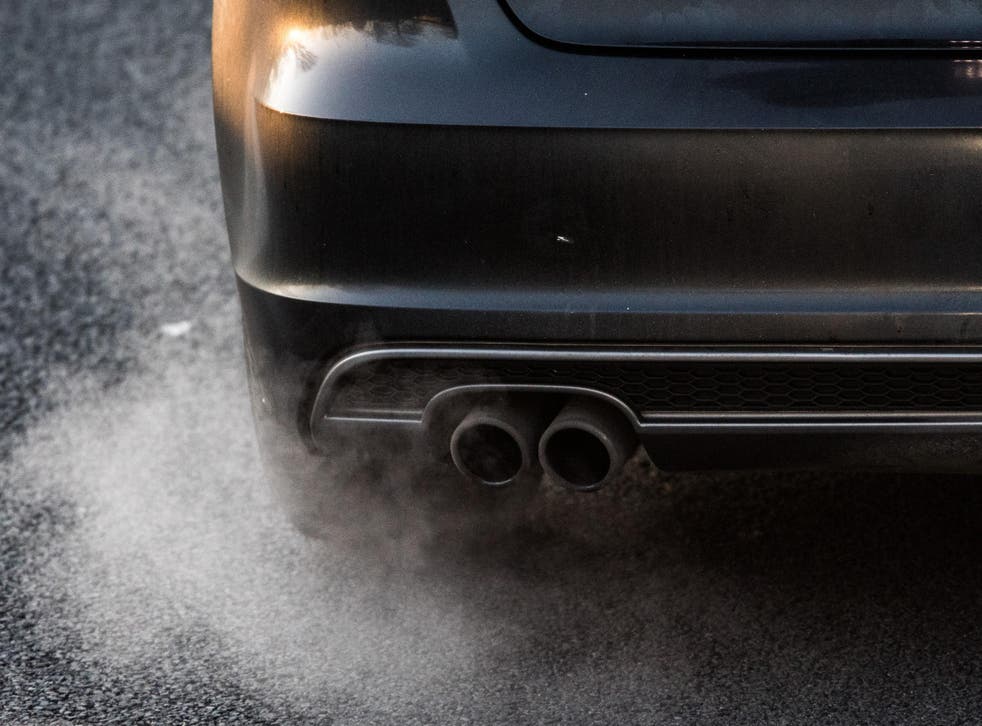 Over half of diesel cars recently approved for sale in Europe are emitting pollutants far above current legal air pollution limits, despite being marketed as the "cleanest in history".
Analysis of emissions data from nearly 100 car models revealed many vehicles from the new "Euro 6" generation would not be allowed on the market if they were tested today.
An investigation by Greenpeace found dozens of these high-polluting vehicles were approved for sale during a "monitoring period" in which there was no limit set on the amount of nitrogen oxide (NOx) they could emit on roads.
Many of these vehicles have only gone on sale across Europe in the recent months.
The news comes after a German court ruled cities can impose driving bans on certain diesel cars in an effort to deal with the country's air pollution.
Such restrictions on diesel cars – including the clean air zones found in London and other UK cities – tend to focus on older, dirtier car models.
However, Greenpeace campaigners emphasised that while newer Euro 6 models are described as "light years away from their older counterparts" many of them still have the capacity to emit high levels of pollutants.
Following the so-called "dieselgate" scandal in 2015, which found Volkswagen had installed "cheat software" in its vehicles to fool lab emissions tests, there was a widespread push for tough new regulations.
In the aftermath of the scandal, testing revealed diesel cars that met the latest "Euro 6" limits for NOx emissions in lab tests were massively exceeding those limits when driving on the road.
As a result, the EU brought in the real driving emissions (RDE) test to assess how cars performed in real traffic conditions.
Despite the introduction of these tests in April 2016, no NOx limit was put in place for them until September 2017.
Theresa May responds to high court ruling that air pollution plan is 'unlawful'
This meant that, for over a year, new car models being approved for the market did not have to meet any not-to-exceed limits for NOx emissions when driving on the road.
During this period, major car manufacturers had dozens of new models approved for sale in the EU.
Though these new models were subjected to the new RDE testing, the results of their tests were not taken into consideration. Instead, cars were approved for sale on the basis of the lab tests that had been discredited following the emissions scandal.
Greenpeace's investigative platform Unearthed gained access to the data from the RDE tests of 94 of these new models, covering cars produced by Europe's 20 most popular brands.
They found more than half the vehicles tested exceeded the RDE emissions limit that came into force in September 2017, meaning if they were tested today they would not be allowed on the market.
"Carmakers, backed by the industry lobby, are yet again knowingly misleading their customers and the public at large by marketing new Euro 6 diesels as the 'cleanest in history'," said Greenpeace clean air campaigner Paul Morozzo.
"Their own data shows that more than half of the very newest, top-selling Euro 6 diesel cars pollute far above the latest standards. They're still dirty and they're still putting people's health at risk. It's time the industry took responsibility and stopped investing in diesel."
The worst results for RDE testing came from the 1.6 litre Fiat Tipo, which recorded emissions 4.5 times the legal limit when driving in an urban setting, and from the Renault Scenic Energy dCi 95, with emissions 2.4 times the limit.
When contacted for comment, car manufacturers including Peugeot and Citroën emphasised the models in question were approved when emissions limits were not in place.
Mike Hawes, chief executive of UK automotive trade association SMMT, said due to this the results were "no surprise".
"The monitoring period was created to test out the new RDE methodology and measuring equipment and to give a baseline for future development," he said.
Thick smog engulfs New Delhi as air pollution peaks in the city

Show all 10
"The vehicles tested were not required to meet RDE as that requirement did not come into force until September 2017 for new models brought to market from that date."
Despite this, Greenpeace said the newly revealed data demonstrate the harm that can come from even the newest diesel cars.
"Bans on older diesel models, like the ones in Germany that were allowed this week, are a big step forward but this investigation by Unearthed clearly shows a significant proportion of new Euro 6 diesels still emit up to three times the new NOx limit, so it's not just older diesel models we need to be worried about," said Mr Morozzo.
While the data showed some manufacturers are producing cars that perform well below the legal NOx limits – most of which were fitted with selective catalytic reduction technology – environmental campaigners have emphasised the importance of phasing out diesel cars altogether.
Cars with lower NOx emissions still produce high levels of carbon dioxide, and therefore even low-polluting models contribute to the wider problem of climate change.
A recent report from the Committee on Climate Change recommended the Government should implement "more stretching targets" to encourage uptake of electric vehicles, with the majority of new car and van sales electric by 2030.
The Government's current plan is to phase out sales of both petrol and diesel cars and vans by 2040.
Join our new commenting forum
Join thought-provoking conversations, follow other Independent readers and see their replies