Dolphin hunting season begins in Taiji, Japan
Protesters across the globe staged demonstrations against the annual event where hundreds of animals are killed or captured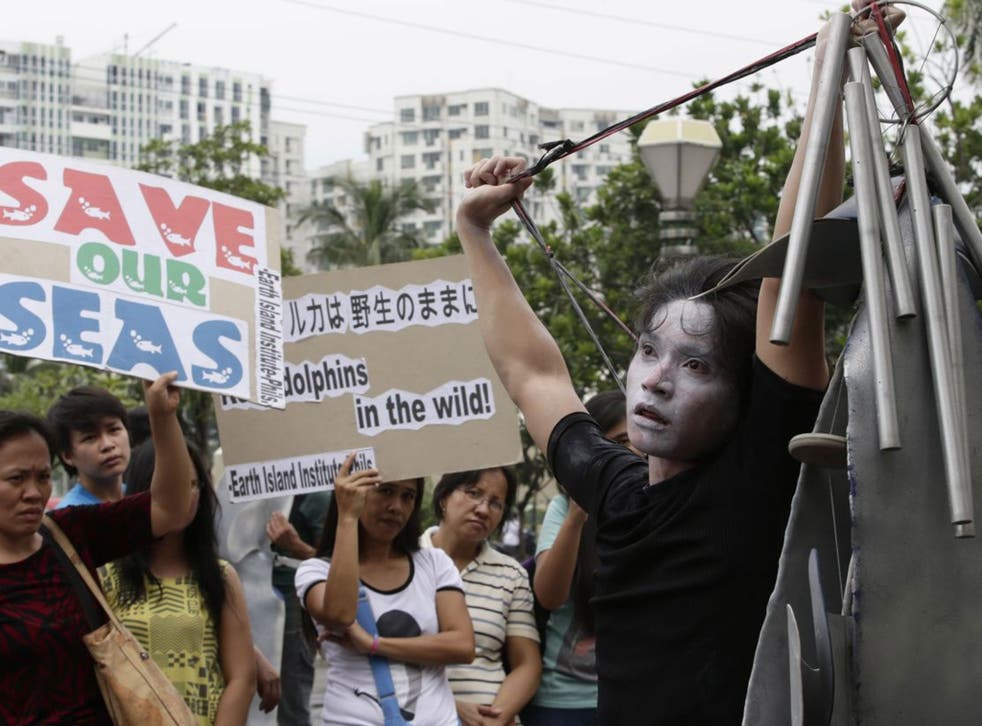 The controversial dolphin hunting season on Japan's north-west island of Taiji has started, according to officials.
Confirming that 1 September marks the start of the season, authorities added that poor weather had delayed the killings.
While the dolphins will be hunted for six months, the hunt for small pilot whales – a type of small dolphin - will continue until April.
During the notoriously brutal hunts, fishermen on boats surround pods of migrating dolphins, lower metal poles into the sea and bang them to frighten the animals and disrupt their sonar abilities.
The dolphins are then herded into the narrow cove in Taiji, where the fishermen attack them with knives, before dragging them to a harbour-side warehouse for slaughter. The best-looking dolphins are separated and sold to aquariums.
Warning some viewers may find these images distressing
Supporters of the practice claim that dolphin and whales have been hunted and eaten in the area for centuries, and some local fishermen say the cull is necessary to keep dolphins from eating too many fish.
Annual dolphin hunt in Taiji, Japan

Show all 15
But animal rights activists in Japan, including those who staged protests against the start of the hunting season on Monday, claim the hunts are not traditional, the International Business Times reported.
Protesters from across the world also lent their voices to the cause, using #JapanDolpinDay and #JDD2014 on social media websites.
"[The hunts] exist only for making big profits for the fishermen and the companies that buy live dolphins for their facilities," the NGO Save Japan Dolphins said, the website reported.
"The hunts began in 1969, and several other Japanese towns (Iki Island and Futo) have given up their drive hunts. There is no excuse for Taiji to claim that opponents are against their 'food culture' or 'ancient traditions'."
Last year, 850 dolphins were killed in last year's hunts, and over 150 were taken to live in captivity, according to charity Whale and Dolphin Conservation (WDC), which campaigns, lobbies and advises on protecting the creatures.
The deadly practice sparked international outrage in 2009 following the release of 2009 The Cove.
The documentary claims that more than 20,000 dolphins and porpoises are killed every year in Japan.
Earlier this year, Japan's top government spokesman Yoshihide Suga, defended the controversial cull as "lawful", following unusual criticism from the usually close US ambassador to Japan.
Join our new commenting forum
Join thought-provoking conversations, follow other Independent readers and see their replies