Donald Trump's climate advisor 'doesn't know what key 2-degrees climate target is'
The admission came at the end of a controversial week for the President's team, which also saw them sung at by protestors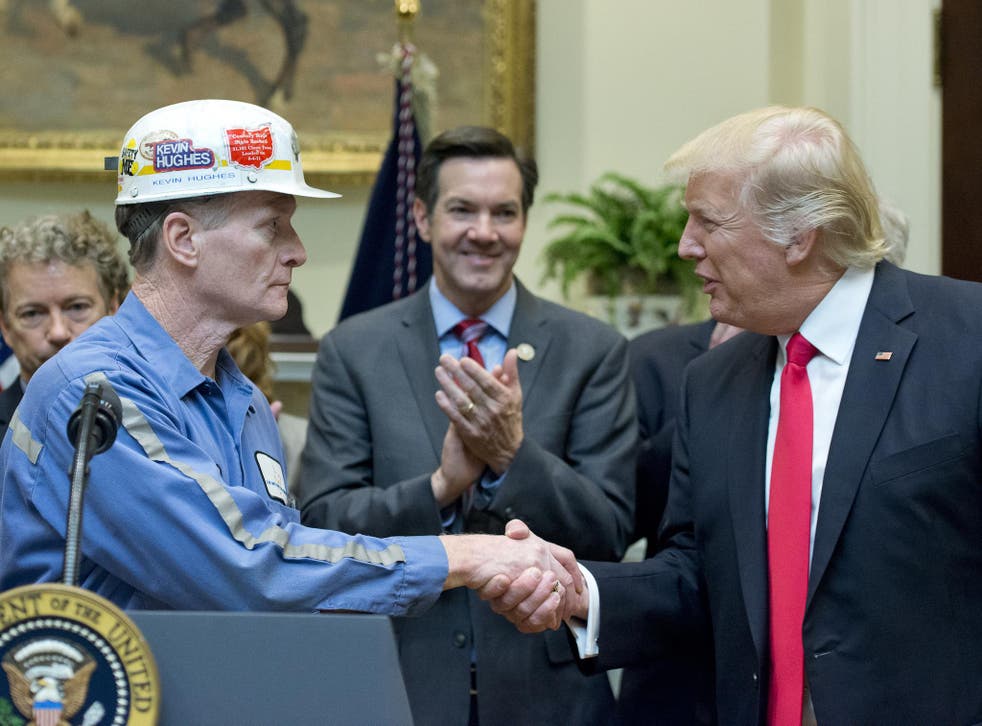 Donald Trump's key climate advisor reportedly doesn't know perhaps the most important thing about global warming.
That's just one piece of news out of the highly controversial climate talks being held in Bonn this week. The event was intended as a way of co-ordinating the worldwide response to climate change – but has largely devolved into a discussion of the President's highly controversial attendees.
The US sent a range of representatives who went to the event and spoke about the importance of coal. Most experts agree that such fossil fuels should be phased out in favour of more renewable energy, in the hope of limiting the effects of climate change.
One of those advisors – George David Banks, who serves as Mr Trump's special advisor on the climate – has said that he doesn't even understand the target of keeping the world to 2-degrees of warming. That is the central commitment of the landmark Paris agreement as well as being the rallying cry for global warming experts and activists around the world.
10 photographs to show to anyone who doesn't believe in climate change

Show all 10
Asked whether he thought the Trump administration should keep to that target, Mr Banks said "I actually don't know what that means, the 2C target", according to the site Climate Home News.
That came at the end of an event which had begun with protestors drowning out speeches by Mr Banks and his fellow US representatives by singing.
About 200 protesters stood up 10 minutes into the event and began singing an anti-coal song to the tune of "God Bless the U.S.A." They were ushered out of the room without further incident.
The event was the only one the US delegation organized at the ongoing climate talks in Bonn. The American delegates are being closely watched by diplomats from the other 194 nations at the conference because of President Donald Trump's announcement that he wants to quit the 2015 Paris climate accord.
Before the panel event, the governors of Oregon and Washington — Kate Brown and Jay Inslee — said Trump's rejection of climate change was "a dead end."
"What you're going to hear today is essentially Donald Trump trying to sell 8-track tapes in a Spotify streaming world," Inslee told reporters. "That is not going to cut it." Both Oregon and Washington are part of a coalition backing the Paris accord ,
George David Banks, a White House adviser who was part of the U.S. panel, said ruling out the use of fossil fuels and other non-renewable sources of energy was only controversial "if we choose to bury our heads in the sand and ignore the reality of the global energy system."
After the singing protesters left, the panel faced largely hostile questions from the audience about the facts and figures presented to support the continued use of fossil fuels.
The event took place as a new report released Monday showed global carbon emissions will reach a record high in 2017, dashing hopes that levels of the heat-trapping gas might have plateaued following three consecutive years when they didn't go up at all.
The talks in Bonn, now in their second week, are intended to hammer out some of the nitty-gritty details for implementing the Paris accord. Participating countries agreed to keep global warming significantly below 2 degrees Celsius (3.6 Fahrenheit)
Key topics include how to measure individual countries' efforts, taking stock of what's been achieved so far and setting the new emissions reduction targets needed to reach the Paris goal.
Developing countries also are pushing for rich nations to pay for some of the devastating impacts climate change inevitably is going to have, particularly on poor communities around the world.
Poor nations see the issue of financial compensation, known in U.N. parlance as "loss and damage," as a matter of fairness. They argue that rising sea levels and more extreme weather will hit them disproportionately hard even though they have contributed only a fraction of the carbon emissions blamed for global warming.
Rich countries counter that they are already paying billions of dollars to help developing nations reduce emissions — such as by switching to renewable energy — and to adapt to climate change.
"Without that support forthcoming from the developed countries, there's going to be some real fireworks at the end of this week," said Alden Meyer, strategy and policy director for the Union of Concerned Scientists, an advocacy group in Washington.
Formal decisions on most issues won't be taken until next year's meeting in Poland, but few want to leave progress until the last minute. Green groups said it might fall to leaders to break a deadlock over issues such as compensation for countries hardest-hit by global warming. German Chancellor Angela Merkel and French President Emmanuel Macron will take part in a high-level event Wednesday.
While other developed countries reject the Trump administration's stance on the Paris agreement, their views on loss and damage are largely in step with Washington's.
"It's fair to say that other developed countries are hiding behind the U.S. on the loss and damage," Meyer said. "They need to be called out on this."
The other issue that's being hotly debated in Bonn is what emissions-cutting measures are necessary before 2020. While some countries already have taken reduction steps, activists say they fall far short of what's needed to ensure emissions peak in three years' time — after which it would become much harder to achieve the most ambitious goal of limiting global warming to 1.5 degrees Celsius (2.7 F.)
Additional reporting by agencies
Join our new commenting forum
Join thought-provoking conversations, follow other Independent readers and see their replies