Donald Trump's Mar-a-Lago Florida estate to be submerged by rising sea levels due to climate change
Experts presented evidence at Senate hearing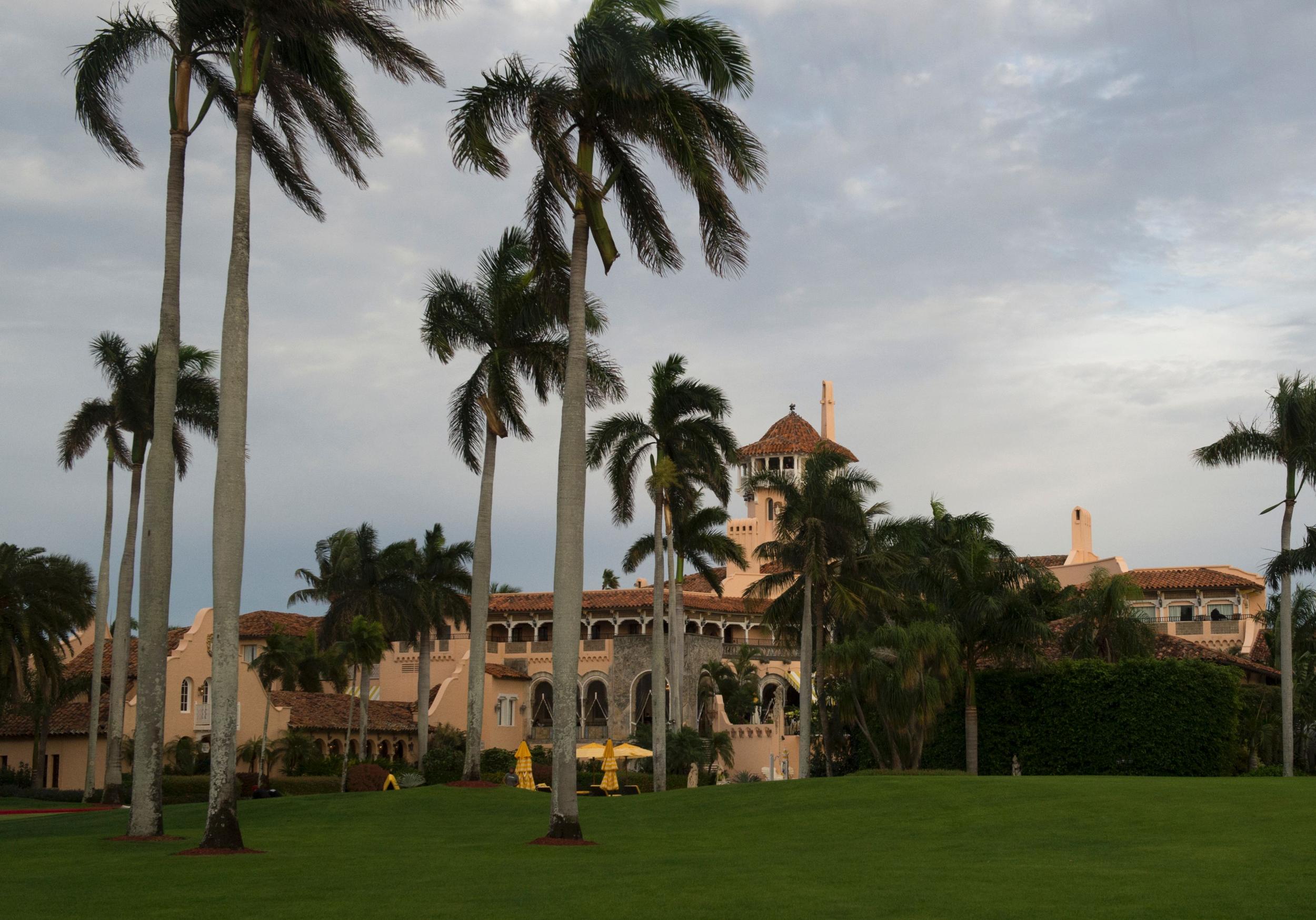 Donald Trump once said climate change was a "hoax" invented by the Chinese but the phenomenon could be responsible for flooding his own Florida properties.
Environmental experts lined up to testify at a senate hearing on climate change this week, just four miles from Mr Trump's Mar-a-Lago estate in Florida, arguing that water could rise so high by the end of the century that the President's own resorts would be damaged.
According to data from the National Oceanic and Atmospheric Administration, the President's so-called Winter White House would be partially submerged if sea levels rose by three feet in the next 83 years.
"Today we sit at ground zero of the impacts of climate change in the US," said Democratic Senator Bill Nelson, ranking member of the Senate Commerce, Science and Transportation Committee.
His state has already suffered multiple cases of serious flooding.
"And while there are still some who continue to deny climate change is real, South Florida offers proof that it is real and it's an issue we're going to be grappling with for decades to come."
Data from NOAA would not just affect the President, but millions of residents who live along the east coast as sea levels could rise by as much as five feet.
A recent study published in journal Nature found that sea levels could rise by six feet by 2100 due to ice melting in the Antartic, and the President's golf course at Doral, Florida, and several of his Sunny Isles Beach properties – along with two million homes – would be underwater.
Fox News destroyed EPA chief Scott Pruitt over climate change
The studies come as the newly-appointed head of the Environmental Protection Agency, Scott Pruitt, has rolled back former President Barack Obama's plans to reduce carbon emissions from coal-fired plants, ending the former administration's so-called "war on coal" – an industry which provides far fewer jobs than in tourism or renewable energy.
"Climate change is not just a threat to our planet's future - it's a threat to our communities today," said Democratic Florida Representative Ted Deutch, who attended the Senate hearing and urged bipartisan work on the issue.
States such as Virginia, South Dakota and North Dakota are also at extreme risk of flooding.
Trump signs order overhauling Obama's attempts to slow climate change
After Hurricane Sandy in 2012, water broke the sea walls of many homes near Mar-a-Lago and Palm Beach County had to restore acres of eroded seashore.
Some Republicans have supported the fight against climate change.
The Senate Committee's hearing was authorised by Republican South Dakota Senator Jon Thune, who told Fox News in 2014 that there was some "human activity" connected to climate change, as well as "other factors".
President Trump also told the New York Times this year that there was "some connectivity" between humans and climate change, reversing his earlier hardline stance.
His comment has done little to reassure his critics in succeeding months, however, after he appointed Mr Pruitt to head the EPA, a man who has lobbied the government and filed lawsuits on behalf of clients in the energy industry.
The President has acted more swiftly when environmental issues threatened to affect his business.
He was praised for suggesting that he build a wall to stop coastal erosion by his golf course in Ireland, but he was condemned for campaigning against offshore wind-farms near his resort in Scotland, a battle which he lost in court.
Join our commenting forum
Join thought-provoking conversations, follow other Independent readers and see their replies