Donald Trump's election could mean 'planetary disaster', environmentalists warn as UN climate summit begins
'Electing a climate science conspiracy theorist like Trump would make America a global laughingstock'
Ian Johnston
Environment Correspondent
Monday 07 November 2016 11:58 Comments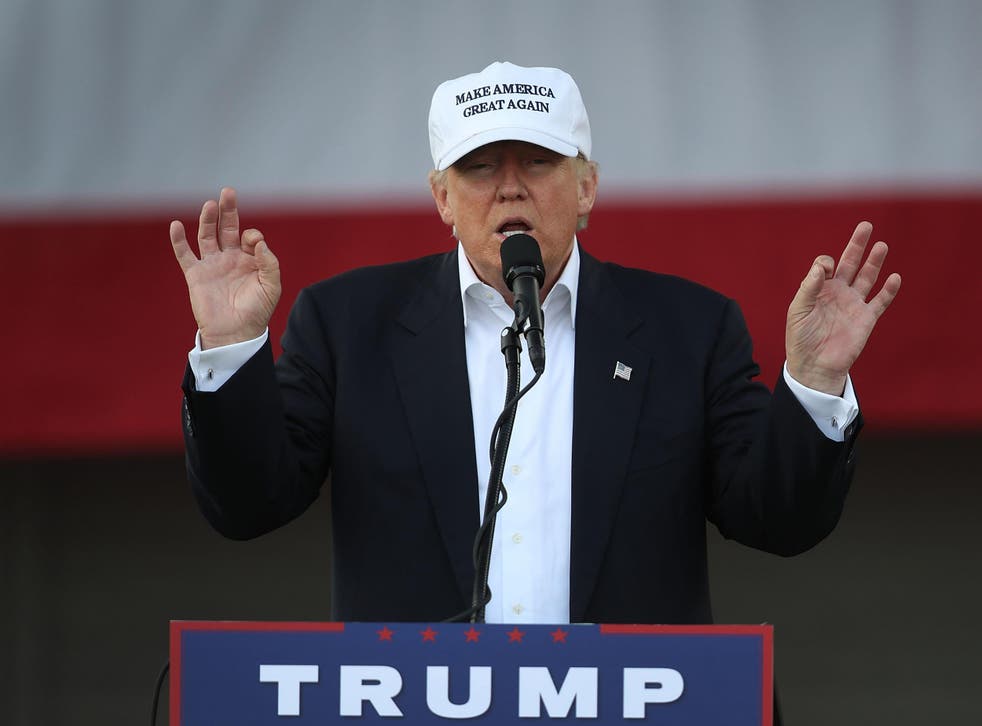 The prospect of the global warming "conspiracy theorist" Donald Trump becoming the next US president cast a shadow over the start of talks at the United Nations climate summit in Morocco on Monday, with claims his election could result in "planetary disaster".
The conference is seen as one which must turn the promises made at Paris last year into concrete action if the world is to avoid a shift to a particularly dangerous new climate.
However Mr Trump has described the Paris Agreement as "unbelievable", promising to remove the US from its signatories, and also bizarrely claimed global warming is a hoax perpetrated by China. China faced criticism in the past for its reliance on coal, but has recently become the world leader for investment in renewable energy.
Khalid Pitts, national political director of the US environmental group the Sierra Club, said in a statement: "World leaders change, but Donald Trump's total ignorance of science remains the same.
"Electing a climate science conspiracy theorist like Trump would make America a global laughingstock and embarrassment, all while relinquishing our leadership role in the world.
"The ice caps don't negotiate, and neither do rising seas. Donald Trump's moral failure to acknowledge the climate crisis might very well mean planetary disaster if he is elected."
However Segolene Royal, the French environment minister, pointed out that the United States' swift ratification of the Paris treaty – announced at a joint ceremony with China – meant Mr Trump would not be able to scrap it immediately.
"The Paris agreement prohibits any exit for a period of three years, plus a year-long notice period, so there will be four stable years," she said.
Last week China took the highly unusual step of criticising Mr Trump's stance on the issue.
Asked how Beijing would work with a Trump administration in Washington, China's chief climate change negotiator Xie Zhenhua said: "If they resist this trend [the acceptance of climate science], I don't think they'll win the support of their people, and their country's economic and social progress will also be affected.
"I believe a wise political leader should take policy stances that conform with global trends."
Donald Trump's most controversial quotes

Show all 14
Speaking at a campaign rally in North Dakota in May, Mr Trump made clear his opposition to the Paris Agreement, which was hailed as a breakthrough across the world.
"We're going to cancel the Paris climate agreement – unbelievable – and stop all payments of the United States tax dollars to UN global warming programs," he told supporters.
The Republican candidate has made repeated comments on Twitter spelling out his view that climate change is a massive conspiracy.
"The concept of global warming was created by and for the Chinese in order to make US manufacturing non-competitive," he wrote in 2012.
Every woman to make sexual assault claims against Donald Trump

Show all 16
He also claimed China was "so happy" that the US was spending money to "fight mythical global warming".
And, in 2013, he wrote: "The problem w/ the concept of 'global warming' is that the US is spending a fortune on 'fixing it' while China & others do nothing!
"We should be focusing on beautiful, clean air & not on wasteful & very expensive GLOBAL WARMING bullshit! China & others are hurting our air."
Despite this, Mr Trump denied holding such views when they were raised by Hillary Clinton during the presidential candidate debates.
'Dangerous' climate change could arrive as early as 2050
However Professor Michael Mann, the US scientist whose work showing how humans had caused the Earth's temperature to rise at an unprecedented rate helped the International Panel on Climate Change win the Nobel Peace Prize, has warned that Mr Trump's election would be a "threat to the planet".
"It is not mere hyperbole to assert that we are facing a make-or-break election as far as climate change is concerned," he wrote in an article.
Register for free to continue reading
Registration is a free and easy way to support our truly independent journalism
By registering, you will also enjoy limited access to Premium articles, exclusive newsletters, commenting, and virtual events with our leading journalists
Already have an account? sign in
Join our new commenting forum
Join thought-provoking conversations, follow other Independent readers and see their replies