EPA administrator Scott Pruitt once called Trump an 'empty vessel'
Mr Pruitt was tapped to take over the Environmental Protection Agency last year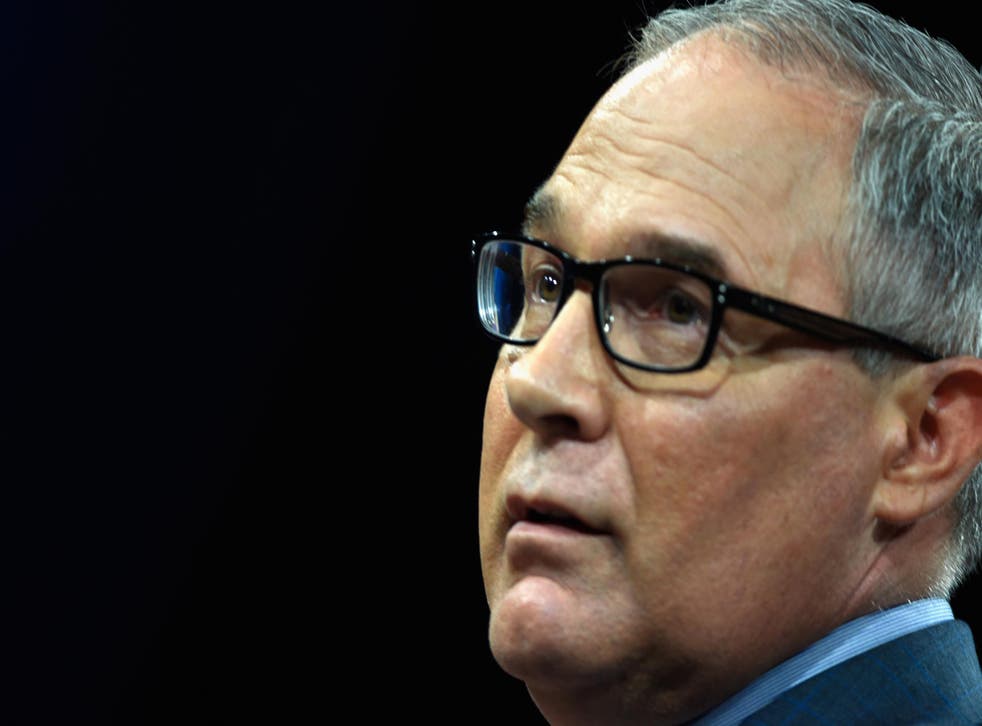 The head of the Environmental Protection Agency called President Donald Trump an "empty vessel" as far as knowledge of the Constitution goes, during a newly rediscovered interview from 2016.
Scott Pruitt made the remarks in February of that year, when Mr Trump was still a candidate for the Republican nomination. The interview was unearthed by CNN.
"I think he's an empty vessel when it comes to things like the Constitution and rule of law," Mr Pruitt, who was then the attorney general of Oklahoma, said on the "Exploring Energy" radio show in his state. "I'm very concerned that perhaps if he's in the White House, that there may be a very blunt instrument as the voice of the Constitution."
At the time of the interview, Mr Trump's chances of actually becoming the Republican nominee — much less the next president — were seen as slim. Mr Pruitt had endorsed one of Mr Trump's opponents, former Florida Gov Jeb Bush.
Mr Pruitt then continued to compare Mr Trump with former President Barack Obama, whom he regarded as a President comfortable with breaking the law.
"This President, the one we have there now, he has at least tried to nuance his unlawfulness," Mr Pruitt said of Mr Obama. "He at least sits back and says 'How do we break the law and so where it's really tough to show that we have?' I'm not sure Donald Trump would do that."
Donald Trump's first year: in pictures

Show all 29
Mr Pruitt has since explained his change of opinion, which led to him joining the Trump administration, during a questioning last week by the Senate Environment and Public Works Committee.
"After meeting him, and now having the honor of working for him, it is abundantly clear that President Trump is the most consequential leader of our time. No one has done more to advance the rule of law than President Trump," Mr Pruitt said. "The President has liberated our country from the political class and given America back to the people."
Register for free to continue reading
Registration is a free and easy way to support our truly independent journalism
By registering, you will also enjoy limited access to Premium articles, exclusive newsletters, commenting, and virtual events with our leading journalists
Already have an account? sign in
Register for free to continue reading
Registration is a free and easy way to support our truly independent journalism
By registering, you will also enjoy limited access to Premium articles, exclusive newsletters, commenting, and virtual events with our leading journalists
Already have an account? sign in
Join our new commenting forum
Join thought-provoking conversations, follow other Independent readers and see their replies