Trump's golf resort in Scotland 'could face severe flooding' due to climate change, study warns
Research predicts coastline will recede by tens of metres by 2050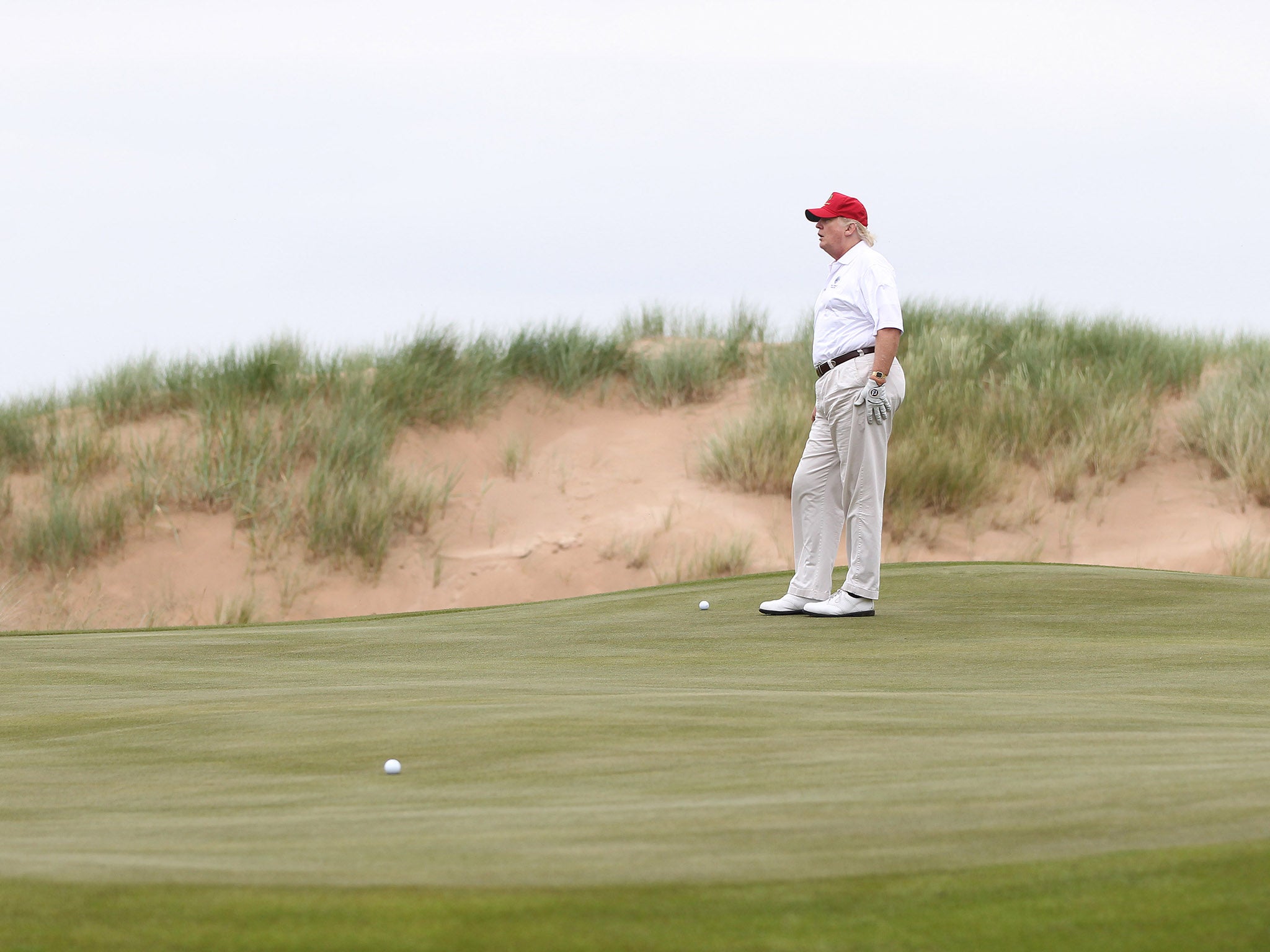 Donald Trump's controversial Aberdeenshire golf course is one of many Scottish courses at risk of severe flooding due to climate change, a new study has warned.
Research conducted by the Ordnance Survey predicts the coastline next to the Trump International Golf Links resort, north of Aberdeen, will recede by tens of metres over the next 20 to 30 years.
This could mean that the course, once described as the "best in the world" by the President, could be flooded from the north.
Approximately one sixth of Scotland's 600 golf courses are located on the coast including the Old Course at St Andrews in Fife and Royal Troon in Ayrshire.
The Montrose Golf Links in Angus has already been forced to move three of its holes due to erosion, the Sunday Times reported.
The research was commissioned by the Scottish government to assess the impact of coastal erosion and has published a "dynamic coast" map show which parts of the country are threatened.
Scientists say sea levels are rising worldwide by 3cm a decade as the ice caps melt and rising world temperatures mean oceans are getting warmer and are therefore expanding slightly.
But Mr Trump has resisted calls to take action on climate change, pulling out of the Paris agreement within months of taking office and claiming man-made global warming was a "hoax invented by the Chinese" during the election campaign.
Mr Trump was accused of hypocrisy over his stance on climate change after it emerged his company had applied for permission to build a sea wall around his Irish golf resort in Co Clare in south west Ireland.
Donald Trump's least presidential moments so far...
Show all 30
The planning application cites rising sea levels but will also prevent anyone other than guests and staff accessing the surrounding beaches and was due to be up to four kilometres and be over three metres high.
It followed an original proposal for a sea wall which would have been up to 20 metres in height.
Mr Trump bought the resort in 2014 after he failed to block plans for a windfarm to be built near his Scottish resort.
The Scottish resort has been mired in controversy since it opened in 2012 after local residents put a fierce fight to stop it being built.
At one point Mr Trump threatened to use compulsory purchase orders against residents who would not sell their land to him and the original decision to reject planning permission by Aberdeenshire Council was later reversed by the Scottish Government in November 2008.
The story of one of the farmers who resisted him, Michael Forbes, was later made into an award winning documentary called You've Been Trumped.
Join our commenting forum
Join thought-provoking conversations, follow other Independent readers and see their replies