Donald Trump is 'He Who Must Not Be Named' at UN climate change meeting
Delegates seem reluctant to say the US President's name, much like Harry Potter avoided saying Voldemort, who according to JK Rowling was 'nowhere near as bad'
Ian Johnston
Environment Correspondent
Friday 24 March 2017 15:40 Comments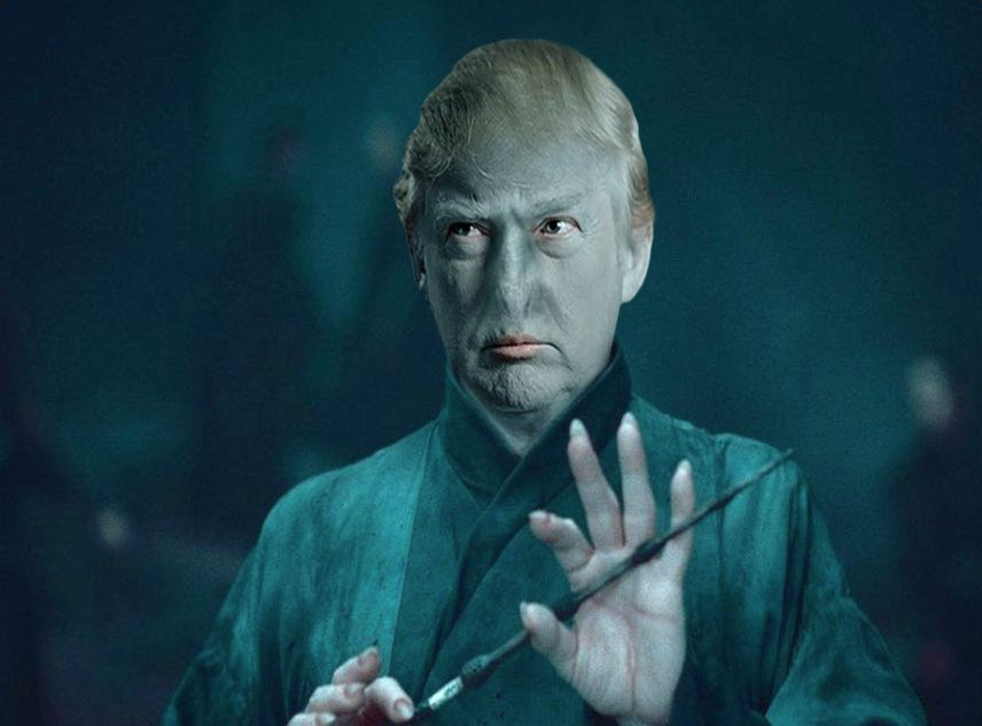 Like Voldemort in the Harry Potter books, few dared mentioned his name, but Donald Trump cast a shadow over a United Nations meeting about global warming.
'He Who Must Not Be Named' – at least in some environmental circles, but otherwise known as the 45th President of the United States – has promised to withdraw the US from the Paris Agreement on climate change and appointed a string of climate science deniers to key positions in his administration to the consternation of much of the rest of the world.
In fact, according to JK Rowling, author of the Potter books, Voldemort was "nowhere near as bad" as Mr Trump.
Speaking at the meeting in New York, UN Secretary-General Antonio Guterres joined those avoiding saying the words "Donald Trump", Bloomberg reported, but everyone knew who he was talking about.
"Even if some national governments backtrack in commitments, the combined impacts of sub-national authorities, businesses and civil society will create an unstoppable momentum," he said.
The world's biggest polluter, China, which according to Mr Trump invented climate change as a hoax to ruin the US economy, has somewhat belatedly realised the need to stop building coal-fired power stations and embraced renewable energy with remarkable enthusiasm.
The Chinese ambassador to the UN, Liu Jieyi, urged member states to live up to their international commitments.
"All signatories should stick to it instead of walking away," Mr Liu told the meeting.
"Regardless of the changes in the international landscape, China remains committed and will respond to climate change."
Again, like Mr Guterres, he carefully avoided naming Mr Trump.
Dozens of countries – from Germany to Bangladesh to South Korea – reiterated their support for the Paris Agreement, but no US representative was there to address the delegates, Bloomberg reported.
However those who accept the findings of climate scientists have been keen to stress that US cities and states are already taking steps to reduce the effects of global warming.
10 photographs to show to anyone who doesn't believe in climate change

Show all 10
And Jay Inslee, the Governor of Washington on the US West Coast, said the state would press ahead with cutting its carbon emissions, for example by shutting down coal-fired power plants – in contrast to Mr Trump's pledge to boost the coal industry.
"Our progress in Washington State is not going be stopped by anyone at any time," Mr Inslee said.
"You can count on the state of Washington to move forward."

Register for free to continue reading
Registration is a free and easy way to support our truly independent journalism
By registering, you will also enjoy limited access to Premium articles, exclusive newsletters, commenting, and virtual events with our leading journalists
Already have an account? sign in
Join our new commenting forum
Join thought-provoking conversations, follow other Independent readers and see their replies