Donald Trump's 'America First Energy Plan' doesn't mention solar industry, despite creating 51,000 jobs
Non-profit Solar Foundation reports 24.5 percent increase in sector employment year-on-year for 2016, notably in California and Indiana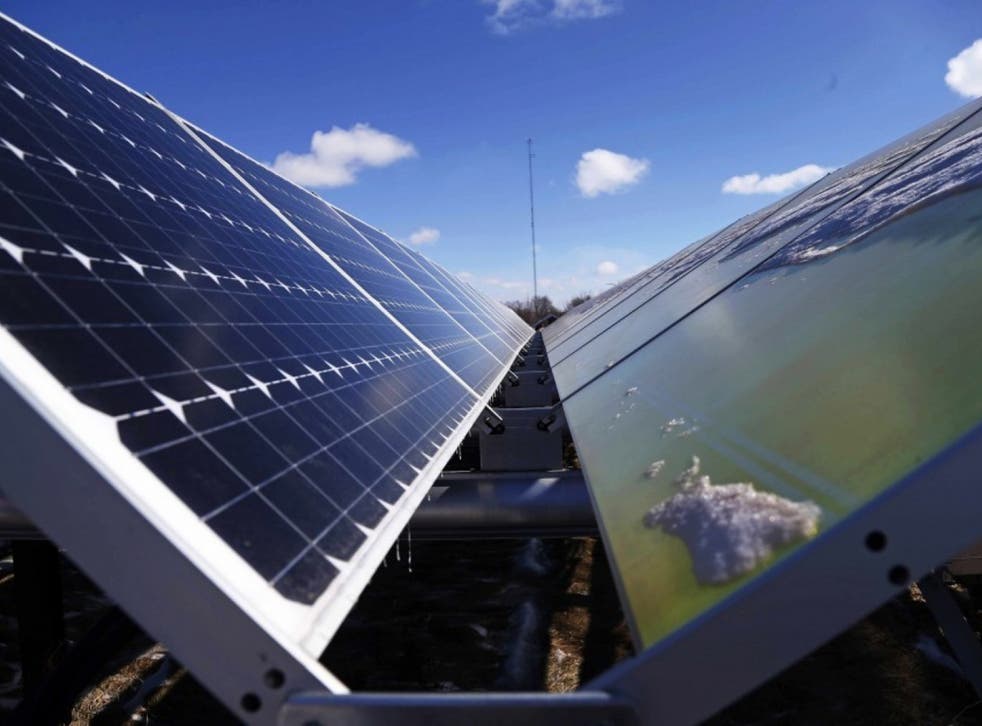 The White House website may not even mention it as part of Donald Trump's "America First Energy Plan" - but the US solar industry continues to post dramatic job growth numbers.
According to a new annual report by the non-profit Solar Foundation, more than 51,000 solar industry jobs were added in 2016, a 24.5 percent increase over 2015. Overall, the foundation finds, some 260,000 Americans now work in the solar industry.
"Jobs have nearly tripled since we first started tracking them in 2010 and this is the fourth consecutive year that the solar industry increased its jobs number by 20 percent or more," said Andrea Luecke, president and executive director of the Solar Foundation. (The latest numbers are as of November 2016 and are compared with November 2015.)
The largest percentage of these jobs - over half - are in the installation of solar panels, especially for residential uses but also in larger solar arrays. In other words, the growth in part reflects the fact that more and more American families and businesses are turning to solar.
The growing 2016 numbers were partly a reflection of the timing of an expected lapse of the solar investment tax credit at the end of 2016 - many projects were slated to be completed before that occurred, but then the credit ended up being extended and now phases down between 2019 and 2022.
Last year is also expected to have been the largest year on record for the total increase in US solar electricity generating capacity - some 14 billion watts of added capacity are forecast, although the final numbers are not in yet.
The new report calculates that for total jobs, solar is now the second largest US energy industry, second only to oil and petroleum and considerably larger than coal.
Strikingly, solar seems to be winning across the United States. The biggest state for jobs by far is California which now has over 100,000 of them, but solar jobs generally grew in states across the country. In Indiana, they nearly doubled from 1,567 to 2,700 in one year.
Other states seeing big growth included Louisiana, Michigan, Texas, and Utah.
10 photographs to show to anyone who doesn't believe in climate change

Show all 10
"Every single one of the states that voted for President Trump, with the exception of Tennessee, had growth, and all battleground states, they all added substantially," Luecke said. "We're seeing solar jobs everywhere."
The industry's growth is not expected to be as fast in 2017, however - more like 10 percent. That may in part be because the industry will be losing some of its Obama-era exuberance and trying to figure out how to shift into the Trump years.
The survey was "administered right after the election so a lot of people were also cautious," Luecke said. Solar stocks plunged the day after Trump's election. Solar will continue to grow in the Trump era - falling costs of panels and continuing momentum are likely to ensure that. But whether a highly favourable policy environment continues very much remains to be seen.
The Washington Post
Register for free to continue reading
Registration is a free and easy way to support our truly independent journalism
By registering, you will also enjoy limited access to Premium articles, exclusive newsletters, commenting, and virtual events with our leading journalists
Already have an account? sign in
Register for free to continue reading
Registration is a free and easy way to support our truly independent journalism
By registering, you will also enjoy limited access to Premium articles, exclusive newsletters, commenting, and virtual events with our leading journalists
Already have an account? sign in
Join our new commenting forum
Join thought-provoking conversations, follow other Independent readers and see their replies