Anger as council accused of 'sneaking in after dark' to fell healthy trees in Doncaster
Locals compare situation to protests in Sheffield which became a PR disaster for city's council
Harry Cockburn
Wednesday 25 November 2020 07:39 Comments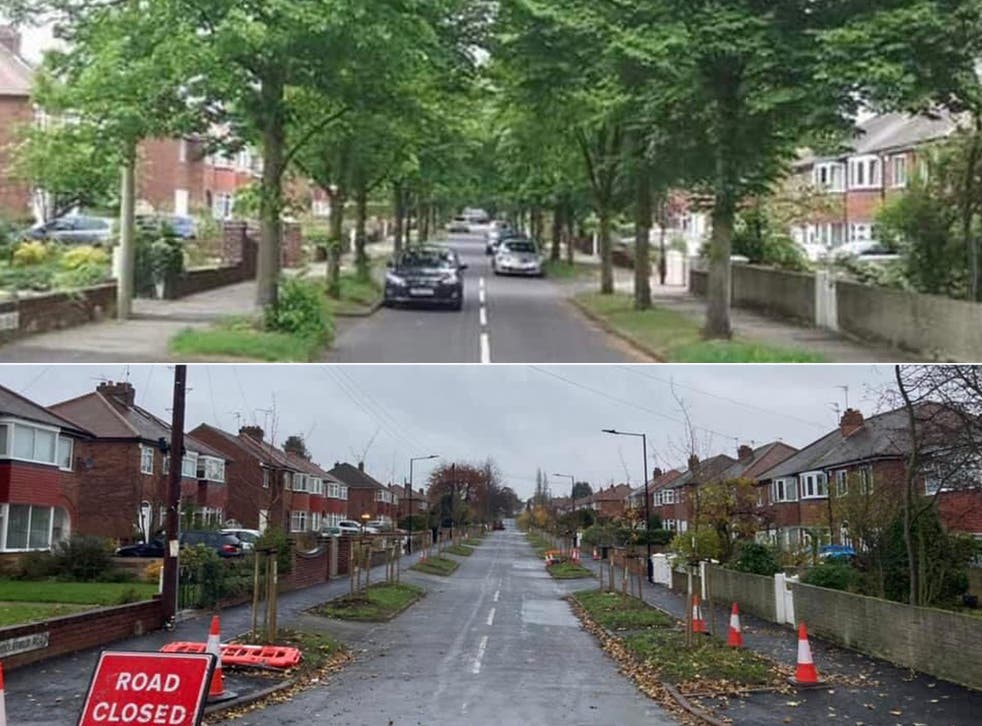 What could once have been referred to as a "leafy" residential road in Doncaster has seen over 60 mature and healthy trees chopped down despite local opposition, as the council has sought to repair pavements apparently affected by the large trees' roots.
Extraordinary photographs of Middlefield Road in Bessacarr show the impact the felling has had on the street, leaving it bare.
Months after work was halted following initial protests, after dark on Monday evening workers fenced off the four remaining trees on the road and on Tuesday began sawing them down, prompting local activists to climb the trees, and protest beneath them.
Local Green Party member and former parliamentary candidate Kate Needham was among those guarding the trees on Tuesday, and likened the situation to the infamous Sheffield tree felling protests, which became a PR disaster for Sheffield City Council.
She told The Independent over the telephone: "There's a chainsaw in the background as we speak. We've been protesting for the past three weeks by sitting under the trees because the council wants to chop down all 64 trees on this road. They've chopped down 60 of them and there were four left as of this morning.
"Last night they came and erected fencing round the trees and they've come back this morning to cut the remaining four trees down."
"We've been protesting this mass cutting of all the trees when they don't appear to have tested below the surface to check whether industry standard engineering solutions may be available to repair the pavements without chopping the trees down."
In Sheffield, a series of protests erupted in 2014 after the council similarly earmarked thousands of trees for felling if they were deemed to be damaging road or pavement surfaces or causing a hazard. The protests became national news and were ultimately successful, with the council admitting in 2019 they "got things wrong", with a year-long investigation revealing they had "deliberately" misled the public over the tree-felling programme.
The then-environment minister, Michael Gove, accused Sheffield City Council of "environmental vandalism", and promised to do "anything required" to end the felling programme.
Ms Needham said: "Sheffield has learnt from its mistakes, and they are now examining where tree roots are to see whether trees can be kept and in a lot of instances they can do these industry standard engineering solutions to maintain the pavements and keep the trees as well.
"They can do it in Sheffield, why can't we do it here?"
She said she feared the chopping down of the healthy trees and their replacement with saplings could set a precedent for other parts of the town.
"If they get away with chopping down every single tree in this street, then what's going to stop them doing it in other parts of Doncaster and other parts of the borough?"
Doncaster resident Jane Knight, 63, who lives on a nearby road, told the Doncaster Free Press earlier this year the felling meant Middlefield Road had been "turned to ruin" and was "awful PR" from the council.
She said only residents on the immediate road had been informed.
"Doncaster Council has carried this out in a very crass and inept way – they haven't let anyone know apart from people on the immediate road," she said.
"I first woke up to the chainsaws and it was such a shock - I know the council will talk about damage to pavements and what not but in this environmentally conscious time, is it really the only option to do this?"
Doncaster council declared a climate and biodiversity emergency in September 2019.
A barrister who successfully represented protesters in Sheffield has cast doubt on the legality of the felling in Doncaster.
Speaking to The Independent, Paul Powlesland of Garden Court Chambers and founder of Lawyers for Nature, said the council had not obtained a felling licence from the Forestry Commission.
He said: "They are relying on an exemption from the need to get a felling licence based on their need to repair pavements which they say are dangerous, but if you actually look at the pavements, they are not seriously damaged enough or defective enough to warrant that, I would say."
He said since the work was halted in January, the council had gone again to the forestry commission, which "has told them they don't need a licence for this because of the pavement damage. But I would disagree".
He added: "The fact is, as shown in Sheffield, this is totally unnecessary. It's wanton vandalism of valuable public assets, which these trees are. In Sheffield the council swore blue for years that they could not repair the pavements without taking all these mature trees out, but when the protesters finally stopped them doing that, lo and behold, over the past year they've been magically maintaining the pavements while keeping all these beautiful trees.
"The conclusion of what happened in Sheffield is really the best answer to what's happening in Doncaster. It's perfectly possible to just repair the streets while leaving the trees in situ."
He added: "I saw the images last night of the council sneaking in after dark like some sort of mobsters, putting up fences when people aren't around to chop all these trees down, and you think 'wow, the amount of effort to wantonly and needlessly destroy nature just takes your breath away'."
Gill Gillies, assistant director of environment at Doncaster Council told Doncaster Free Press earlier this year: "Based on all available options and, after careful consideration, we have made what we believe to be the best decision in the interests of all parties. We will be minimising disruption by planting a smaller species of replacement trees as we swap out the existing lime trees.
"The footpaths were identified as a priority for resurfacing, predominantly as a result of increasing tree root damage. It is also very likely that root regrowth would quickly resume under the new path and cause surface damage if the existing trees were retained."
In a statement released by the council on Tuesday evening, Director of Economy and Environment Dan Swaine said: "The removal of these trees is not a decision we have taken lightly. We value street trees but in this instance we have had to act. The trees and roots on Middlefield Road have been causing safety issues and damage to boundary walls, driveways and footpaths for a number of years.
"The trees have caused significant damage to the footway because of lateral root growth. The decision to remove the trees is for no other reason than to comply with our legal duties to maintain the highway. We have tried alternative solutions over a number of years to maintain the highway in a safe condition, unfortunately reaching the current position where this was no longer possible.
"We take on board all comments in making difficult decisions such as this and whilst there have been protests on site involving individuals, which we respect but who we understand do not live in the local area, we believe this is the most appropriate solution with replanting more appropriate tree species."
He said the council was also seeking to "increase the borough's tree coverage", as part of its plan to tackle the climate and biodiversity crisis which was declared last year.
Register for free to continue reading
Registration is a free and easy way to support our truly independent journalism
By registering, you will also enjoy limited access to Premium articles, exclusive newsletters, commenting, and virtual events with our leading journalists
Already have an account? sign in
Join our new commenting forum
Join thought-provoking conversations, follow other Independent readers and see their replies