Air pollution in UK 'wreaking havoc on human health', WHO warns
Dozens of British cities – from Brighton, Southend and Leamington Spa to Glasgow, Manchester and Belfast – are breaching safety limits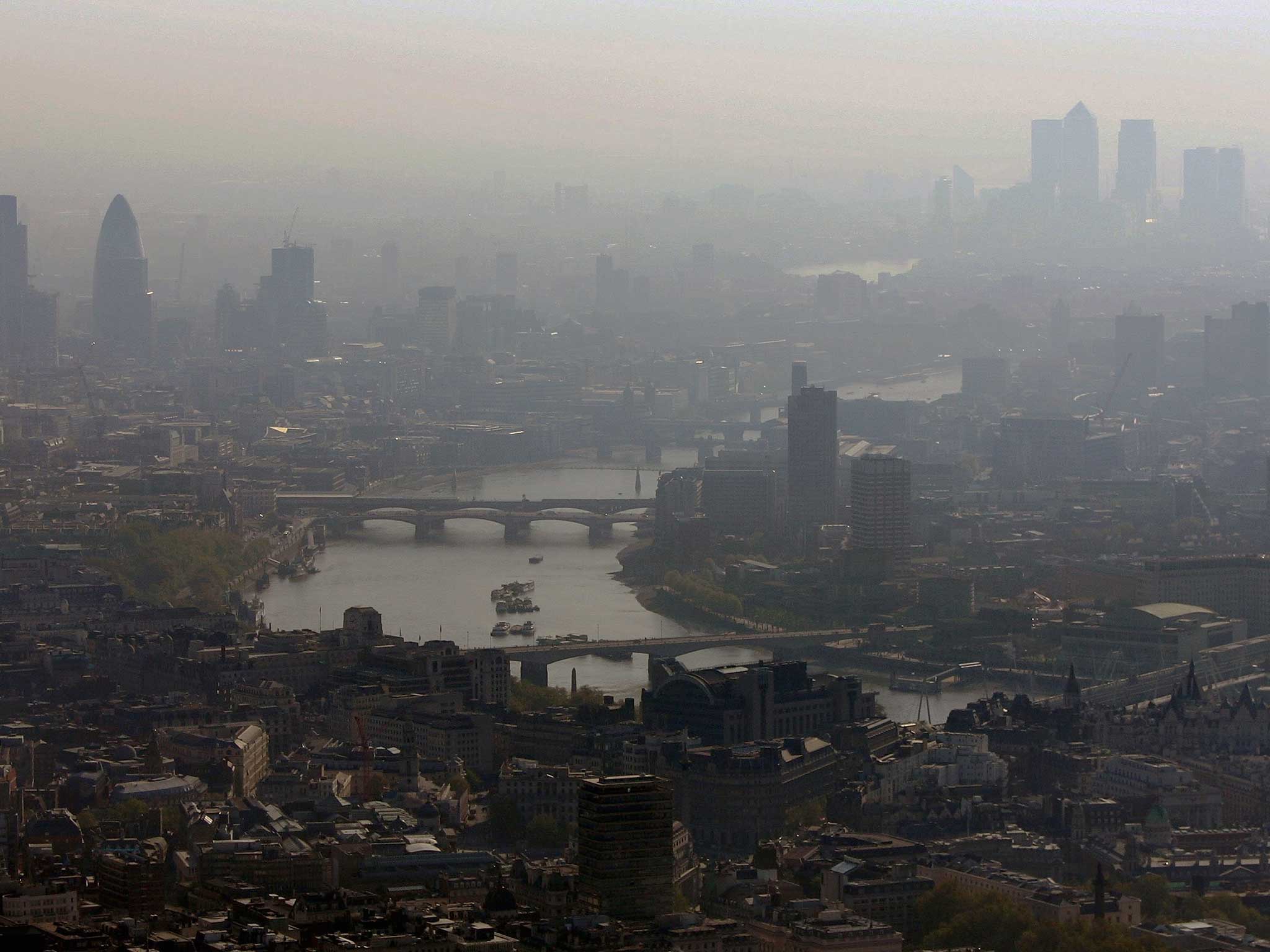 Dozens of British cities are breaching air pollution limits leading to thousands of premature deaths of "the youngest, oldest and poorest" in society, the World Health Organisation (WHO) has warned.
In a major study, the WHO found more than 80 per cent of people in urban areas around the world were exposed to harmful levels of pollution that can trigger fatal asthma attacks and increase the risks of heart disease, lung cancer, respiratory diseases and stroke.
The pollutants include sulfate, nitrates and black carbon "which penetrate deep into the lungs and into the cardiovascular system, posing the greatest risks to human health", the WHO said in a statement.
Health campaigners said it was clear that Britain was facing an "air pollution crisis".
It has been estimated that the lives of 40,000 to 50,000 people in the UK are ended prematurely every year because of the air we breathe. Worldwide, the WHO said the problem was causing more than three million premature deaths a year.
Ten towns and cities in the UK, including London, Glasgow, Leeds, Nottingham, Southampton and Oxford, were found to have breached what are regarded as safe levels of tiny particles known as PM10. And 39 urban areas also breached the safe levels for another measure known as PM2.5.
Dr Flavia Bustreo, WHO's assistant-director general for family, women and children's health, spelled out the situation in no uncertain terms.
"Air pollution is a major cause of disease and death," she said.
"When dirty air blankets our cities the most vulnerable urban populations – the youngest, oldest and poorest – are the most impacted."
However she added it was "good news" that more cities were monitoring air quality, so "when they take actions to improve it" they would know how successful they have been.
Dr Maria Neira, WHO's director of public health, stressed air pollution was "wreaking havoc on human health".
However she also said there were signs of hope.
"Awareness is rising and more cities are monitoring their air quality," she said.
"When air quality improves, global respiratory and cardiovascular-related illnesses decrease."
Environmental and health campaigners called for urgent action to clean up the atmosphere.
Dr Penny Woods, chief executive of the British Lung Foundation, added: "It is deeply concerning that 40 UK towns and cities are failing to meet WHO standards for the smallest, most harmful pollution particles.
"These particles are able to reach deep into our lungs and even into our bloodstream, and can have a serious impact on our breathing and wider health.
"It is clear from this report that the UK is facing an air pollution crisis. Unfortunately, the Government's response so far has been inadequate.
"Swift action must be taken to reduce pollution levels in the UK and protect our lung health."
High air pollution levels across the UK
Show all 7
And Jenny Bates, an air pollution campaigner with Friends of the Earth, said: "This is yet another report which shows the air we breathe is unsafe.
"With 40,000 early deaths a year in the UK from air pollution, what more will it take for our political leaders to act?
"This is a public health crisis. It's time it was treated that way. We need fewer and cleaner vehicles with a Clean Air Zone in every city and large town – and politicians must urgently introduce a diesel scrappage scheme to get the worst polluting vehicles off our roads, as well as more investment in alternatives to driving."
She said the figures for Europe appeared to have improved "slightly" but added "we're still talking about dangerous levels of pollution".
The WHO looked at levels of PM10 and PM2.5 particulate matter in 795 cities in 67 countries during the five years to 2013.
The full list of cities that breached the PM10 levels is: Port Talbot, Stanford-le-Hope, Glasgow, Leeds, London, Scunthorpe, Eastbourne, Nottingham, Oxford and Southampton.
The full list for PM2.5 is: Glasgow, Scunthorpe, Leeds, Eastbourne, Salford, London, Southampton, Port Talbort, Birmingham, Stanford-le-Hope, Chepstow, Portsmouth, Stoke-on-Trent, Oxford, Thurrock, Warrington, Armagh, Cardiff, Norwich, Leamington Spa, Newport, Bristol, Wigan, Manchester, York, Hull, Nottingham, Plymouth, Swansea, Carlisle, Prestonpans, Liverpool, Belfast, Londonderry, Brighton, Middlesbrough, Birkenhead, Saltash and Southend.
The Press Association contributed to this report.
Join our commenting forum
Join thought-provoking conversations, follow other Independent readers and see their replies