UK's biggest power plant to go carbon negative by 2030 but experts question if it will work
Drax in North Yorkshire plans to capture emissions and phase out coal but technology required not yet proven at large scale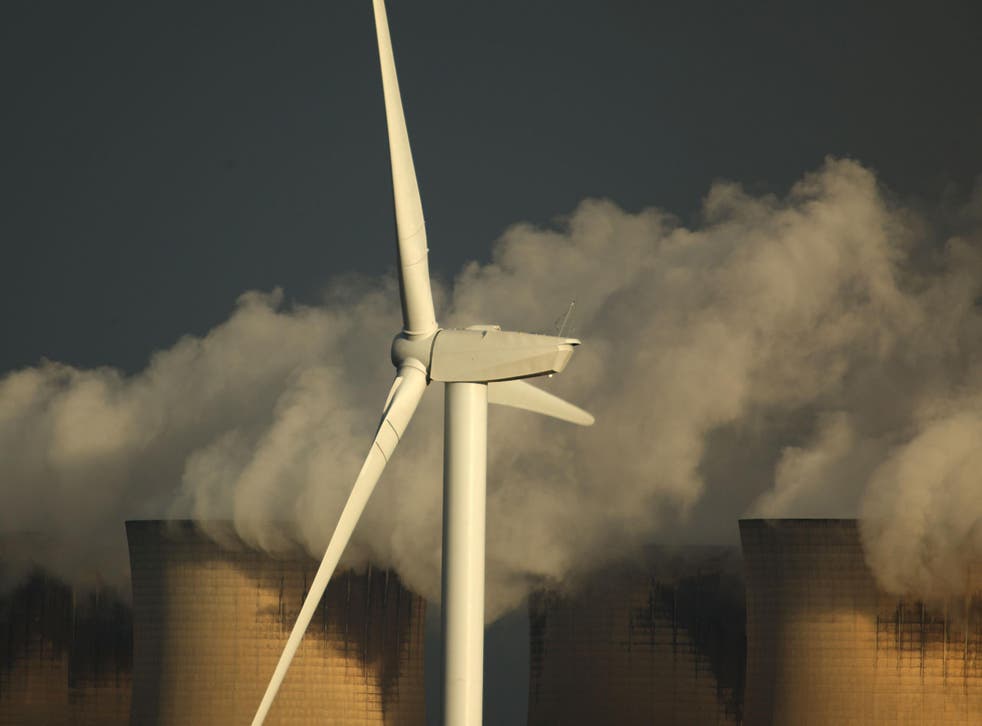 The UK's largest power plant is planning to go carbon negative by 2030 – but experts and environmental groups have questioned whether it can be done using technology which is unproven at large scale.
Drax power station in North Yorkshire is to capture 16 million tons of carbon each year, more than enough to counteract the emissions from its generators, which run on coal and wood pellets.
Drax aims to phase out coal and has already scaled up its use of wood, or biomass, while also removing carbon from the atmosphere before compressing it and storing it under the North Sea.
But both the copmbination of technologies on which Drax wants to rely – biomass and carbon capture – is controversial.
If successful, the plan would mean Drax's plant, which supplies 5 per cent of the UK's power, removes more greenhouse gases than it produces each year.
Climate change: Decade's defining issue in pictures

Show all 20
"With the right negative emissions policy, we can do much more, removing millions of tons of emissions from the atmosphere each year," said Drax chief executive Will Gardiner.
Drax and other companies using wood pellets for fuel claim they are effectively a carbon-neutral energy source because the trees from which they are made suck in CO2 as they grow before releasing it when they are burnt.
However, hundreds of scientists wrote to members of the European Parliament last year questioning the benefits of using wood pellets as a fuel at large scale.
Burning wood produces less energy than burning coal, and wood is often shipped over long distances, releasing CO2 for transport. Drax imports much of its wood from as far as North Carolina, while coal is available on its doorstep.
Capturing the carbon released when biomass is burnt also has its problems, said Almuth Ernsting, a campaigner for Biofuelwatch. "Drax has been talking about carbon capture for a long time. But it's not proven that this technology can work at scale when combined with biomass."
Drax currently removes around one ton of CO2 per day but plans to scale this up to 16 million tons a year.
One of the largest carbon-capture projects in the world, Boundary Dam in Saskatchewan, uses 31 per cent of all the energy it produces to collect CO2 and store it.
Ms Ernsting said that burning imported wood pellets by Drax was "already pretty inefficient and it would become even less so if you add carbon capture, meaning you have to cut down and burn a lot of trees."
"If you increase logging that is not good for the climate. It is completely unsustainable."
Raffaella Ocone, professor of chemical engineering at Heriot-Watt University, has also questioned whether carbon capture could be scaled up quickly and effectively.
"I welcome that something is being done because we are in an emergency," said Professor Ocone. "But it is unclear how long they would need before they can operate at full capture capacity and utilise the CO2 captured."
She pointed out a further potential environmental problem being the solvent chemicals used to separate CO2 from other gases and allowing it to be stored. Many of these chemicals are corrosive and can cause environmental damage, but Drax says its solvent is safer than those used in other projects and it is trialling methods that do not use solvents.
Drax also needs more government subsidies after existing ones run out in 2027.
Environment news in pictures

Show all 8
The company received £789m in subsidies last year, or £2.2m per day, for burning wood instead of coal. "That money should be going to genuinely zero-carbon energy," said Ms Ernsting.
Greenpeace UK's chief scientist, Doug Parr, said governments and businesses had a very poor record so far on making biomass work for large-scale energy production.
"Decades of inaction by heavy polluters, such as Drax, has left us in a state where more drastic action is needed to tackle the nature emergency as well as the climate emergency," he said.
"Carbon capture with biomass remains speculative and cannot be used as an excuse to carry on with business as usual.
"Any action to remove carbon from the atmosphere needs to be done in addition to reducing emissions in transport and homes."
Register for free to continue reading
Registration is a free and easy way to support our truly independent journalism
By registering, you will also enjoy limited access to Premium articles, exclusive newsletters, commenting, and virtual events with our leading journalists
Already have an account? sign in
Register for free to continue reading
Registration is a free and easy way to support our truly independent journalism
By registering, you will also enjoy limited access to Premium articles, exclusive newsletters, commenting, and virtual events with our leading journalists
Already have an account? sign in
Join our new commenting forum
Join thought-provoking conversations, follow other Independent readers and see their replies