Earth is losing its ice: Glaciers around the world are rapidly disappearing
Millions of people will be forced to leave their homes within a lifetime as sea levels rise, warns expert in article in the world-leading journal Science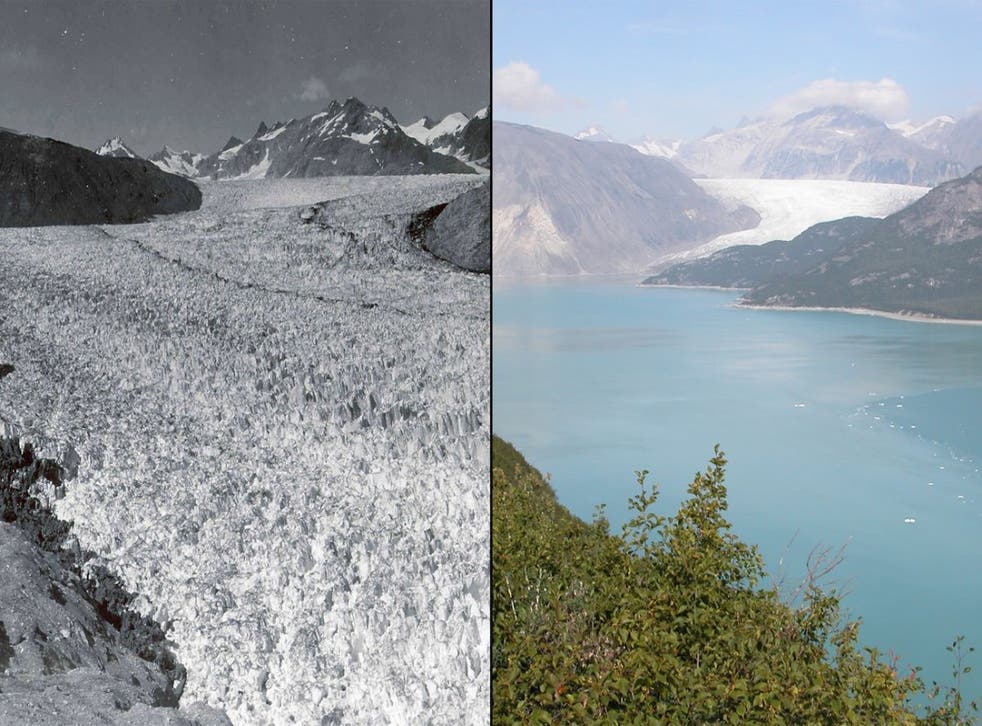 "The evidence is overwhelming: Earth is losing its ice."
Glaciers all over the world are disappearing in what should be the subject of "international concern", according to a new article in the leading journal Science.
Among a number of significant effects, millions of people will be forced to leave their homes by rising seas, crucial sources of water will run dry and wildlife will lose sources of nutrients and shelter, wrote Dr Twila Moon of University of Colorado, Boulder.
The US Geological Survey has reported that the Glacier National Park in Montana has lost more than 120 glaciers in the last century.
And Dr Moon said this was a pattern repeated all over the world from the Antarctic Peninsular to Patagonia, Kilimanjaro, the Himalayas, Greenland and the Arctic.
"The evidence is overwhelming: Earth is losing its ice. Much of this loss is irreversible and the result of human-caused climate change," she wrote.
"Unless substantial climate response action is taken and the trend of global temperature rise is reversed, we will continue to see Miami streets swallowed by the sea … And we can expect this pattern to continue for decades, centuries, and indeed, millennia.
"As scientists, we must make this reality clear and help to ensure that action is taken to minimise impacts globally."
She said a "surge" in scientific research and increased amounts of data "point clearly to rapid and largely irreversible ice loss".
Climate models have projected that 52 per cent of all the small glaciers in Switzerland will be gone in 25 years, while western Canada will lose about 70 per cent of its glacial ice by 2100.
"This loss of Earth's land ice is of international concern. Rising seas, to which melting ice is a key contributor, are expected to displace millions of people within the lifetime of many of today's children," Dr Moon wrote.
"But the problems of glacier loss do not stop at sea level rise; glaciers are also crucial water sources, integral parts of Earth's air and water circulation systems, nutrient and shelter suppliers for flora and fauna, and unique landscapes for contemplation or exploration."
Scott's lost photos of Antarctica are bought for nation

Show all 7
The West Antarctic, which could produce a major rise in sea levels, is of particular concern.
"Some of the most sobering observations … come from the Thwaites and Pine Island Glaciers region of West Antarctica," said Dr Moon.
"Containing about five metres of potential sea level rise, the West Antarctic Ice Sheet is particularly vulnerable because it rests on bedrock well below sea level and is exposed to warm ocean waters at depth.
"This setting is the key ingredient for triggering an amplifying loop of ice loss called the marine ice sheet instability, in which retreat, thinning, and speed-up at the ice sheet edge produce runaway ice loss.
"Multiple studies indicate that this irreversible West Antarctic collapse is under way."
Dr Moon said it was unclear how quickly the ice would melt, and stressed this should be investigated with a degree of urgency.
"The risks and impacts of a one or two-metre sea level rise differ substantially for coastal cities and island nations.
"But perhaps even more important for planning is whether that flooding occurs in 2050 or 2150.
"This question can only be addressed by constraining the rates of ice loss, which must be a top research priority."
Join our new commenting forum
Join thought-provoking conversations, follow other Independent readers and see their replies