Eco-warriors facing eviction at Runnymede call on landowners to put them up amid plans to spread similar communities across region
Close to the spot where the Queen will mark the 800th anniversary of Magna Carta,  a new battle over rights is underway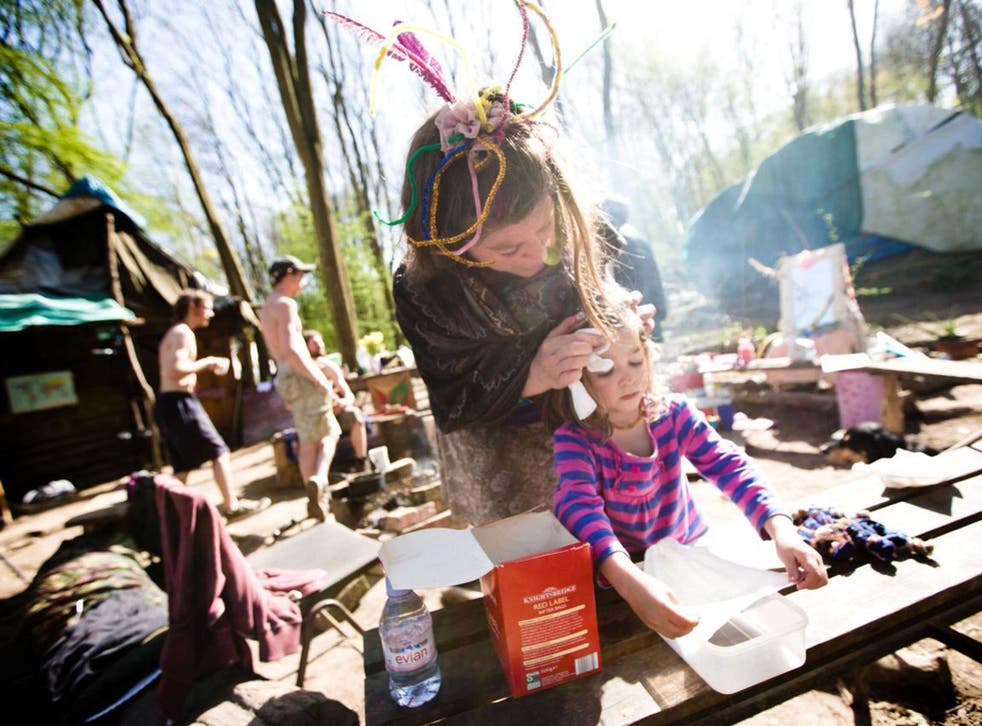 Eco-warriors facing eviction from their squatters camp at Runnymede in Surrey are calling on landowners with spare ground to put them up as they prepare to leave the woods and set up a string of similar communities across the region.
The community set up camp in disused woodland near Egham three years ago, a short distance from where King John sealed Magna Carta in 1215. It has since grown into an "eco-village" with about 30 long-term members and up to 20 visitors at any one time.
But the group, an offshoot of the Occupy London movement that set up camp outside St Paul's Cathedral in 2011, looks likely to be disbanded following a court eviction battle due next month. The prospect of moving has given them the idea of setting up new communities.
"Why not have a chain of eco-villages around the M25?" said (Uncle) Vinny, Runnymede's unofficial 48-year-old leader, who joined the community shortly after it was set up. Before that he had taught English to refugees on the Burmese/Thai border.
"We're looking for other land – so if rich landowners are willing to donate to us we are all ears, even if we don't end up getting evicted from here," he added.
Vinny says that the community has looked after the land, taking overgrown and litter-strewn woodland and regenerating it. The community has taken in people lost in society, counselled teenagers angry at their parents, taught German to GCSE pupils and fed locals from their food supplies – which are grown, foraged and scavenged from supermarket bins.
"We can take what we've learnt and do it even better next time," said 31-year-old Andrea Gomez, a Portugese guitar teacher who came to the UK 12 years ago to study music at Thames Valley University in London.
"If we could set up more of these communities it would take pressure off cities. It would reduce pollution, we could plant trees and re-introduce native species – using disused land could be part of the solution to overcrowding," added Ms Gomez, who finished her house a week before receiving an eviction notice. Ms Gomez built her house from fallen trees, wooden pallets, scrap from skips and cob – a mixture of sand, clay and straw.
Runnymede: In pictures

Show all 9
"It took me nine months but at least I got it done before the eviction and I've got some nice photos. But it's never completely finished, I'm still constantly changing things," she said. The landowner, property developer Orchid Runnymede, says the village needs to go because they are about to start building on an adjoining site. Sitting round a campfire, the group believe their kind of alternative lifestyle is becoming increasingly attractive in the wake of soaring living costs and austerity cuts.
"It's amazing how far £20 can go here, but it wouldn't go anywhere in the city," said Joe, who has lived in the community for eight months.
"You see yourself develop. When I came here I was shy, but now I am more confident with people. I feel like part of a big family," he added.
Sitting next to Joe is his friend Jedi. "I feel like a millionaire when I wake up in the morning. I'm in control of what I want to do, I can decide what I want to create. There are always structures to be built, whether it's a music stage or toilets," Jedi said.
"What prospects are there for young people in the system? It's not new for young men to go into the woods to make a life if the system gets bad enough – it happened in the depression," Jedi added.
Most members of the camp suspect that they would be unwelcome at celebrations marking the 800th anniversary of Magna Carta in Runnymede in June that will see the Queen and thousands of dignitaries gather by the River Thames just down the road.
"We're too frontline – living the alternative lifestyle that is an embarrassment to the system – why would they want commoners when there are 7,000 dignitaries there?" said Vinny.
Register for free to continue reading
Registration is a free and easy way to support our truly independent journalism
By registering, you will also enjoy limited access to Premium articles, exclusive newsletters, commenting, and virtual events with our leading journalists
Already have an account? sign in
Register for free to continue reading
Registration is a free and easy way to support our truly independent journalism
By registering, you will also enjoy limited access to Premium articles, exclusive newsletters, commenting, and virtual events with our leading journalists
Already have an account? sign in
Join our new commenting forum
Join thought-provoking conversations, follow other Independent readers and see their replies