Capturing elephants from the wild drastically shortens their lives, study finds
Animals taken for use in logging industry live up to seven years less than captive-born counterparts
Josh Gabbatiss
Science Correspondent
Sunday 12 August 2018 16:22 Comments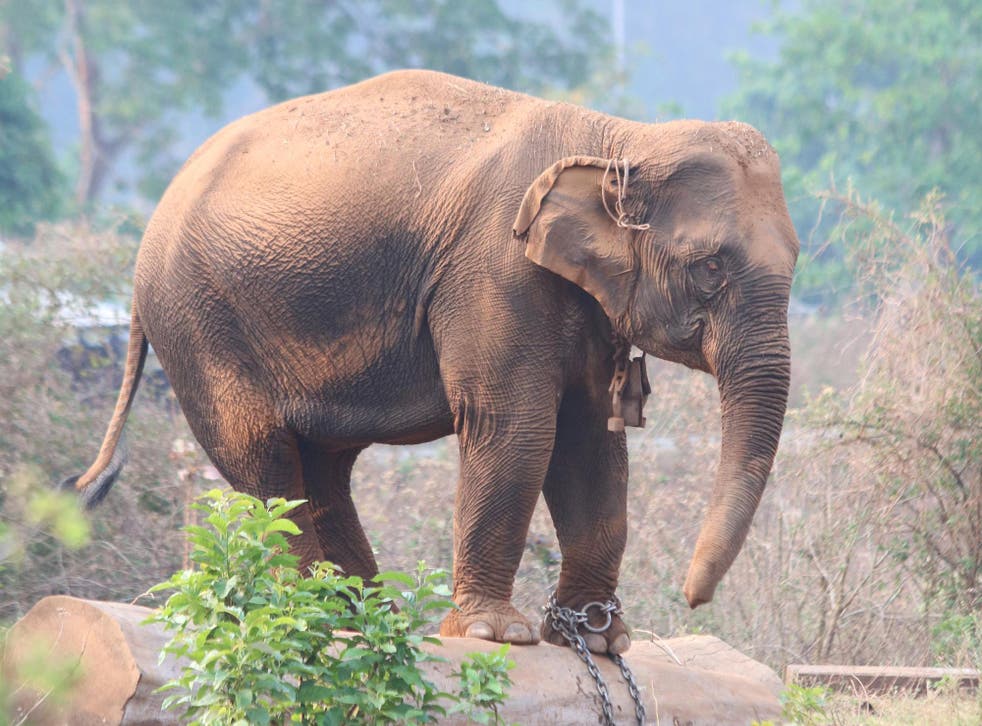 Around the world elephants are kept as tourist attractions, for religious purposes and even as part of the workforce, but a new study shows taking these majestic animals from the wild cuts their lives short.
Humans have captured elephants for thousands of years, and today a third of the remaining 15,000 Asian elephants are held in captivity.
Across forested parts of Southeast Asia, for example, humans use the considerable strength of their local elephants to haul timber around for the logging industry.
These timber elephants were the focus of a new study in which a research team wanted to understand how the act of capture impacted on their long-term health.
Understanding this is vital because even though elephants are considered endangered, more than 60 per cent of zoo specimens are taken from the wild.
The researchers compared captured timber elephants to those raised in captivity, and found that those that had been born free lived up to seven years less than the others.
Catching an elephant is not easy, and methods used range from sedating or lassoing single elephants to driving entire groups up against pre-constructed barriers.
Thailand debuts elephant-friendly tourism
Unsurprisingly, this process can be incredible stressful, and the scientists suggested the long-term stress is responsible for the huge dip in their lifespans
"Our analysis reveals that wild-captured elephants had lower survival chances than captive-born elephants regardless of how they'd been captured," said Dr Mirkka Lahdenpera, the lead author of the study.
"This means that all these methods had an equally negative effect on the elephant's subsequent life.
"We also found that older elephants suffered the most from capture; they had increased mortality compared to elephants caught at younger ages."
In their study, published in Nature Communications, the scientists examined the lives of over 5,000 Myanmar elephants and found their risk of death spiked, particularly in the year following their capture.
Some animals thrive in captivity, but elephants are certainly not among them. Zoo elephants are known to have shorter lives than their wild counterparts, but this could reflect the massive differences in social lives, diet and exercise between these two groups.
Studying timber elephants allowed the researchers to zoom in specifically on the act of capture, and the knock-on effects it had on their lives.
"We chose to rely on data from timber camps as, their capture aside, both wild-caught and captive-born elephants have very similar life styles," explained explains Dr Alexandre Courtiol, a co-author from the Leibniz Institute for Zoo and Wildlife Research.
"This unique situation allows a comparison between these two groups unbiased by other factors such as diet or exercise."
Though they accept that capture is sometimes necessary for conservation, anti-poaching or veterinary purposes, the researchers warn of the risks associated with such activities.
"We ought to find alternative and better methods to boost captive populations of elephants," said co-author Dr Virpi Lummaa of University of Turku.
Register for free to continue reading
Registration is a free and easy way to support our truly independent journalism
By registering, you will also enjoy limited access to Premium articles, exclusive newsletters, commenting, and virtual events with our leading journalists
Already have an account? sign in
Join our new commenting forum
Join thought-provoking conversations, follow other Independent readers and see their replies