Elephants march on Westfield to end Africa's ivory poaching crisis
The Independent backs global campaign to end Africa's ivory poaching crisis and save elephants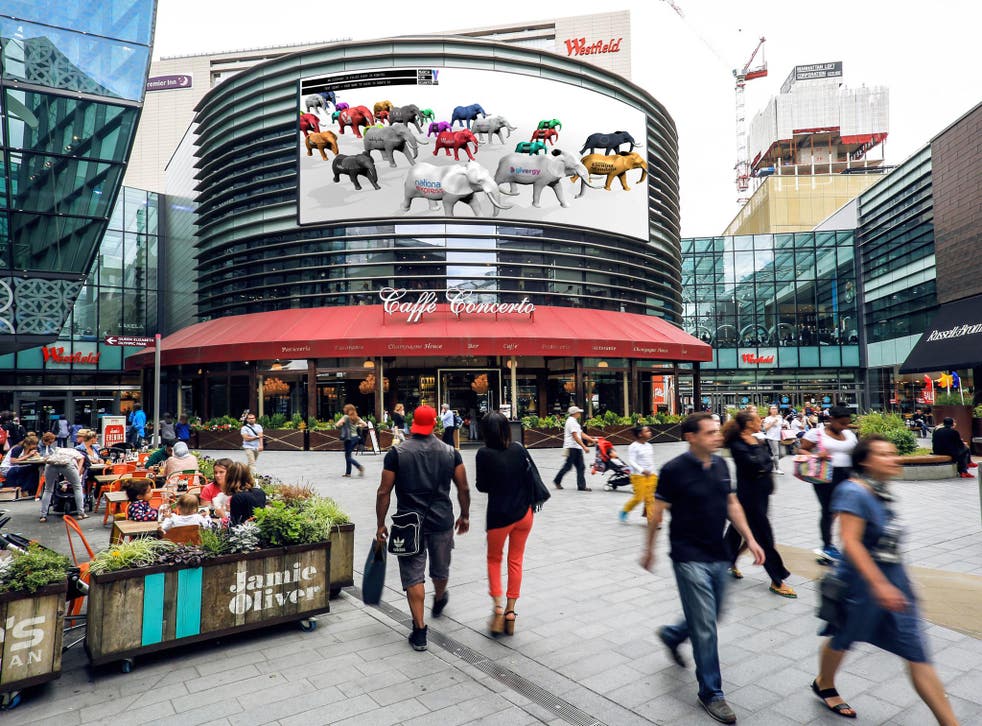 You've heard of the elephant in the room, now brace yourself for the elephants in the shopping centre.
Next week London's Westfield will play host to a 'herd' of digital elephants marching across massive billboards to raise awareness of the urgent crisis facing the world's largest land mammal.
An elephant is killed every 25 minutes, mostly by poachers, and more than a third of the population has been wiped out in just seven years.
Global campaign March for Giants asks you to join a virtual 'herd' of digital elephants in a protest parade across huge digital screens in three continents, to speed an end to the slaughter.
#MarchforGiants begins in Hong Kong on 23 March, progresses to Times Square in New York and then on to London Stratford and Birmingham before ending in Manchester on 26 March.
For just £5 you can be part of the campaign by creating your own personalised elephant to join the 'herd'. The campaign supports the work of the elephant conservation charity Space for Giants.
The Independent's owner Evgeny Lebedev is Patron of the charity, and The Independent has its own branded elephant which will be part of the globe-trotting herd.
Brands already signed up to #MarchforGiants include Givergy, Made by Riley, National Express, Ocean Outdoor, Westfield, Chantecaille, The Delta Group, BCD Travel and FIRSTavenue. Every corporate partner's donation will enable Space For Giants to protect one elephant for the duration of its life.
Celebrities including Elizabeth Hurley and Ricky Gervais have got behind the campaign, and Space for Giants' celebrity ambassadors have spoken out to emphasise the importance of us acting before it's too late.
Marcella star Anna Friel says: "The rate of slaughter of elephants is horrific. I don't want a future without elephants, and I'll do everything I can to stop that from happening".
By joining #MarchforGiants you will enable Space for Giants to look after real life animals in the wild. The charity has more than a decade of on-the-ground experience protecting African elephants and the landscapes they depend on.
The charity's work includes training anti-poaching Rapid Response Teams to prevent poaching and securing protected landscapes for elephants to roam. Their work has seen an 84 per cent reduction in elephant poaching in North Kenya in just three years.
The #MarchforGiants campaign is the world's first to link global billboard space. It was conceived by creative agency 18 Feet & Rising, will be brought to life by Popped, Free Folk and DOOH.com, and the four-day virtual parade takes place on massive digital screens operated by media owner Ocean Outdoor.
You have until the herd is released on 23 March to make sure you are part of the initiative. Everyone who shows support will receive photos of their personalised elephant as it marches across advertising screens in Hong Kong, New York, and Britain to share on social media. This March, let's march together to save these endangered giants.
Sponsor an elephant now for just £5 at www.marchforgiants.org
For more information on the work Space for Giants does to protect elephants visit www.spaceforgiants.org
Register for free to continue reading
Registration is a free and easy way to support our truly independent journalism
By registering, you will also enjoy limited access to Premium articles, exclusive newsletters, commenting, and virtual events with our leading journalists
Already have an account? sign in