Emmanuel Macron vows to replace every dollar Donald Trump withdraws from climate change efforts
French President says France will step in to maintain funding for major international panel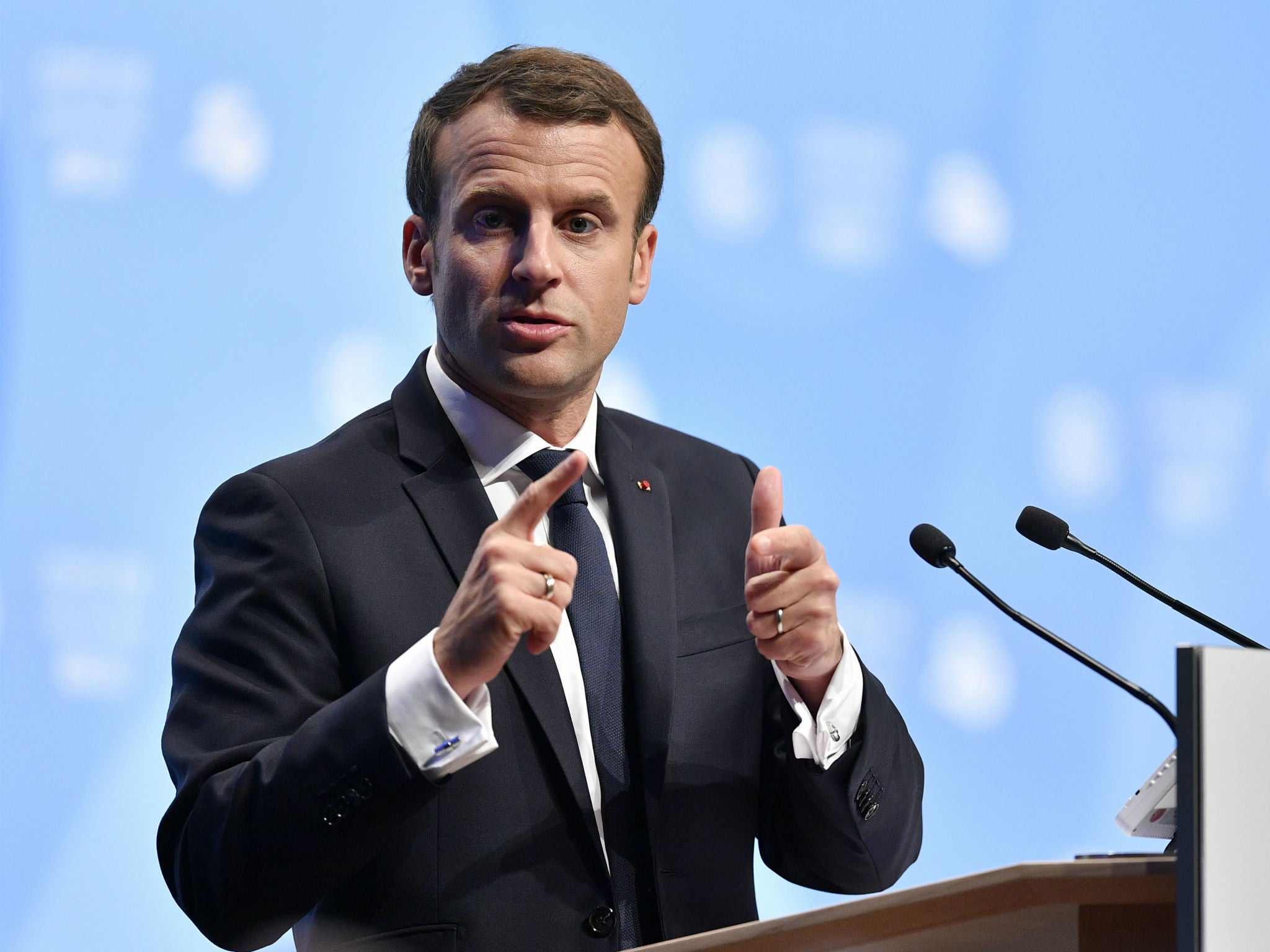 Emmanuel Macron has vowed to replace every dollar that is withdrawn from the UN's climate change programme by Donald Trump.
The French President told a UN climate summit in Bonn, Germany, that France would step in to cover the cost of US contributions to the Intergovernmental Panel on Climate Change (IPCC) that Mr Trump has said he will withdraw.
"I can guarantee that, starting in 2018, the IPCC will have all the money it needs and will continue to support our decision-making," he said. "It will not miss a single euro."
"We need scientific information that is constantly nourished to ensure clear decision making. The IPCC is one of the major components of this work.
"However, it is threatened today by the decision of the US not to guarantee funding for it. Therefore, I propose that the EU replaces the USA, and France will meet that challenge."
The US currently contributes around €2 million (£1.8 million) a year to the IPCC.
However, Mr Trump has pledged to pull the US out of the 2015 Paris Agreement and other international climate change initiatives. He also plans to promote coal and other fossil fuel industries.
In his speech, Mr Macron also called for an EU tariff on goods imported from countries or companies that do not share its climate goals, and pledged to work to raise the cost of carbon within the EU to €30 a tonne.
The French President is hosting a conference in Paris next month on the issue of climate finance.
World news in pictures
Show all 50
Representatives from almost 200 countries are currently meeting at the 23rd Conference of the Parties (COP23) summit in Bonn, where discussions are focusing on how the Paris Agreement should be implemented.
German Chancellor Angela Merkel also addressed the summit, telling delegates: "Climate change is by far the most significant struggle of our time."
She praised a group of US states, cities and companies, called "America's Pledge", that have vowed to continue tackling climate change despite Mr Trump's stance.
"I welcome this as it highlights the importance of climate protection in large parts of the US regardless of the decision by President Trump to leave the Paris accord", Ms Merkel said.
However, her speech was criticised by some Green MPs in Germany for not going far enough. Ms Merkel is currently in the middle of delicate negotiations with the party about entering into a governing coalition with her Christian Democratic party.
Join our commenting forum
Join thought-provoking conversations, follow other Independent readers and see their replies