Energy deal – but no target to cut Britain's carbon emissions
Nigel Morris
Friday 23 November 2012 00:55 Comments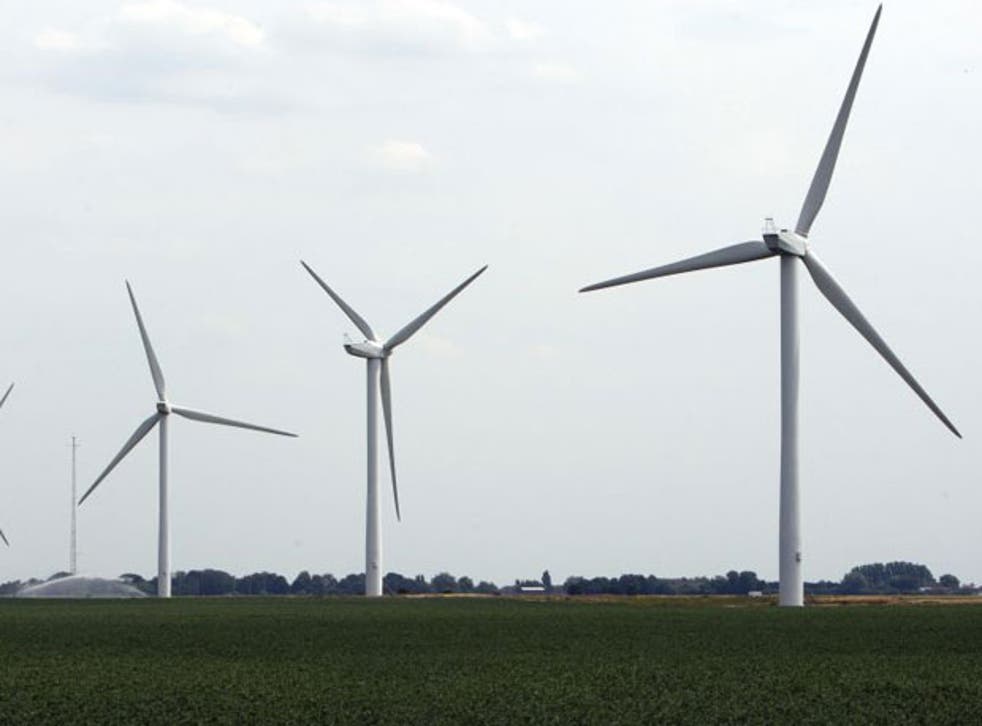 Legally binding commitments to cut the amount of carbon that power stations can emit will not be included in the new Energy Bill following a bitter row within the Coalition.
Green groups accused David Cameron of bowing to pressure from a "militant tendency" in Tory ranks by postponing a decision on whether to introduce the binding targets. However, the much-delayed Energy Bill will announce moves to triple subsidies for "clean" energy sources such as renewables over the next eight years.
The extra money will come from consumers' bills, which could rise by more than £170 a year according to one estimate. Conflict over the planned legislation has created deep divisions within the Government as George Osborne, the Chancellor, repeatedly resisted "green" measures he feared could hamper economic growth.
He wrangled with other ministers over whether to set a "decarbonisation target" for 2030 to bind future administrations to reduce emissions. The Bill will only include moves to enable the next Parliament to decide in 2016 whether to set a target.
This will be seen as a partial victory for Mr Osborne who feared that setting a rigid target now could add a new burden on industry. However, he failed in his efforts to block the introduction of a target altogether. The Chancellor will also publish plans next month on how to boost gas production.
John Sauven, the executive director of Greenpeace, said: "By failing to agree to any carbon target for the power sector until after the next election, David Cam-eron has allowed a militant tendency within his own ranks to derail the Energy Bill. It's a blatant assault on the greening of the UK economy."
Ed Miliband, the Labour leader, said yesterday: "Other countries around the world are watching to see whether Britain signs up to the 2030 decarbonisation target. We are not getting leadership from this Government in Westminster. All we get is dither and delay."
The Coalition's "Quad" of key decision-makers – Mr Cameron, Mr Osborne, Nick Clegg and the Liberal Democrat Chief Secretary to the Treasury Danny Alexander – met several times to try to thrash out a compromise. It is understood Mr Cameron sided with the Liberal Democrat members on several crucial points of detail.
One Whitehall source said: "This issue has taken up a huge amount of time and effort. Lots of the issues discussed at the Quad should not have reached it in the first place."
Under the deal that has been struck, the subsidies paid to producers of renewable energy, nuclear power generators and for carbon capture and storage will be increased from £2.6bn a year to £7.6bn by the year 2020.
Mr Osborne had opposed a larger subsidy, warning it would drive up energy prices, but Ed Davey, the Liberal Democrat Energy and Climate Change Secretary, believes the compromise figure will provide certainty to companies contemplating investing in "green power".
Register for free to continue reading
Registration is a free and easy way to support our truly independent journalism
By registering, you will also enjoy limited access to Premium articles, exclusive newsletters, commenting, and virtual events with our leading journalists
Already have an account? sign in
Join our new commenting forum
Join thought-provoking conversations, follow other Independent readers and see their replies