Environment Agency investing pension fund in industries it regulates is 'clear conflict of interest'
Green watchdog accused over 'shocking' investment portfolio that includes fracking
Andy Rowell
Sunday 28 December 2014 01:00 Comments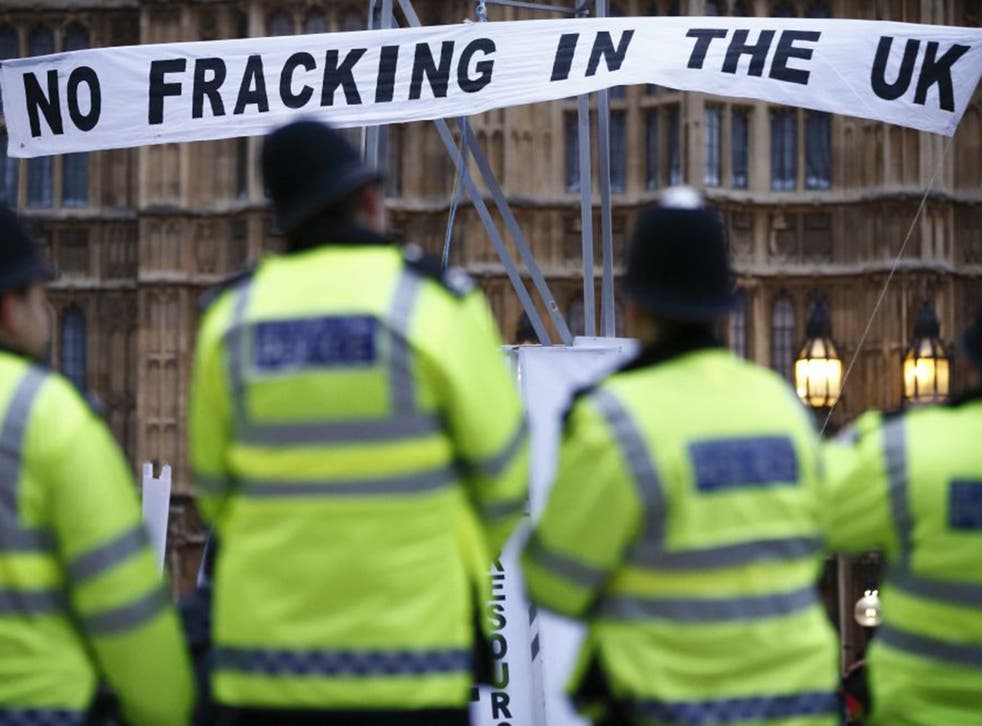 The Environment Agency (EA) has been accused of having a "clear conflict of interest" after an Independent on Sunday investigation found the UK regulator's pension fund invests millions in controversial industries which it then regulates. In the UK the EA's pension fund – worth a huge £2.3bn – invests in companies investing in fracking, incineration and nuclear power, all of which the Agency is involved in regulating.
Globally, the fund also invests millions in chemical and mining companies, including diamond mining; tobacco and alcohol companies; arms manufacturers; a gambling company, as well as Starbucks which has been repeatedly accused of tax avoidance.
The pension details are contained in a response to a Freedom of Information request from the EA, which lists the companies it had a stake in as of March this year, its latest available audited information. And its investments are in marked contrast to the Agency's public image of being a leading "responsible" investor that integrates "environmental, social and governance considerations into all decision-making." The Agency champions its commitment that by 2015 "25 per cent of the fund will be invested in the sustainable and green economy".
Despite these bold claims, the list reveals that the EA, which was heavily criticised last year for its response to flooding, holds £50m direct investments in oil and gas companies such as Shell, BP and BG Group, as well as millions more in indirect oil and gas funds. This year the EA commissioned a report on the risk to its fossil fuel investments becoming "stranded assets" but was advised against disinvesting. "Reducing investment exposure to the fossil industry does not precipitate a reduced prevalence of that industry," argued its consultants.
But green campaigners disagree. Fossil fuels are already "a risky investment and certainly will be into the future. The really 'responsible' investor is the one who recognises that now before it's too late," argues Charlie Kronick, energy markets adviser to Greenpeace UK.
It is with issues such as fracking, incineration and nuclear that the EA is probably at its most vulnerable. Its investments could potentially open it up to legal challenges if the it were to grant permits to companies in which its pension pot has a financial interest.
The fund is investing in two companies financially intertwined with fracking giant Cuadrilla, the company that has been the subject of fierce protests in Lancashire and West Sussex. The first is Centrica, which is investing £60m in Cuadrilla's Lancashire operations and the second is Riverstone Energy, which owns 44 per cent of Cuadrilla.
The Cuadrilla relationship is further complicated as Lord Browne of Madingley, who sits on Cuadrilla and Riverstone's board, has been accused of having privileged access to Lord Chris Smith, the head of the EA. Browne, a former BP boss, met Smith on numerous occasions when Cuadrilla was trying to get a permit to frack. The minutes of one telephone meeting between Browne, Smith and other government ministers reveal that the EA offered to "shorten the consultation process prior to determining permits", although this was rejected by Cuadrilla, which was worried about legal action.
The EA is also investing in Barclays, the bank behind Third Energy's attempts to frack and conventionally drill the Ryedale Valley in North Yorkshire, and French company Total, which announced plans to invest $50m (£32m) in licences backed by fracking companies IGas, Dart Energy and partner Egdon Resources earlier this year.
The revelations come after the Chancellor, George Osborne, promised millions of pounds in the Autumn Statement to show a sceptical public the "robustness of the existing regulatory regime" on fracking.
Anti-fracking groups are outraged: "It is astonishing to discover that the government body that makes decisions on environmental permits for fracking companies is investing so heavily in the same companies that are applying for these permits," argues Chris Redston of Frack Free Ryedale. "This appears to be the very definition of a conflict of interest."
Green MP Caroline Lucas, said: "News that the Environment Agency has investments in some of the very industries it is paid to regulate is deeply shocking. There is a clear conflict here, which undermines the credibility of the Environment Agency and calls into question its independence and authority."
An Environment Agency spokesperson said it "does not hold shares in any listed companies. Like many pension funds, The Environment Agency Pension Fund invests in a wide range of companies and these assets are completely separate from the Environment Agency. The day-to-day management of the fund and selection of companies is delegated to external fund managers who have no access to information regarding the EA's regulatory activities. The fund operates transparently and is recognised as a global leader in responsible and sustainable investment."
Register for free to continue reading
Registration is a free and easy way to support our truly independent journalism
By registering, you will also enjoy limited access to Premium articles, exclusive newsletters, commenting, and virtual events with our leading journalists
Already have an account? sign in
Join our new commenting forum
Join thought-provoking conversations, follow other Independent readers and see their replies