Eric Pickles accused of 'rejecting wind farms to win votes'
The Communities Secretary blocks nearly nine out of 10 applications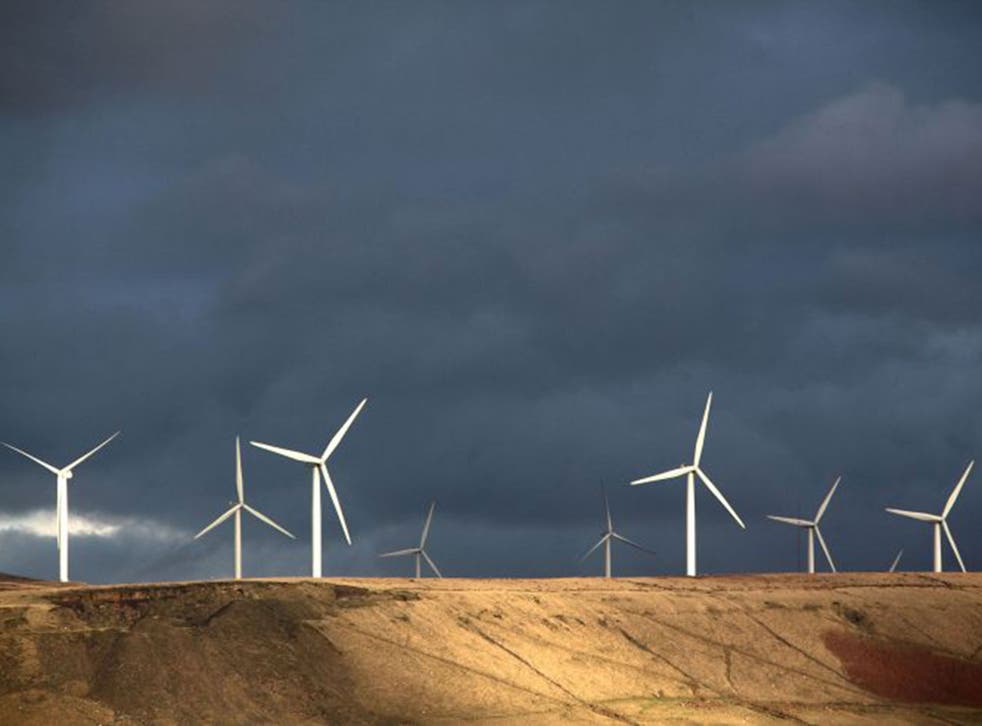 Eric Pickles has turned down applications to build 19 onshore wind farms in the past year, prompting allegations from senior Liberal Democrats and energy firms that he is playing politics with green energy, motivated by a need to shore up support from wavering Conservative voters in the party's rural heartlands.
The revelation that Mr Pickles has stalled £500m of onshore wind investment by calling in an "unprecedented number" of planning decisions for his personal approval comes as senior Lib Dems accused the Secretary of State in the Department of Communities and Local Government (DCLG) of using a "back door" to strangle offshore wind for political purposes.
The coalition row broke out as renewable energy developer Ecotricity was given permission to launch a legal appeal against Mr Pickles's refusal to permit four turbines at Black Ditch on the Somerset Levels. Last week, the Court of Appeal granted the firm the right to challenge Mr Pickles's decision, which was made against the recommendation of a planning inspector.
Ecotricity founder Dale Vince said the firm had no choice but to turn to the courts in response to attempts by Mr Pickles "to play to Tory voters in the shires".
"The Government is clearly trying to shut down onshore wind. Mr Pickles has refused permission for three of our wind farms now, and in this case in the face of approval from the Planning Inspectorate. It's a long an arduous job to get a wind farm through the planning system then along comes a politician from Westminster who knows nothing and kills it," Mr Vince said. The court challenge is against a background of anger in the wind farm community at the Conservative party's announcement that its 2015 election manifesto will include a moratorium on onshore wind.
The Black Ditch case is due to be heard next month, but Mr Vince warns that Mr Pickles is already forcing many people to reconsider the future of onshore wind. He called for the Lib Dems in government to "have the balls to do more" in the battle between Mr Pickles in the DCLG and Lib Dem minister Ed Davey in the Department of Energy and Climate Change (DECC).
A Lib Dem source said: "Liberal Democrats in government have resisted every attempt by the Conservatives to put a cap on onshore wind, and now this is an attempt to do it by the back door …. It seems onshore wind is part of the so-called 'green crap' some Conservatives are determined to get rid of. The sheer scale of planning applications being called in shows a flagrant disregard for decision-making at a local level and is in danger of bringing the planning system into disrepute."
This attack on Mr Pickles comes after Mr Davey told his party conference he has fought an "insurgent battle" over green energy against his coalition partner, who he accused of coming close to "abusing ministerial power". He accused Mr Pickles of "interfering with the independent Planning Inspectorate process" and "over-riding decisions of elected councillors". He warned that Mr Pickles was "in danger of bringing the planning system into disrepute. Of abusing ministerial power...."
Most recent polling suggests the public are in favour of wind turbines and as recently as four years ago David Cameron said he wanted to lead the "greenest government ever". However the latest figures, from RenewableUK, a not-for-profit green energy association, show Mr Pickles has "called in" or "recovered" unprecedented numbers of wind farm applications from planning inspectors. In the past year Mr Pickles has refused 86 per cent of onshore wind farm applications that have come across his desk, including at six sites where he went against the advice of his Planning Inspectorate officials. In total, the 19 rejected projects account for more than 520 megawatts of electricity production and more than £500m in stalled investment, according to the trade body.
"Mr Pickles is playing politics with energy policy, putting his views above our country's future energy needs, thereby jeopardising investment and local jobs," said Maria McCaffery, RenewableUK's chief executive. "This subversion of the democratic planning process has created chaos and confusion among local councillors and planners."
Mr Pickles declined to comment, but fellow DCLG minister Kris Hopkins said: "Democratically accountable ministers have been recovering planning appeals that would otherwise be made by planning inspectors. Every appeal is considered with due process on its individual merits."
Join our new commenting forum
Join thought-provoking conversations, follow other Independent readers and see their replies