Ex-Greenpeace director denounces 'immoral' groups that campaign against GM foods
Stephen Tindale says campaigners put 'ideology' before the needs of the poor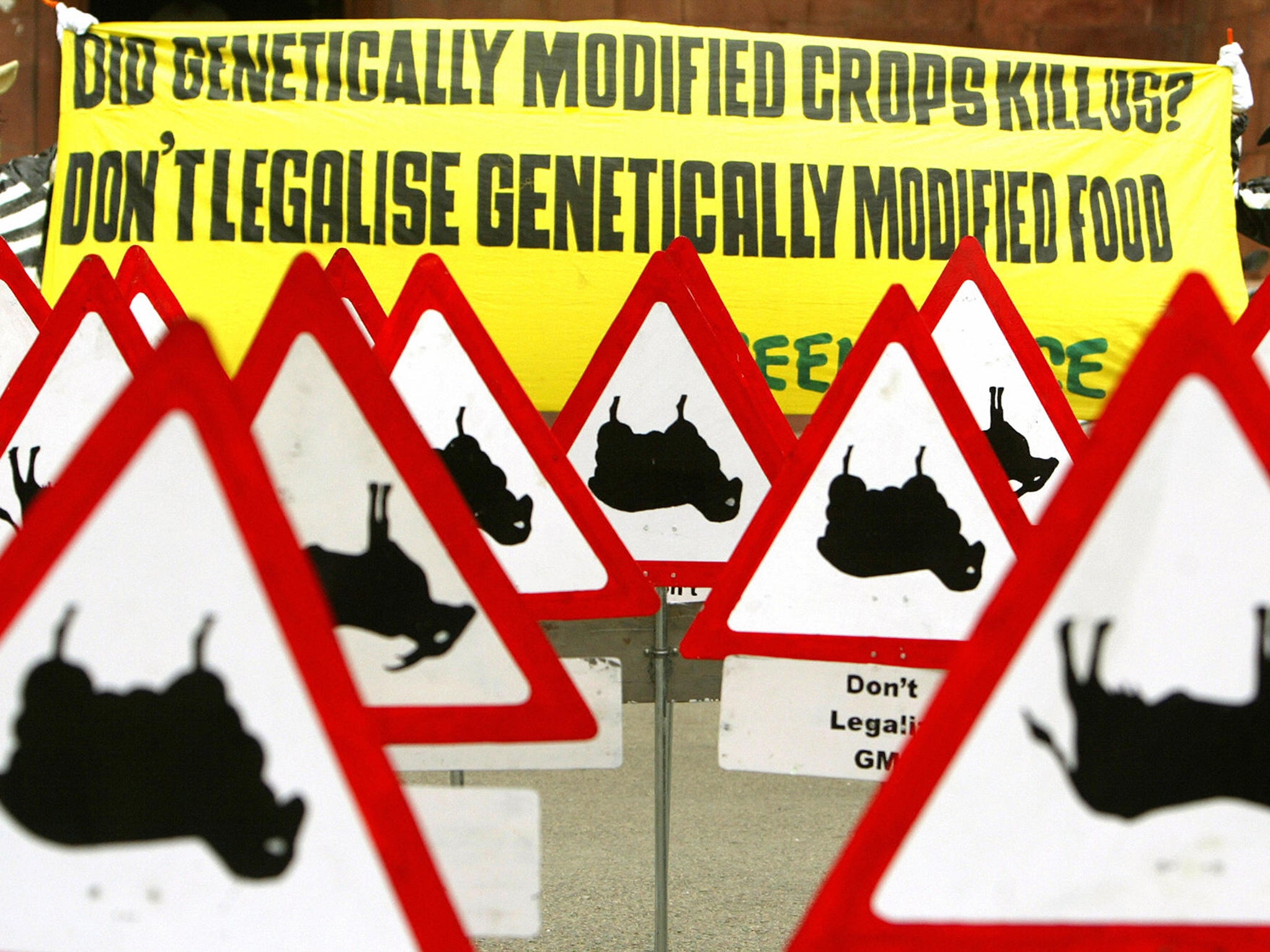 Environmental groups that campaign against genetically modified food are taking a "morally unacceptable" position that puts "ideology" ahead of the needs of the poor, a former director of Greenpeace has warned.
Stephen Tindale, who led the organisation at the height of its opposition to GM technology, said he had "decided to speak out" because he believed the technology was safe and could help alleviate hunger in the developing world.
But his remarks, in a BBC Panorama programme, will infuriate his former colleagues at Greenpeace. The group is still campaigning for GM bans across the world.
Mr Tindale is the second prominent green campaigner in recent years to publicly change his mind about GM. Mark Lynas, an author and activist who spent years destroying GM crops, shocked the environmentalist world in 2013 when he admitted he had been wrong about the technology and now believed it was a force for good.
Speaking to Panorama, Mr Tindale said it was important to recognise the developing science around GM technology and how it could be used to help develop hybrid plants that had greater resistance to drought and disease that can devastate crops.
"The reason I've decided to speak out on GM now is because I think it is necessary for people like me who've opposed it to say things have changed," he told the programme.
"The overwhelming majority of scientists think that it is safe. It is, in my view, morally unacceptable to stand out against these new technologies." And Mr Tindale singled out his own former employer for criticism over its continued anti-GM stance. "I worry for Greenpeace and the other green groups because they could, by taking such a hard line … be seen to be putting ideology before the need for humanitarian action."
The programme also uncovered further evidence that some public campaigns being waged by Western NGOs against GM in the Third World are using "scare tactics" to mobilise opposition to the technology. Such tactics were first revealed by The Independent earlier this year.
Panorama reporters obtained a radio ad produced by ActionAid in Uganda attempting to whip up opposition to a parliamentary bill that would have regulated the cultivation of GM technology in the country.
"Did you know that genetically modified organisms are organisms made in the laboratory by crossing genes from different species?" the ad says, before adding: "Such products pose health risks such as cancer, infertility, etc. This has been brought to you by ActionAid Uganda."
A single study linking GM maize with cancer in rats was discredited by the European Food Safety Authority. A separate study suggesting a link to infertility was withdrawn.
Earlier this year, The Independent revealed that ActionAid's campaign manager in Uganda was warning farmers that cultivating GM crops could cause cancer and harm human health.
When this newspaper contacted ActionAid UK at the time, the organisation disassociated itself from its Ugandan operation and said that it had been told to stop making health claims about the risks of GM. ActionAid has said the radio ad, which aired in November 2013, should never have gone out.
Former Greenpeace boss Mr Tindale described the commercial as shocking. "To be scaremongering about health risks, particularly cancer, with no scientific justification … is totally immoral," he said.
Dr Doug Parr, Greenpeace's chief scientist, denied his was an ideological organisation. "I don't take [that] view," he said last. "We're taking a balanced view of the risks in the context of the pressures that are being exerted on it by government and business to move new technologies on.
"If those who are cautious about it like us are wrong, the upshot will be a few years' delay on some returns to shareholders for large international companies. If, on the other hand, the pushers are wrong then we've potentially changed our environment with uncertain consequences for both the ecology and for health, really for time immemorial."
However, Anne Glover, the former scientific adviser to the European Union, said the evidence was clear that GM was safe. "There has never been a technology which has had so much money spent on it in terms of looking at the safety," she told the programme.
Join our commenting forum
Join thought-provoking conversations, follow other Independent readers and see their replies