Explosion in Brazilian Amazon rainforest logging
"In just the past six months there has been an explosion"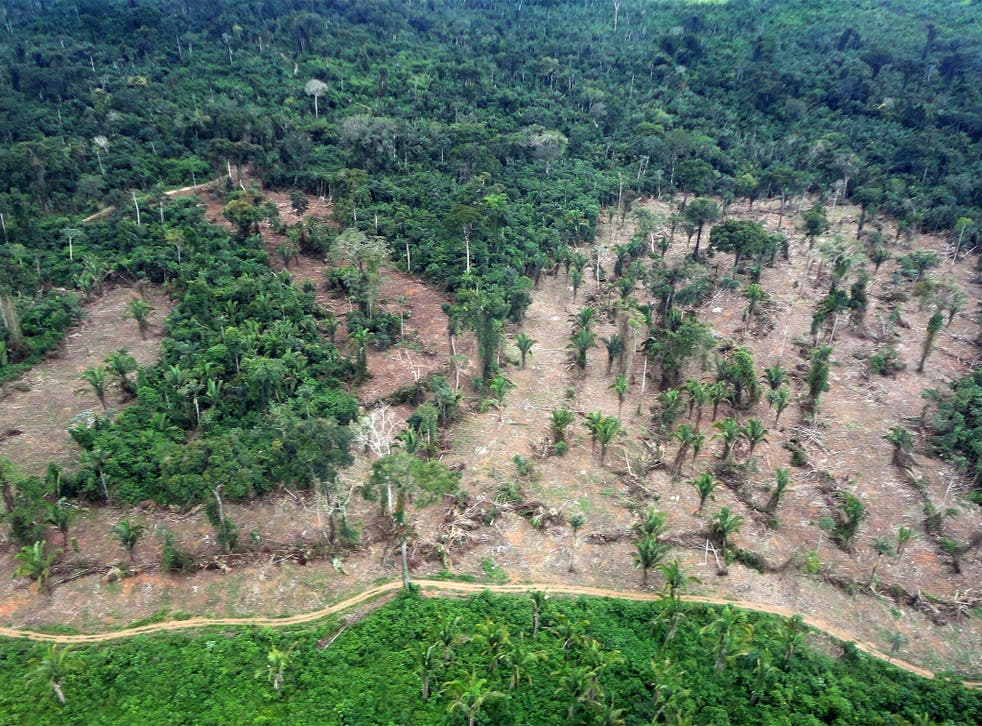 There has been an "explosion" of deforestation in the Brazilian rainforest in the past six months, dramatically ending a decade of declining tree loss and threatening a new era of accelerating wood chopping, a leading expert on the Amazon has warned.
Analysis of satellite images reveals a rapidly accelerating rate of deforestation since last summer, particularly in October 2014, when the rate was 467 per cent higher than it was a year earlier, according to the IMAZON research institute in Brazil.
The increase is driven by rising beef and soybean prices – which are often produced on deforested land – as well as an increase in the value of Brazil's currency, the real, which makes their production more profitable.
Furthermore, the Brazilian government has watered down environmental laws and is driving through a huge programme of infrastructure building, according to Philip Fearnside, a professor at the National Institute for Research in the Amazon.
"Deforestation went up a bit – they call it a hiccup – in 2013, but now in just the past six months there has been an explosion," said Prof Fearnside, who has lived and worked in the Brazilian Amazon for three decades.
In pictures: Biggest threats to the rainforests

Show all 10
He also criticises the new Forest Code, which came into law in 2012, saying it weakens crucial environmental protections and includes an amnesty for individuals who cleared rainforest illegally before 2008.
"If you cleared illegally, you got away with it. And the expectation is that if you clear illegally now, sooner or later there will be another amnesty that will forgive your past crimes. On the other hand, if you actually obeyed the law, you lost money. So the incentives are very perverse," Prof Fearnside told the Yale University Environment 360 website.
He is also concerned that the deforestation is going to get worse following the reelection of President Dilma Rousseff, whose latest PAC – five-year building plan – is strongly pushing rural development.
"Dilma is known as the mother of the PAC. It consists of a list of projects, building roads and dams and so on, projects that will lead to deforestation," he says.
If the rate of deforestation is to be slowed effective measures include taxing land bought as an investment , stopping subsidies and fiscal incentives for development that leads to tree loss, greatly reducing road building and ending the practice of allowing pasture as an "improvement" for establishing land tenure, he says.
Although the Amazon rainforest spreads across much of South America, about 60 per cent is found in Brazil, with Peru accounting for the next biggest portion, at about 13 per cent. Peru is also seeing an increase in deforestation, although this is much less pronounced than in Brazil, experts said.
Register for free to continue reading
Registration is a free and easy way to support our truly independent journalism
By registering, you will also enjoy limited access to Premium articles, exclusive newsletters, commenting, and virtual events with our leading journalists
Already have an account? sign in
Register for free to continue reading
Registration is a free and easy way to support our truly independent journalism
By registering, you will also enjoy limited access to Premium articles, exclusive newsletters, commenting, and virtual events with our leading journalists
Already have an account? sign in
Join our new commenting forum
Join thought-provoking conversations, follow other Independent readers and see their replies