'His own family are environmentalists': Extinction Rebellion hit back after Boris Johnson calls them 'uncooperative crusties'
'Boris Johnson's depiction made us smile, it's not the Boris Johnson we know,' says Extinction Rebellion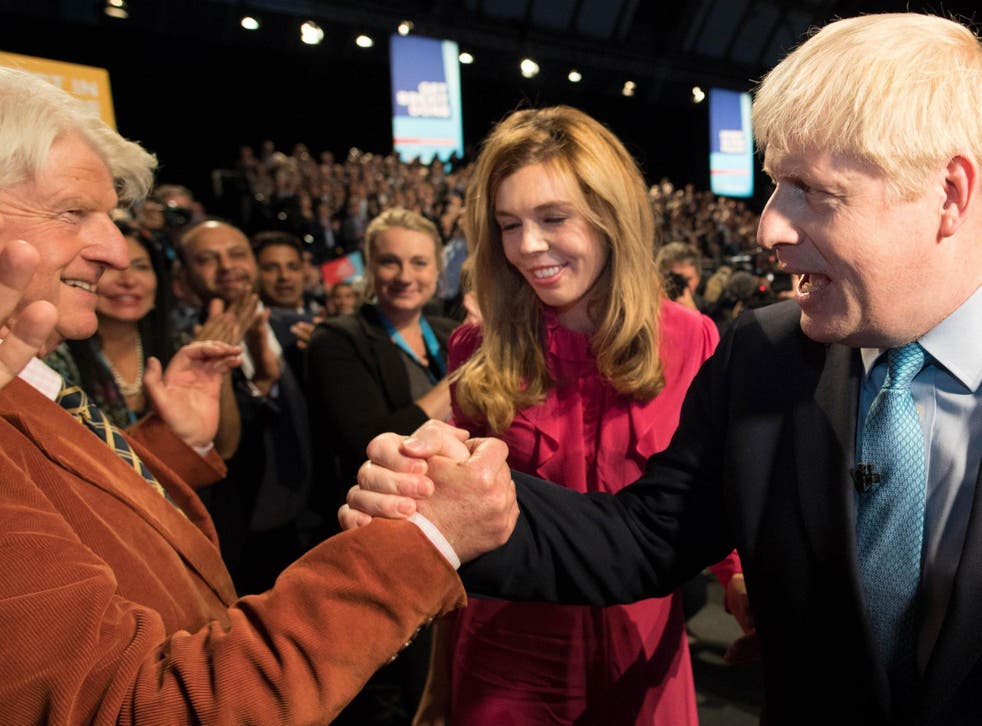 Extinction Rebellion have hit back after after Boris Johnson described them as "uncooperative crusties", saying the PM's own family are environmentalists – with his father, Stanley, openly supporting their protests.
"Boris Johnson's depiction of us as uncooperative crusties made us smile, it's not the Boris Johnson we know," Ronan Harrington, a political strategist at Extinction Rebellion told The Independent.
The Prime Minister said "importunate nose-ringed" protesters should abandon their "hemp-smelling bivouacs" and stop blocking the streets of London as the two weeks of global climate change protests continue.
He made the comments at the launch of the third volume of Margaret Thatcher's biography by the former editor of The Daily Telegraph, Charles Moore.
Mr Harrington said Mr Johnson's comments do not reflect what he really believes.
Mr Harrington said: "The Prime Minister is from a family of committed environmentalists. His father Stanley came out in support of Extinction Rebellion, his partner Carrie is a vocal advocate of action on the climate emergency. They are many of the diverse voices that are speaking for the urgent threat that we face.
"Extinction Rebellion of course has hippy activists but we're also a movement of mums, doctors, lawyers, builders, priests and rabbis that are uncooperative and will continue to make great sacrifices until our three demands are met."
Extinction Rebellion launch fortnight of action at Marble Arch, London

Show all 8
Mr Johnson also said former prime minister Mrs Thatcher had taken the issue of greenhouse gases seriously long before Greta Thunberg was born.
"I am afraid that the security people didn't want me to come along tonight because they said the road was full of uncooperative crusties and protesters, all kinds littering the road," he told an audience at the London book launch.
"They said there was some risk that I would be egged. And so I immediately asked the faint hearts in my private office, 'What would Margaret Thatcher do?'
"If she could take the extraordinary risk of sending a task force halfway around the world through tumultuous seas to recapture the Falklands, I think she would have crossed the road to speak at the Banqueting Hall."
He added: "I hope that when we go out from this place tonight and we are waylaid by importunate nose-ringed climate change protesters, we remind them that she was also right about greenhouse gases.
Extinction Rebellion activists arrested at the start of two weeks of protests
"The best thing possible for the education of the denizens of the heaving hemp-smelling bivouacs that now litter Trafalgar Square and Hyde Park would be for them to stop blocking the traffic and buy a copy of Charles's magnificent book so that they can learn about a true feminist, green and revolutionary who changed the world for the better."
Protesters brought chaos for commuters on Monday, closing down several streets around Westminster, as part of coordinated actions taking place around the world.
The Met Police said it had arrested 280 demonstrators by 9.30pm on Monday night, more than double the 122 arrests made on the first day of similar protests last April.
Demonstrators shut down roads around parliament and Whitehall in London and succeeded in bringing traffic to a standstill with roadblocks on Westminster and Lambeth Bridges, Victoria Street, Whitehall, Horse Guards Road and the Mall.
They are the latest in a string of demonstrations against climate change. Last month, millions of young people flooded onto the streets of cities around the world, inspired to take action by 16-year-old Swedish activist Greta Thunberg.
Extinction Rebellion says it expects peaceful protests over the next two weeks in more than 60 cities from New Delhi to New York. Demonstrators will call on governments to reduce greenhouse gas emissions to net zero by 2025 and halt a loss of biodiversity.
Register for free to continue reading
Registration is a free and easy way to support our truly independent journalism
By registering, you will also enjoy limited access to Premium articles, exclusive newsletters, commenting, and virtual events with our leading journalists
Already have an account? sign in
Register for free to continue reading
Registration is a free and easy way to support our truly independent journalism
By registering, you will also enjoy limited access to Premium articles, exclusive newsletters, commenting, and virtual events with our leading journalists
Already have an account? sign in
Join our new commenting forum
Join thought-provoking conversations, follow other Independent readers and see their replies