Extinction Rebellion founder cleared of vandalism in landmark case after arguing climate change justification
'Not only does direct action work, but it wins in a court of law in front of the British public'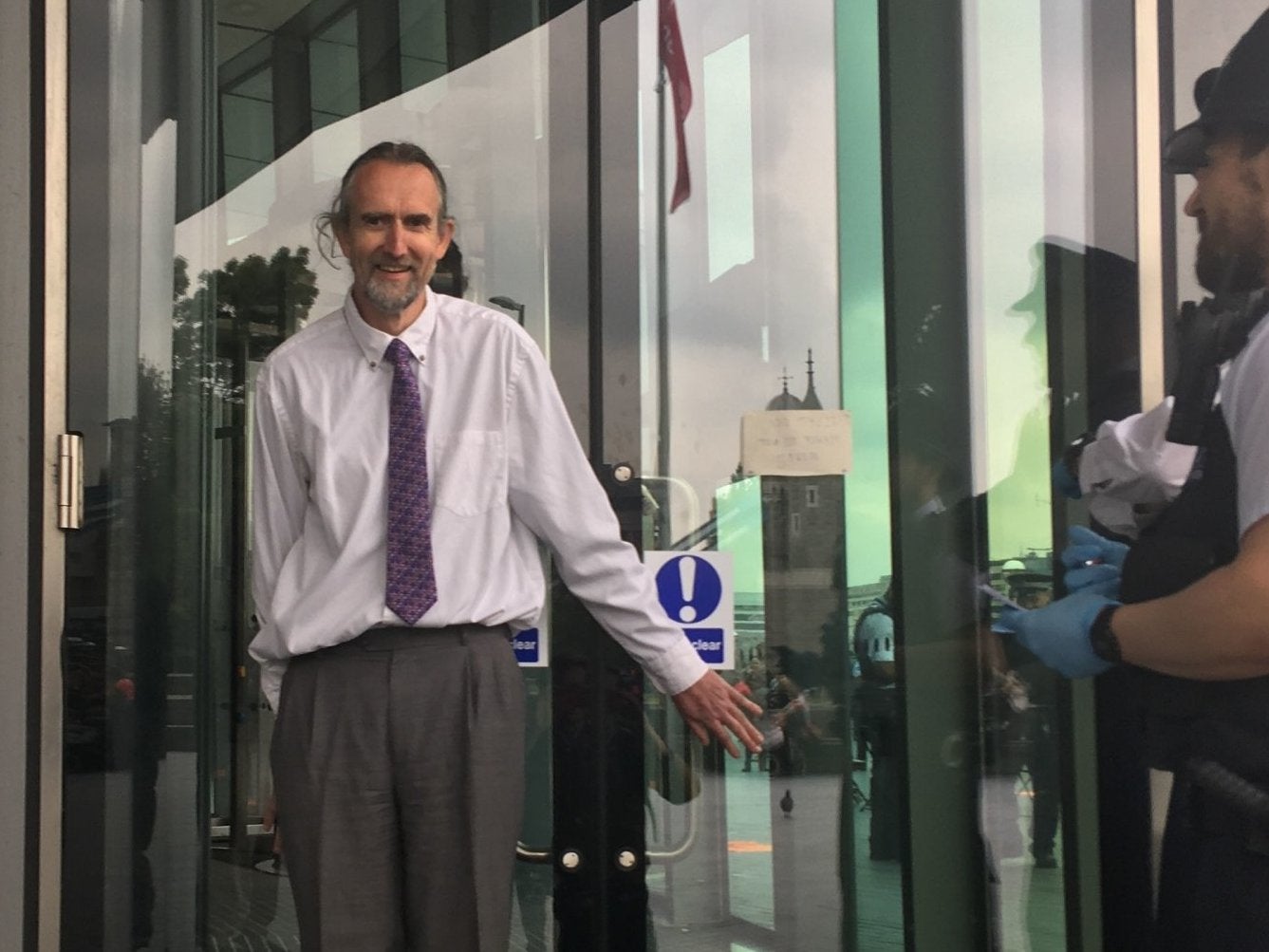 The founder of Extinction Rebellion and another activist have been cleared of all charges relating to protests in which they entered Kings College London and spray painted "Divest from oil and gas" on the walls.
During a three-day trial at Southwark Crown Court, Roger Hallam, 52, and David Durant, 25, who represented themselves, did not deny criminal damage worth £7,000, but argued their actions were a proportionate response to the climate crisis.
Five weeks after the protest, the university reportedly removed £14m worth of investments from fossil fuel companies and pledged to become carbon neutral by 2025.
Afterwards, the university did not pursue prosecution for the pair, but the state took on the case.
Mr Hallam and Mr Durant had used water-soluble chalk-based spray paint.
Extinction Rebellion supporters
Show all 19
The prosecution told the court there was "no legitimate basis for applying this spray, even if the defendants did not agree with the policy of the college".
But despite being stopped repeatedly by Judge Michael Gledhill, QC, each time the pair mentioned climate change, because he said he did not want proceedings "sidelined" into a climate change debate, both activists were acquitted by the jury.
Mr Hallam and Mr Durant argued their actions had been lawful because criminal damage law contains exemptions that allow for damage to be done to private property to protect it from immediate danger.
They argued that private property across the world is in immediate danger of destruction to the calamitous effects of global climate change.
Speaking outside the court on Thursday, Mr Hallam said: "Not only does direct action work, but it wins in a court of law in front of the British public."
Mr Durant said: "First we won [with] this action, and now we've won against the system, and we'll keep on winning."
According to The Guardian, Mr Hallam also said: "We are extremely grateful to the jury for following common sense … ordinary people, unlike the judiciary, are able to see the broader picture.
"We sat in the court, we watched paint dry for three days on a ridiculous charge and the jury returned the common sense verdict of not guilty.
"Chalk on the wall is obviously less important than the impending catastrophe for the planet."
In a video released this week, Mr Durant said there had been meetings over three years with the university about its investment portfolio "that barely achieved anything", but weeks after the direct action in 2017, "the university dropped all of its fossil fuel investments".
Mr Hallam, an organic farmer, said: "Just over a decade ago there was a series of extreme weather events which destroyed my business and led to 25 people losing their jobs. Climate emergency is not some abstract concept. Millions of farmers around the world are under extreme economic pressure due to the climate change catastrophe now unfolding."
Join our commenting forum
Join thought-provoking conversations, follow other Independent readers and see their replies