Extinction Rebellion activists dump fake coal outside Lloyd's of London in fossil fuel protest
Climate group is calling on insurers to stop giving cover to fossil fuel projects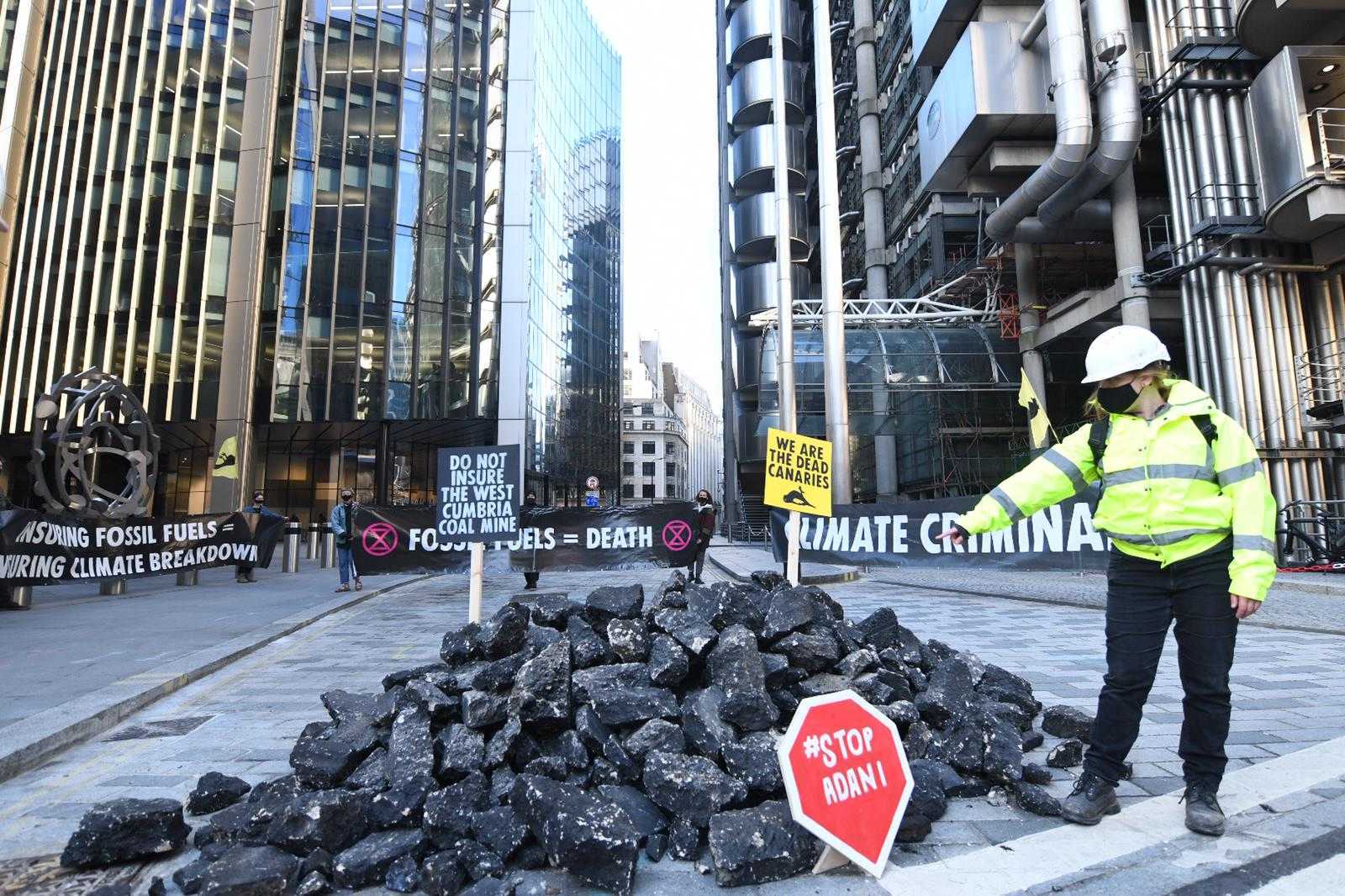 Climate activists have dumped fake coal outside the headquarters of a major insurance market in London to protest against the sector's backing for the fossil fuel industry.
Members of the Extinction Rebellion (XR) group used a tipper truck to deposit the rubble outside Lloyd's of London in the City at around 7am on Friday.
Protesters erected safety barriers around the area and placed placards in the mound reading 'stop Adani', 'we are the dead canaries' and 'do not insure the West Cumbria coal mine.'
They held banners reading 'climate criminals', 'fossil fuels = death' and 'insuring fossil fuels = ensuring climate breakdown.'
XR said Friday morning's demonstration was part of Insurance Rebellion - a network of groups including Extinction Rebellion UK – taking action to highlight the role of the insurance industry in fueling the climate and ecological crisis.
It said the protest is designed to highlight the support of Lloyd's - a major player in the global insurance marketplace - for the most polluting projects, such as tar sands and coal mines, including the highly controversial Adani coal mine in Australia.
Lloyd's of London is an insurance marketplace made up of nearly 100 syndicates who provide cover to a number of sectors, including the energy industry.
According to the campaign group Insure Our Future, Lloyd's syndicates insure around 40 per cent of the global energy market, a large portion of which is fossil fuels.
Lloyd's syndicates have refused to rule out underwriting the Adani coal mine in Australia while many other insurers have, XR said.
In August last year, a vast swathe of traditionally indigenous land in Wangan and Jagalingou country, Queensland, was stripped of its legal protections to allow the project to go ahead.
The land, which included areas used for traditional ceremonial purposes, has been granted freehold to the Adani Group, a vast Indian-owned multinational which specialises in mining.
"Adani is building its mine on stolen land," says Hayley Sestokas, an organiser with Frontline Action on Coal in Australia. "The Wangan and Jagalingou people have said no to Adani four times.
"If the Galilee Basin is opened up, this would double our [coal] output at a time when the world desperately needs to move away from coal to curb runaway climate change.
She added: "That's why people from all over Australia are putting their bodies on the line to resist the building of this mine. Lloyd's need to stop insuring this deadly project. It's great to see people taking action in London today."
XR said Lloyd's has also refused to rule out insuring West Cumbria Mining group's proposed mine in Whitehaven.
The controversial Woodhill Colliery plan sparked a huge backlash from campaigners in the UK earlier this year.
Activists said if the mine was to be approved it would undermine the UK's climate emissions pledges ahead of this year's Cop26 climate change conference in Glasgow.
Communities secretary Robert Jenrick in March announced a public inquiry into the plans. It begins in September and will consider arguments for and against the mine.
John, a 41-year-old activist, who took part in Friday's protest, said "after many polite requests, [Lloyd's] refused to rule out underwriting even the most controversial projects like Adani's mega coal mine in Australia or the West Cumbria coal mine in the UK.
"We're here today because we're not willing to accept any more excuses, delays or half measures."
A spokesperson for Lloyd's said: "Lloyd's is committed to accelerating its transition towards a more sustainable insurance and reinsurance marketplace, and has set out specific actions and commitments to align with the goals of the Paris Agreement.
"We are actively involved in constructive engagement on the issue of climate change and continue to explore the ways in which Lloyd's can support a responsible transition."
Harriet, 28, from Insurance Rebellion, said: "Every day that Lloyd's continues to insure fossil fuel projects we move one step closer to climate breakdown.
"Fossil fuel companies are destroying our planet, causing millions of people's homes to be flooded, burnt to the ground in wildfires, and reclaimed by rising sea levels."
She added: "We have to stop fossil fuels now before the climate emergency becomes any worse. Fossil fuel companies can't run without insurance, so let's stop insuring them."
Join our commenting forum
Join thought-provoking conversations, follow other Independent readers and see their replies