Family of wild beavers seen in England for first time in centuries
Three European beavers were filmed together on the River Otter in east Devon in a "highly significant" sighting
Heather Saul
Friday 28 February 2014 10:24 Comments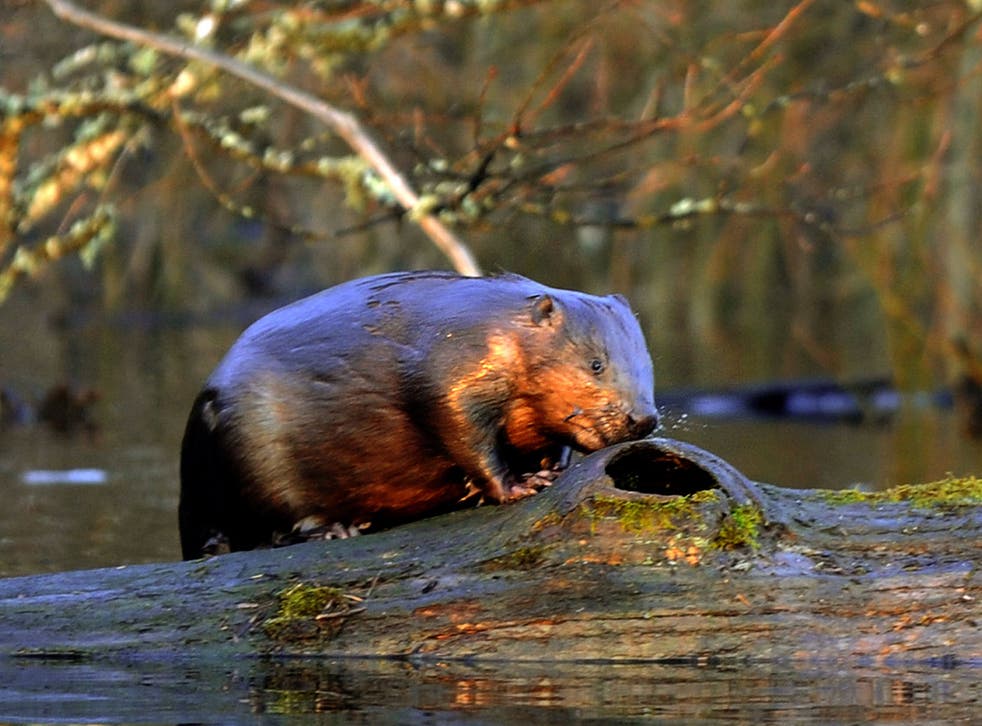 A family of wild beavers has been seen in England for the first time in up to 400 years, in what experts have described as a "highly significant" sighting.
Three European beavers, believed to be adults, were filmed together on the River Otter in east Devon.
Experts said their presence strongly suggested a small breeding population of beavers now existed outside captivity. This would be the first time for centuries that European beavers have been breeding in the wild in England.
In footage captured by night vision cameras with motion sensors, the beavers can be seen gnawing at trees, grooming themselves and playing together.
Retired scientist Tom Buckley and landowner David Lawrence installed three cameras last year when they noticed tree-cutting action in the area.
He said his cameras filmed one beaver on his dairy farm in January. "For me, there was a combination of amazement and a little bit of disbelief," Mr Buckley said.
"When we saw three, that's a totally different situation altogether," he added.
"Three indicates a family and looking at the footage, all three are quite sizeable and active, which indicates to me that they are not young. I would expect them to be at least two years old.
"That indicates they may have been around for at least two years or more. During that time, they may have been fitting in very nicely in terms of the environment.
"I'm told this could be the first time for 300 to 400 years that beavers have been sighted like this."
European beavers were hunted to extinction in England and Wales during the 12th century, because of their highly valued fur, medicinal value and meat. They disappeared from the rest of the UK 400 years later.
The Department for Environment, Food and Rural Affairs (Defra) said it is investigating the sighting but would not comment on if the beavers could be removed from the site or destroyed.
"It is unlawful to release beavers in England - we are looking into this case and will consider what action to take," a Defra spokeswoman said.
A spokesman for the Devon Wildlife Trust said it supported the reintroduction of beavers to England but that it had to be "properly planned".
"However, now that a small European beaver population has established itself in east Devon we believe that they should be left alone and observed using a rigorous monitoring programme," he said.
"This group of beavers provides us with a unique opportunity to learn lessons about their behaviour and their impact on the local landscape.
He said they would like to see the animals reintroduced to England, but recognised "a great deal of work" needs to be done before this can be achieved.
Additional reporting by Press Association
Register for free to continue reading
Registration is a free and easy way to support our truly independent journalism
By registering, you will also enjoy limited access to Premium articles, exclusive newsletters, commenting, and virtual events with our leading journalists
Already have an account? sign in
Join our new commenting forum
Join thought-provoking conversations, follow other Independent readers and see their replies