Feeding a hungry world – or meddling with laws of nature?
As scientists at Rothamsted's GM trials plead with activists not to sabotage their work, Michael McCarthy visits the battle field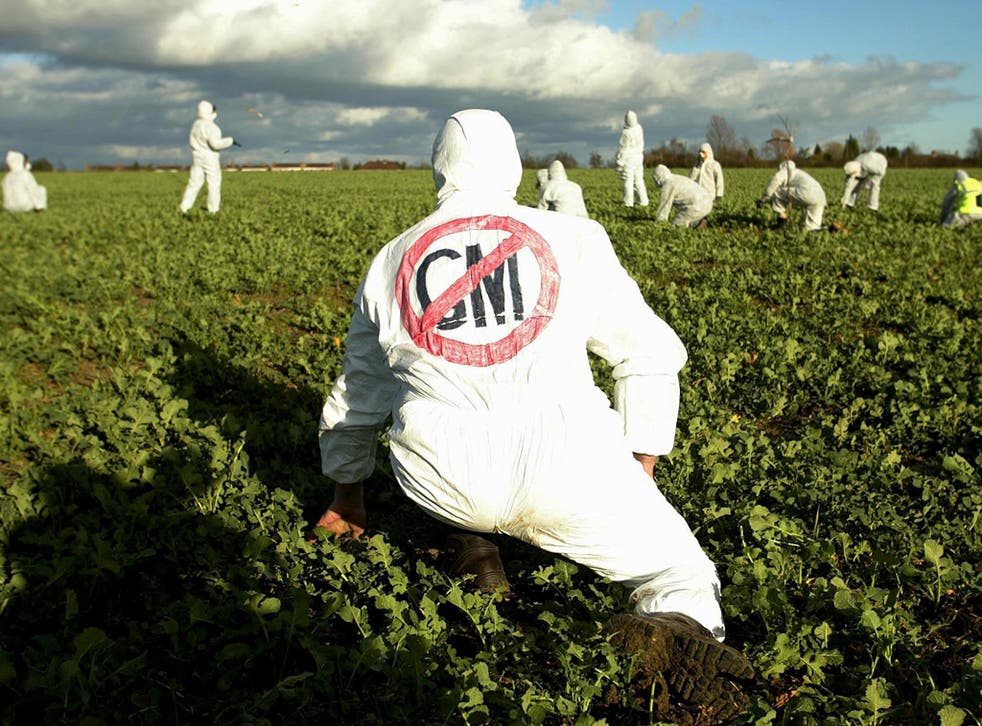 Three senior scientists made impassioned appeals yesterday to anti-GM campaigners not to destroy a field trial of GM wheat which is the culmination of several years' work.
The trial involves a wheat strain modified to be resistant to aphid pests, but an ad hoc group of activists, assembled in a campaign entitled Take The Flour Back, have said they will march to the trial site this Sunday and attempt to destroy the young crops.
The activists say the trial, at Rothamsted Research in Harpenden, Hertfordshire, is a threat to agriculture because pollen from the GM wheat could contaminate non-GM plants outside the trial boundary, and they believe GM is in general a dangerous and inappropriate technology for agriculture. But the scientists say cross-contamination from the site is virtually impossible, and that the new strain of wheat they are producing, besides being a boost to food security in an ever-hungrier world, itself has significant environmental benefits, as it will mean the input of pesticides is considerably lessened.
At Rothamsted yesterday, three of the leading figures in the project appealed to the protesters not to destroy it, saying they would be on the site on Sunday and would be happy to talk to the activists. "Call off your plans to destroy our experiment and come on the day and talk to us, but don't come in a mindset of destruction," said Dr Gia Aradottir. "This is a sustainable method that would reduce the carbon footprint for agriculture, if we don't need to be driving tractors spraying pesticides. Surely that's a good thing for environment? If they understand the technology and they understand what we're doing, then they should embrace it, because really we have the same goals."
Professor Johnathan Napier said: "Why would you want to destroy knowledge? I would ask the protesters what their solutions are to the problem of food security with the growth of the human population. What are your solutions to how are we going to feed nine billion people? We can't do it by just simple highly-intensive, low-input organic production systems. We have to use lots of approaches."
Professor Huw Jones, head of Rothamsted's Cereal Transformation Lab, said that to destroy the experiment would be "absolutely counter-productive". He said: "We are going to need to grow an awful lot more food to feed the world by 2050 and to do this more sustainably, with less water and the prospect of climate change, will be a very big challenge."
The demonstrators are meeting at noon on Sunday in Rothamsted Park, and will march to the trial site, which is about a mile away, and which has a 2.4-metre chain links fence surrounding it. A spokesman for Take The Flour Back would not specifically say they would attempt to break through the fence, but said the purpose of the demonstration was "a decontamination" of the site.
Hertfordshire Police said they would have an "appropriate presence" at the demonstration. "We fully recognise the right to demonstrate lawfully, but it is also our job to uphold the law, and we will respond appropriately to any criminal acts," a spokeswoman said.
The GM wheat plants are now nearly a foot tall, and due to be harvested in September, and the current research consists in measuring the aphid presence in the GM wheat against the number of aphids found in control-plots of non-GM wheat.
The modified crops contain a pheromone which is identical to the chemical used by the aphids as an alarm signal; when the aphids encounter it, they scatter, and aphid predators are attracted. The chemical, E-Beta-farnesene or EBF, is naturally occurring and found in about 400 plants, from hops to peppermint. The current trial at Rothamsted is being sponsored by the Biotechnology and Biological Sciences Research Council, so in effect it is being funded by the taxpayer.
In this, as in several other respects, it differs from the widely publicised trials of commercial GM crops promoted by giant agribusiness companies a decade ago, which found they would damage the environment as the extra-powerful weedkillers they were designed to tolerate would kill much other wildlife beside the target pests.
There has since been a virtual moratorium on GM crops in Britain and in much of Europe, although in other parts of the world GM technology is widely employed in agriculture on crops such as maize and soya beans.
Join our new commenting forum
Join thought-provoking conversations, follow other Independent readers and see their replies