Field trial of genetically-modified wheat failed to show it can repel aphid pests, scientists say
The government-funded trial required costly security measures because of the threat of vandalism from GM protestors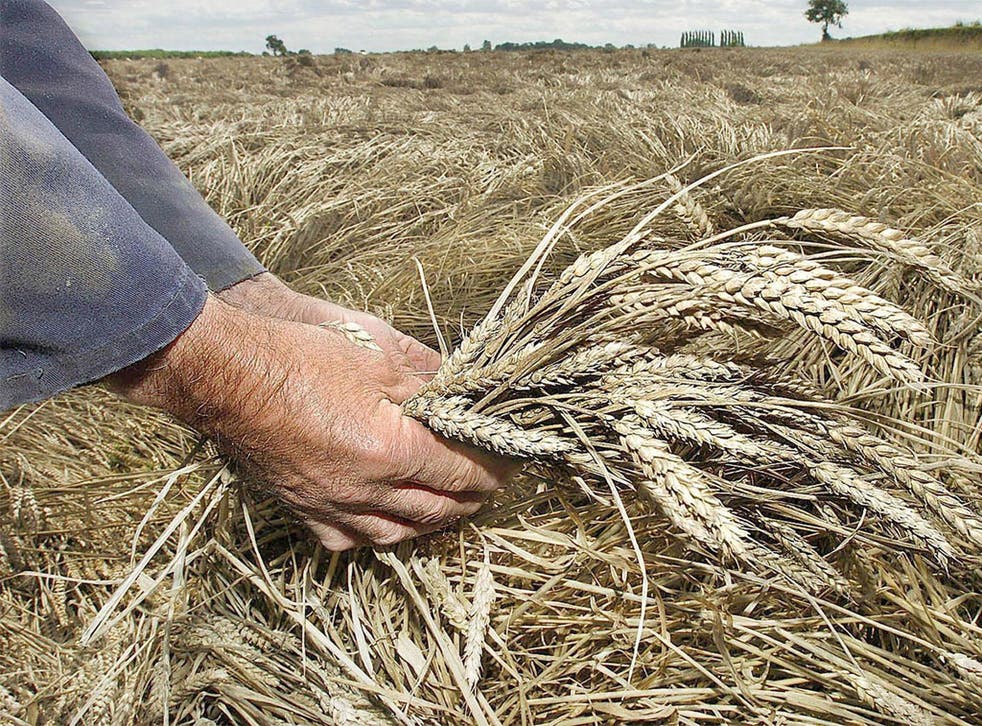 A controversial field trial of genetically-modified wheat has failed to demonstrate that the GM crop can repel aphid pests as scientists had predicted from previous laboratory studies.
The GM wheat was modified with an extra synthetic gene for an insect pheromone used by aphids as an alarm signal and the first field trial took place in the face of intense opposition from anti-GM activists.
Scientists had hoped to show that the modified wheat repels aphids such as greenfly and blackfly without the need for spraying the crop with environmentally-damaging pesticides, but the results of the field trial showed that this was not the case.
The government-funded field trial held at Rothamsted Research in Harpenden, Hertfordshire between 2012 and 2013 cost nearly £3m. More than £2m of this sum was spent on security measures, such as high fencing and 24-hour surveillance, because of the threat of vandalism from GM protestors.
Scientists at Rothamsted said they were disappointed by the results of the trial, which were published on 25 June in the journal Scientific Reports, but vigorously denied that the study was a scientific failure.
"In science we never expect to get confirmation of every hypothesis. Often it is the negative results and unexpected surprises that end up making big advances – penicillin was discovered by accident for example," said Toby Bruce a senior ecologist at Rothamsted and first author of the study.
"If we knew the answers to every question before we started, there would be no need for science and there would be no innovation. The trial has ended up yielding more questions than answers, but that means we have more work to do," Dr Bruce said.
However, anti-GM groups said the findings demonstrate the failure of GM technology to deliver the promises that are frequently made of it in terms of benefits to farmers, consumers and the environment.
"With GM crops it's always jam tomorrow and never jam today. We have had more than 30 years' of promises of useful traits but they have not been delivered, despite massive promotion of GM technology by governments and PR agencies," said Helen Wallace, director of GeneWatch UK.
The GM wheat was modified with an extra synthetic gene for a substance called beta-farnesene, which aphids secrete as a pheromone to warn one another of a threat.
Although the gene was correctly inserted into the wheat, and the alarm pheromone was produced effectively, it failed to repel the insects in the field, suggesting that they may have become used to the presence of the alarm signal and so ignored it, the scientists said.
"As scientists we are trained to treat our experimental data objectively and dispassionately but I was definitely disappointed," said Professor Huw Jones, a senior molecular biologist at Rothamsted.
"We had hoped that this technique would offer a way to reduce the use of insecticides in pest control in arable farming. As so often happens, this experiment shows that the real world environment is much more complicated than the laboratory," Professor Jones said.
"It would have been a fantastic outcome if the experiment had given positive results in the field too but this was not the case and for a first attempt, this was not entirely unexpected," he said.
Professor John Pickett of Rothamsted said that the next stage will be to see if it is possible to refine the field experiment to see if the GM wheat can be tweaked in a way that allows it to repel aphids effectively.
"We now know that in order to repel natural aphid populations in the field, we may need to alter the timing of release of the alarm signal from the plant to mimic more closely that by the aphid, which is a burst of release in response to a threat rather than continuous," Professor Pickett said.
The scientists said that the field trial took place during a cold, wet summer when there were relatively few aphids around, which may have influenced the neative results.
Join our new commenting forum
Join thought-provoking conversations, follow other Independent readers and see their replies