First nutrient-enriched GM crops could be grown in the UK within months
Scientists have applied for formal permission to grow plants containing omega-3 fatty acids found in fish oil
Steve Connor
Friday 24 January 2014 02:55 Comments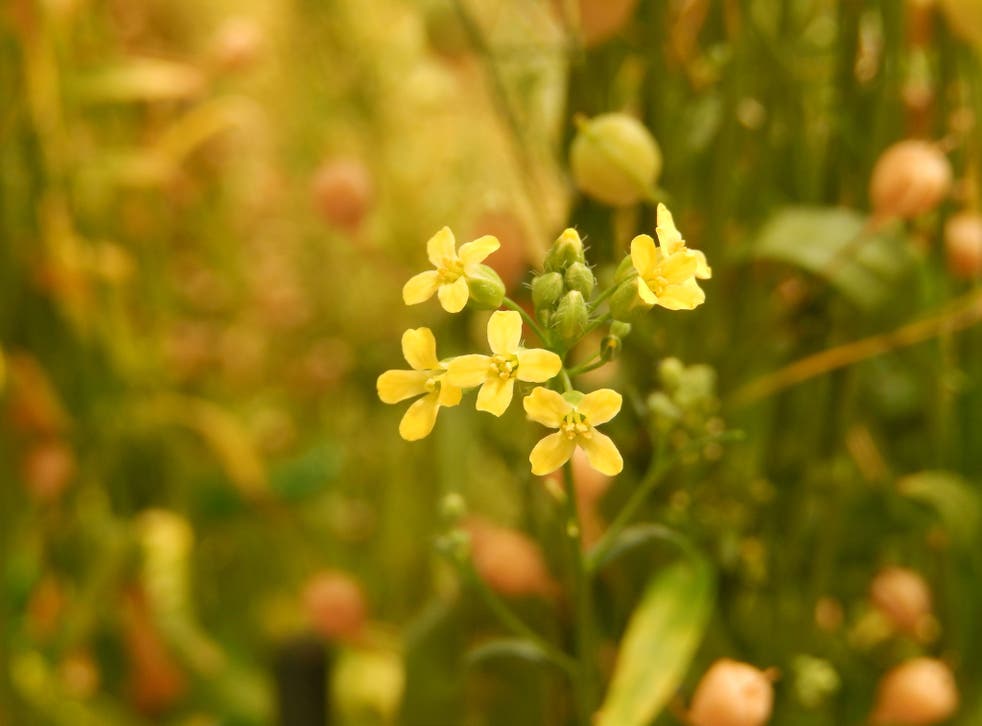 A genetically modified crop boosted with a dietary supplement could be grown for the first time in Britain as early as this year following a request by scientists to conduct a controversial field trial at a heavily-protected research site in Hertfordshire.
The government-funded researchers have applied this week for formal permission to grow the first GM plants that are designed to produce high yields of the same omega-3 fatty acids found in fish oil, which are linked with a healthy diet.
They could receive the go-ahead within three months and the first GM seeds could be sown this spring on the same high-security plot of land within the large estate owned by Rothamsted Research in Harpenden, where GM wheat trials took place successfully over the previous two years without being destroyed by activists.
If the fish-oil field trials are successful, the technology could be used to produce food that is enriched with the omega-3 fatty acids linked with alleged health benefits such as a lower risk of cardiovascular disease – although the scientific support for these claims is mixed.
The GM crop fortified with the genes for making fish oil is among the first of a new generation of genetically engineering food plants designed to boost vital dietary supplements – so-called "nutraceuticals". Anti-GM activists in the Philippines last year destroyed field trials of GM "golden rice", which is fortified with genes for precursors to vitamin A.
Wary of public opposition to the trial, the Rothamsted researchers emphasised that they are more interested in showing it is possible to produce commercial quantities of omega-3 fatty acids to supply the fish-meal market for farmed fish which currently accounts for 80 per cent of the omega-3 fish oils harvested from wild-caught marine organisms.
Rothamsted Research applied on Monday for a licence to conduct the field trial from the Department for Environment, Food and Rural Affairs. The scientists could be given the go-ahead within 90 days, following a public consultation and an inquiry by the government's scientific committee overseeing the release of GM organisms into the environment.
The open-air field trial behind a high wire fence and 24hr CCTV will involve the planting of a flax-like plant called Camelina sativa engineered with synthetic omega-3 genes that trigger the production of the "fish oil" in the seeds of the harvested crop.
Although omega-3 is often described as fish oil, it is in fact made by microscopic marine algae that are eaten or absorbed by fish. Among the many health claims made about omega-3, the strongest relate to its supposed benefits in reducing the risk of heart disease – although some medical authorities have questioned the evidence.
"Despite claims that fish oil supplements can help prevent numerous conditions including cancer, dementia, arthritis and heart problems, there is little hard evidence for them," says the advice on the NHS website.
However, the scientists from Rothamsted Research said today that the main aim of the research is to produce GM crops that could be made into food for farmed fish, which cannot grow healthily without a diet rich in omega-3 fatty acids, currently derived from wild-caught marine organisms.
Farmed fish grown in cages are unable to absorb sufficient omega-3 in their diets so they have to be fed on smaller fish, such as sandeels, caught in the wild. The scientists said the practice is unsustainable and it would be better for the environment to produce fish feed enhanced with omega-3 derived from GM farm crops.
"I honestly believe there is an opportunity for our plant-derived fish oil to be a sustainable source of terrestrial fish oils for the fish-farming industry," said Professor Jonathan Napier, the project's lead scientist at Rothamsted.
"In general, ultimately down the line, you could also imagine using plant-derived oils as another source of fish oils for human consumption… Fish oils are known to be important for human health and nutrition and they have a proven role in reducing cardiovascular disease. However, global fish stocks are in decline," Professor Napier said.
At the same time, the human population is growing and demand for fish oil will continue to increase, he said. "It is difficult to imagine how everyone on the planet can have equal access to these important fatty acids," he added.
Helen Wallace, director of GeneWatch UK said that omega-3 fish oils have recently been implicated in raising the risk of prostate cancer, and it is not clear whether GM-derived fish oils will be safe for human or animal consumption.
"GM crops with altered oil content raise new safety issues for consumers. It is hard to predict the effects on health because many nutrients will be changed and some could be harmful for some people," Dr Wallace said.
"If these plants are grown to feed to fish, the oil content of the fish will also require testing. And there will be questions about the use of land that could be used for food. People will also want these products to be labelled and consumers may not want to buy them," she said.
What are omega-3 fatty acids
Omega-3 fatty acids are made up of a complicated soup of large, organic molecules that are variously described as being good for human health. Oily fish are particularly rich in certain types of omega-3 fatty acids linked with a healthy diet, notably EPA and DHA fatty acids.
It is a misnomer to call them "fish" oils given that fish cannot manufacture these substances – they are in fact made by microscopic marine algae that are eaten or absorbed by the fish. This is why farmed fish need omega-3 fatty acids to be added to their diet.
The Rothamsted Research scientists have copied and synthesised the genes from the algae that are involved in the manufacture of EPA and DHA fatty acids. They have stitched these gene copies into a plant called Camelina sativa, known as "false flax", which is widely grown in parts of Europe and North America for its seed oil.
The scientists hope to develop an alternative source of omega-3 fatty acids that can be fed to farmed fish – about 80 per cent of the world's supply of ocean-derived fish oil is fed to farmed fish. They believe that growing GM crops on arable land will be more sustainable and better for the environment than trawling the sea for small fish in order to feed them to bigger fish.
Register for free to continue reading
Registration is a free and easy way to support our truly independent journalism
By registering, you will also enjoy limited access to Premium articles, exclusive newsletters, commenting, and virtual events with our leading journalists
Already have an account? sign in
Join our new commenting forum
Join thought-provoking conversations, follow other Independent readers and see their replies