'Fish armageddon': Australian authorities planning 'Noah's Ark' rescue of thousands of fish amid drought
New South Wales government accused of failing to tackle causes of problem
Harry Cockburn
Monday 09 September 2019 17:10 Comments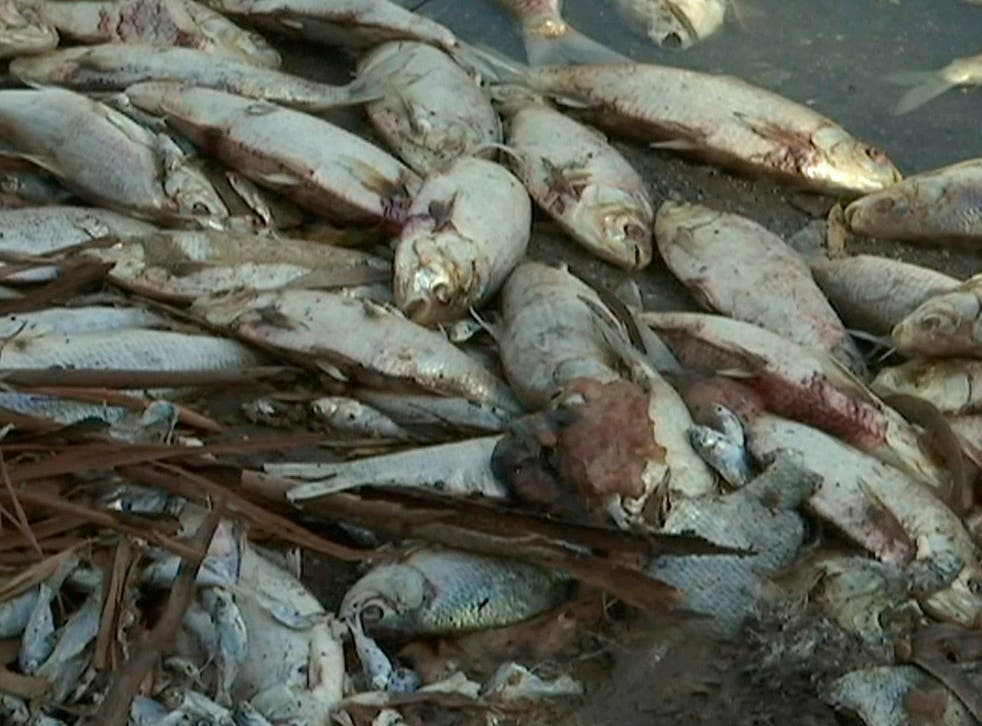 Australian authorities are to transport hundreds of thousands of stranded fish from a drying river basin in an effort to avoid another mass die-off after last year's catastrophic fish deaths.
The New South Wales government is to begin what it calls a "modern day Noah's Ark rescue" in an attempt to save native fish species from the Darling River, which is where millions of fish died during heatwaves last year.
Scientists are to undertake a AUS$10m (£5.6m) two-week relocation operation for species including river red gums, Murray cod and golden perch, from drying pools lower down the river which are not expected to last through the summer.
Minister for agriculture Adam Marshall said the "unprecedented" action was necessary due to the combination of heat, drought, and river flow issues which together were creating conditions likely to see another season of mass fish deaths in the area.
"We're staring down the barrel of a potential fish armageddon, which is why we're wasting little time rolling out this unprecedented action," Mr Marshall said on Monday.
Tropical fish found in Canadian waters

Show all 6
"It's absolutely critical we get on the front foot while we still have the chance to rescue and relocate as many fish as possible.
"This operation will target drying pools that won't make it through the summer. If there's no water fish simply have no way to survive, so the objective is to relocate them to a more secure habitat," he said, according to the Sydney Morning Herald.
But he also said the relocation would still allow fish to migrate back down the river to their normal breeding grounds when water levels return to normal.
"We'll be creating a modern day Noah's Ark to ensure that regardless of what pans out this summer, our native fish species are protected for future generations.
"Doing nothing is simply not an option. We know the risks from last year and that's why it's imperative we act quickly."
However, the government has not specified exactly which species and how many fish it believes it can move, and locals remain concerned more fish than ever could die amid another record heatwave.
Last year the fish died in sweltering conditions when a heatwave brought temperatures of over 40C to the Darling-Murray river basin.
Combined with lack of rainfall, the temperatures set off huge algal blooms which sucked oxygen from the stagnant water, killing the fish, which then rotted rapidly in the heat.
Critics have said the droughts in recent years have been exacerbated by management decisions in the river basin, in which numerous dams, locks and weirs control the flow of water through the river. Irrigation systems also draw water from the river for agricultural use.
Last year, oxygen pumps were used in a futile attempt to make the water liveable for fish again.
At the time, the minister for regional water, Niall Blair, who has since stepped down from the post, conceded the aerators were a quick-fix for a bigger problem.
"They are a Band-Aid solution – we admit that," Mr Blair told reporters.
"Nothing will stop this fish kill unless we get proper river flows and water levels in our dams back up to normal. We are doing everything we can to try and limit the damage," he said in 2018.
Register for free to continue reading
Registration is a free and easy way to support our truly independent journalism
By registering, you will also enjoy limited access to Premium articles, exclusive newsletters, commenting, and virtual events with our leading journalists
Already have an account? sign in
Join our new commenting forum
Join thought-provoking conversations, follow other Independent readers and see their replies