Hundreds of fish species will be forced to migrate north to escape effects of climate change
'If you're fishing for black sea bass, and you have to travel 300 or 400 extra miles to do it, that's a real problem'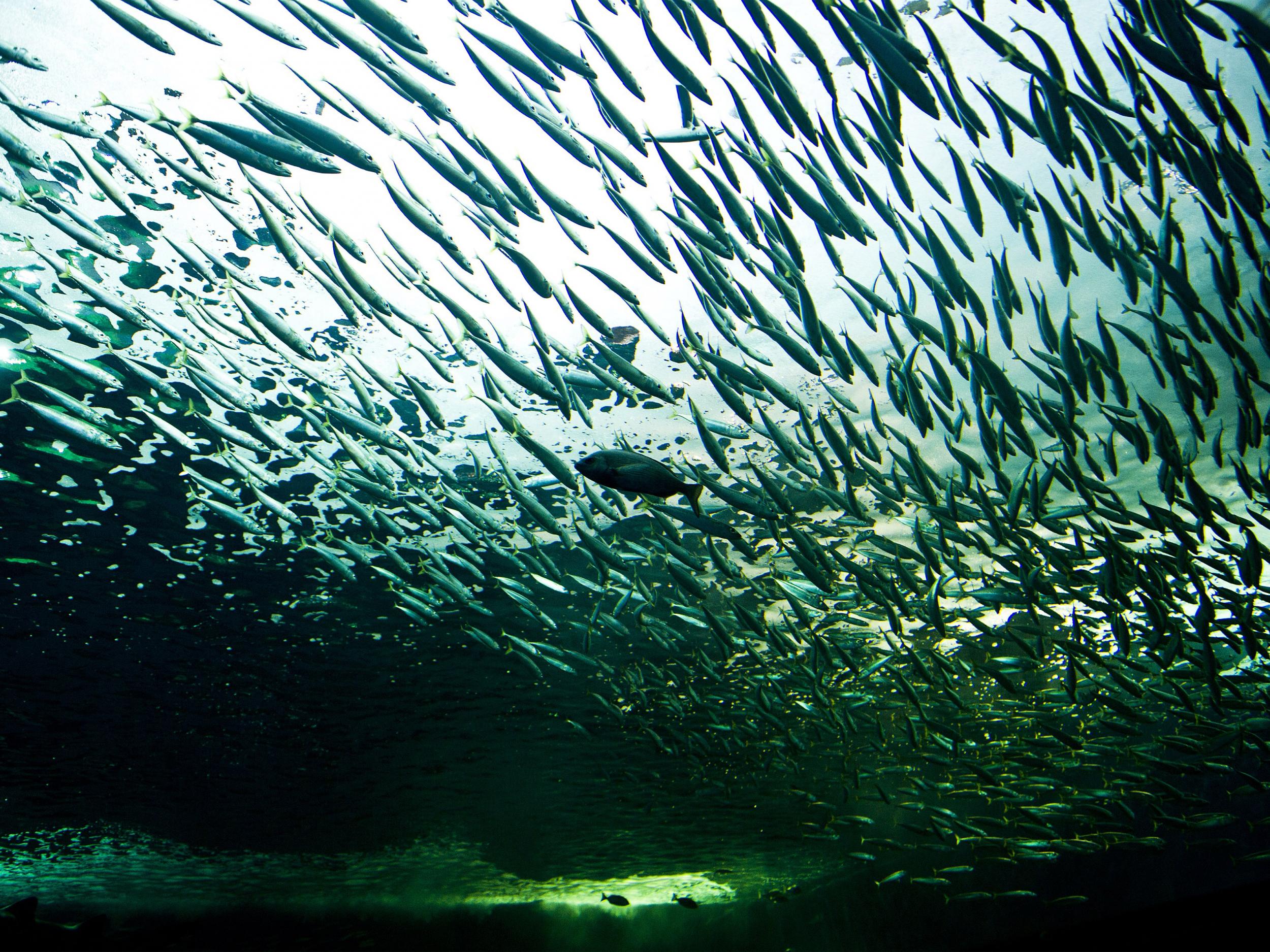 Hundreds of species of fish and shellfish will be forced to migrate northwards to escape the effects of climate change, putting global fisheries at risk.
Sea creatures are highly sensitive to the temperature of water,and if it gets too warm they will often shift to areas that suit them better.
Fishermen in the UK and around the world have already reported changes in the types and quantities of fish they are hauling up from the depths.
In a new study published in the PLOS ONE journal, scientists have predicted the response of nearly 700 species of fish and other creatures inhabiting the waters around North America to future warming.
While different animals are likely to respond in very different ways, the researchers concluded that two thirds of the species they studied would be forced to migrate – some up to 1,000 km (621 miles) if greenhouse gas emissions are particularly high.
Among those likely to be severely affected will be some of the most economically important species, such as cod, sea bass and king crab.
"We've already seen that shifts of a couple of hundred miles in a species' range can disrupt fisheries," said lead author Dr James Morley, a marine biologist at Rutgers University. "This study shows that such dislocations will happen all over the continent and on both coasts throughout the 21st century."
Dr Morley and his colleagues used an array of 16 climate models that considered both low and high levels of greenhouse gas emissions to predict future warming of the seas around North America. Their lower emissions scenarios were based on the targets of the Paris climate agreement.
Gillnetting: destructive method of seafood fishing
This information was combined with knowledge of individual species' temperature preferences.
The overall results suggested that if greenhouse gas emissions continue unabated species will be forced to migrate two or three times further than under low emissions scenarios.
"We found a major effect of carbon emissions scenario on the magnitude of projected shifts in species habitat during the 21st century," said Dr Morley. "Under a high carbon emissions future we anticipate that many economically important species will expand into new regions and decline in areas of historic abundance."
The scientists predict that fishermen will begin to feel the impacts of the changing climate when fish migration drives up their travel times and fuel costs.
"If you're based in North Carolina, fishing for black sea bass, and you have to travel 300 or 400 extra miles to do it, that's a real problem," said Professor Malin Pinsky, an ecologist at Rutgers University.
Their results mirror similar findings on the other side of the Atlantic, where warmer waters are already changing important fisheries in places like the North Sea.
"Around the UK coast the composition of species is changing at a local scale – we have seen some of the more cold water affiliated species moving north," explained Dr Ana Queiros, an ecologist at Plymouth Marine Laboratory.
"This has implications for fishing grounds where fishermen like to go – they might find different species."
10 photographs to show to anyone who doesn't believe in climate change
Show all 10
Helen McLachlan, Worldwide Fund for Nature (WWF) fisheries programme manager said: "In UK seas, cod are predicted to move north as a result of warming waters, and anchovies and squid could be set to take their place.
"This won't only change our fish supper – our ocean economies and coastal communities will also be radically transformed."
Commenting on the work by Dr Morley and his team, Dr Queiros noted that due to the ambitious scale of the study the research team was not able to account for all the effects of climate change on individual species.
"Temperature is a very important driver for animals that live in the sea, and particularly fish which don't regulate their body temperature and are very exposed to environmental changes of that sort," she said.
"But if you talk in the context of climate change, that is a much more encompassing process than changes in temperature."
Marine animals will also have to contend with factors like ocean acidification and changes in food availability that were not accounted for in this work.
Nevertheless, Dr Queiros emphasised the importance of research that brings the impact of climate change into the real world – including its effects on both the fishing industry and people's diets.
This is particularly relevant for governments that want to ensure the future prosperity of their fishing industries in a changing world.
Though all of their predicted warming scenarios resulted in some fish migration, the Rutgers research team found that the situation was markedly better under the terms of the Paris climate agreement – which US president Donald Trump withdrew his nation from earlier this year.
"We urgently need to lower emissions and lead the way in the fight against climate change," said Ms McLachlan. "As we leave the EU, the UK Government must introduce a strong Fisheries Bill to ensure our oceans and fisheries are healthy."
Join our commenting forum
Join thought-provoking conversations, follow other Independent readers and see their replies